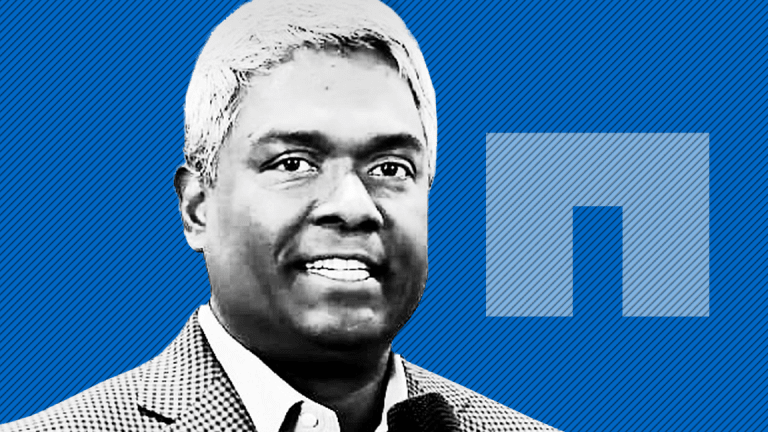 Though cloud giants aren't major buyers of traditional enterprise storage systems such as NetApp's (NTAP) - Get NetApp, Inc. (NTAP) Report , the company is intent on finding ways to profit from cloud adoption.
In a talk with TheStreet, CEO George Kurian reiterated that he expects NetApp to exit fiscal 2021 (it ends in April 2021) with $400 million to $600 million in annualized recurring revenue (mostly via high-margin software sales) from solutions that help companies make better use of their cloud storage assets. That would do much to offset the pressure that NetApp, like other enterprise hardware vendors, faces from companies choosing to put more of their workloads on public clouds.
In the meantime, strong all-flash storage array (AFA) sales are helping NetApp grow revenue and take share from enterprise rivals such as Dell EMC and IBM (IBM) - Get International Business Machines (IBM) Report . "We're substantially outpacing the market, and closing from No. 2 to No. 1 quite quickly," said Kurian about NetApp's AFA business, which between products and services is now on a $2.4 billion annual revenue run rate.
Kurian's remarks come on the heels of NetApp's April quarter earnings report, released after the close on Wednesday, which has sparked some profit-taking in a stock that had been up 69% over the prior 12 months. While NetApp beat estimates with the help of 19% product (hardware and software) revenue growth, its in-line sales and earnings guidance appears to have fallen short of heightened expectations.
Shares were down 1.3% to $65.93 in early trading on Thursday, after declining as much as 5% to $63.50 in pre-market trading.
The full version of this column appears on Real Money, our premium site for active traders. Click hereto get more great columns like this.