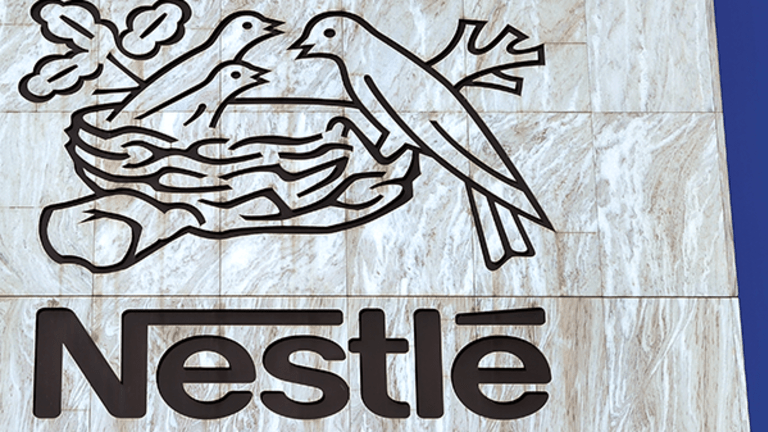 Nestle's New CEO Has a Fan, Goldman Sachs
Goldman increased its price target for Nestle and tipped the Swiss food giant to hit the top end of its new operating margin target.
Nestle SA's (NSRGY) - Get Free Report new CEO Ulf Mark Schneider this week delivered on investor demands to deliver an underlying operating margin, and according to Goldman Sachs, may have also handed himself room to surprise on the upside.
Speaking at his first investor conference Schneider set an underlying operating margin - excluding restructuring costs and one-time items, of 17.5% to 18.5% by 2020. That was ahead of the 16% achieved last year and analyst consensus expectations of about 16.7%, prior to the presentation.
Nestle shares drifted 0.15% lower to Sfr82.32 each in early Wednesday trading, but are still up 1.8% on Monday's close prior to Schneider's presentation.
Goldman, in a note published late Tuesday night, tipped Nestle to hit the upper end of its new operating margin target, while also delivering mid-single digit organic revenue growth, and recalibrated its earnings forecasts and price target appropriately.
The bank hiked Nestle's earnings per share forecast for every year between now and 2020, lifting 2017 expectations 3.3% to 3.55 Swiss francs and its 2020 prediction by 16% to Sfr5.07.
Goldman's reiterated its "buy" rating on Nestle and lifted its 12-month price target to Sfr95, up from an Sfr94 target that had already largely accounted for the expected uptick in margins.
"The company presented a credible case for the changes it is undergoing under new leadership," noted Goldman analysts including Mitch Collet and John Ennis. "We believe these changes can lead to a period of improved shareholder delivery and update our forecasts and margins accordingly."
Goldman wasn't the only analyst to come out of Tuesday's conference with renewed hope that Nestle can close the gap to its sharper competitors including Procter & Gamble (PG) - Get Free Report and Kraft Heinz (KHC) - Get Free Report , which posted underlying profit margins of 22.1% and 27.2% in 2016, respectively.
The new targets could lead to an increase in consensus profit expectations, wrote UBS's Pinar Ergun. "We think accelerating earnings momentum will win over the skeptics," she noted.
At least one of those skeptics already seems to have warmed to the new Nestle.
Third Point LCC's Dan Loeb, who owns about 1% of Nestle and had been pushing for a profit margin target of 18% to 20%, congratulated Nestle's team on its new plan. "You did a great job," Loeb told Nestle's CFO Francois-Xavier Roger following his presentation on Tuesday.
More of What's Trending on TheStreet: