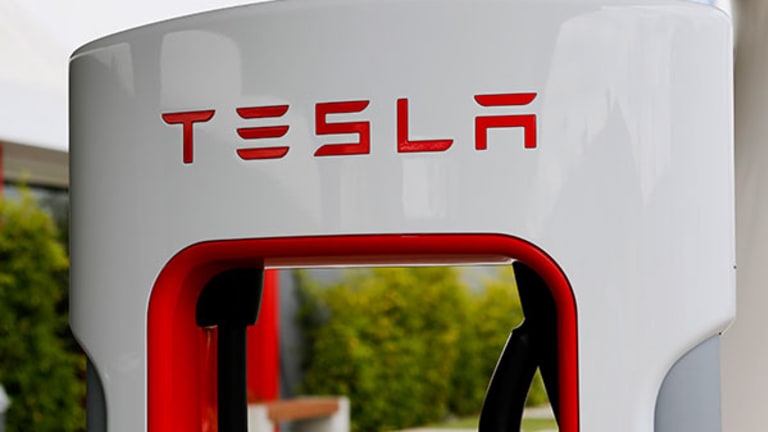 Nervous Investor? Stay Away From Tesla and Shake Shack
The air is going out of cult stock Tesla's tires.
NEW YORK (Real Money) -- After three months of trading in a topsy-turvy market, investors are pretty much at ground zero in 2015, even as the markets have gotten more volatile of late. Both the S&P 500 and Dow Jones Industrials are basically flat for the year; the Nasdaq is up a little more than 3%, even as the index posted its worst weekly performance in five months last week.
S&P 500 earnings are set to be flat to slightly down over the next two quarters year over year, thanks to plunging profits in the energy sector, the strong dollar and tepid global growth. With the market trading at approximately 18x trailing earnings, I think equities are in at least slightly overbought territory through the first half of the year.
I am being more cautious than usual at this point. I hold slightly more cash than normal in my portfolio, most of which is concentrated in large-cap growth stocks selling at reasonable valuations, which should be able to increase earnings and revenue at a decent clip even in a challenging growth environment. As important as it is to be the right stocks and sectors, it is just as important to avoid equities that look extremely overvalued and could be prone to major selloffs should the overall market turn north. Here are two well-known names I would be very nervous right now to own.
The air finally seems to be going out of the cult belief in Tesla Motors (TSLA) - Get Tesla Inc Report, which drove the stock to over 400% returns during the past couple of years and at one time to half the market capitalization of Ford (F) - Get Ford Motor Company Report. However, the stock has seen an accelerating decline in recent sessions and is near 52-week lows.
I think this is reality starting to set in, as when the stock traded near $300 a share last summer it was priced to perfection. It is one thing to produce less than 50,000 high-end niche vehicles at high margins, especially when the federal government is kicking in $7,500 per car in tax credits so consumers can buy a vehicle that costs more than the average American family makes in annual income; it is quite another to produce half a million vehicles for the mass market, while maintaining margins that dwarf any other automaker.
Since the summer, the company has stumbled with its rollout in China and had a disastrous earnings conference call. Even its CEO and founder Elon Musk has said he does not expect a profit until fiscal 2020. Although the stock has fallen almost $100 a share since its highs this summer, investors are still way too optimistic, giving this niche automaker a market capitalization still north of $20 billion.
Shake Shack (SHAK) - Get Shake Shack, Inc. Class A Report is another example of an equity whose valuation I still shake my head at. The company has just over 60 restaurants and the stock has a price near $50 a share. Sales per store and margins should go down as the company expands outside the lucrative New York City area and the current consensus has this restaurant concern earning a dime a share in FY2016. If the shares were valued by store as the market leader Chipotle Mexican Grille (CMG) - Get Chipotle Mexican Grill, Inc. Report, they would go for just $20 a share. Add in a big stock expiration lockup, and there is no reason to own the equity at these levels, and major risks to the downside.
I do not know which direction the market will take in the next few months, but have a hard time seeing much upside in either of these cult names. If the market does turn down, I could see major carnage for the owners of either of these overvalued stocks.
Editor's Note: This article was originally published at 10:30 a.m. EDT on Real Money on March 30.
This article is commentary by an independent contributor. At the time of publication, the author held no positions in the stocks mentioned.