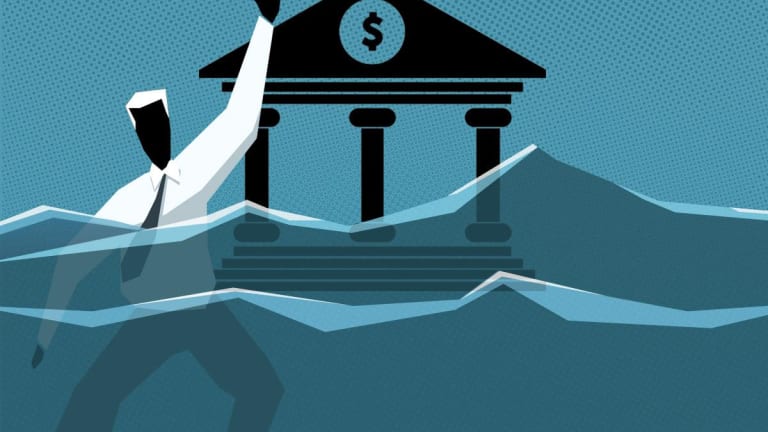 Negative Interest Rates in the U.S.? Here's What They've Done to Europe, Japan
A healthy economy needs costs of capital that are not so distorted that they corrupt resource allocation and financial activity.
The Fed surprised exactly nobody this week when it made its third cut this year, but the policy about-face continues to be stunning in the presence of a decelerating but still quite strong U.S. economy and job growth.
Through largely unjustified recession fears and some force of psychological reflexivity (worth reading about if you're unfamiliar with the phenomenon), we've gone from targeting two rate raises as of December 2018 to our third cut of the year, in addition to some QE-esque, balance-sheet expanding activity to boot. Is this a three-and-done cut cycle? Or will Trump's continued flagellation of Powell take us to what some expect may eventually contaminate the U.S.: negative interest rates.
I use the word "contamination" intentionally. This negative-rate experiment has been going on for some time, and not only has it done essentially nothing to stimulate the economic malaise that's beset the nations that have adopted it, it carries tangible unfavorable externalities. The U.S. economy is not sick, yet Trump still wants to force feed it medicine.
Negative rates first cropped up in June 2014 in Europe when the ECB deployed a negative key rate to help stimulate growth and stave off deflationary pressures. This was billed as "temporary." Nearly six years later, they're still in place, with the ECB making its key rate negative just this September.
What has Europe received for such enormously accommodative policy? Continued near non-existent growth, low inflation and a whole lot of what was already there to begin with before it decided to manipulate the cost of money. This is positively nothing we should want to emulate. Europe is on its way to another lost decade, which leads us to our second empirical example.
Japan is the poster child for weak-willed monetary policy and how economies are not quite as easily managed as central bankers would hope. The country where the term "lost decade" first popped up -- after the 1990s produced havoc for the Japanese economy -- began its initial foray into quantitative easing (before it was even called QE) in 1997. Untold amounts of rate cuts and capital have been thrown at the economy since, including PM Shinzo Abe's "Abenomics" (i.e. cheapening the yen, fiscal stimulus and QE forever) and we are now coming up on Japan's third lost decade.
Naturally, when all you've done is make monetary policy as loose as possible and have injected unlimited funds into your system and your economy still stagnates, you should do more of the same: the Bank of Japan introduced negative rates in January 2016. The results since? See Europe.
The reality of negative rates has so far been in contrast to the central bank theory. Not only have such rates not provided any palliative economic comfort, they actively harm one of the most critical industries that a nation needs to facilitate credit and growth: banks. 
From 2014 to 2018 net income margin for Eurozone banks is down 29% and EPS has fallen by over 12%. Return on equity has been eroded. Sixty percent of the revenue of European banks comes from net interest income; e.g. their ability to profit from longer and shorter-dated spreads. Since the first sign of negative ECB rates in 2014, the EuroStoxx banking index is down 50% and many major banks now trade at a fraction of their book value. The following charts speak to the decline for these banks on both a P/E and P/B basis that have disproportionately impacted EU and Japanese banks.
Negative rates fundamentally disrupt banking business models that rely on spreads between interest rates they pay and rates they receive on lending. Additionally, if they stay low for long enough, banks may begin to pass on these negative rates to retail deposits; this could very well lead to cash hoarding, and further exacerbate the costs of this harmful experiment.
This insidious policy is something we'd be very wise not import as it grows more pervasive overseas, impacting 43% of foreign debt. Thankfully, Fed Chief Powell is  not keen on the idea, but if an unforeseen economic downturn were to hit hard, it would not be in the least surprising to see the U.S. join in on the madness. If we trend in that direction, it is extremely wise to steer clear of financial institutions.
It's estimated that major banks such as JPMorgan Chase (JPM) , Bank of America (BAC) , Wells Fargo (WFC) , and Citibank (C) could see EPS contraction of 8% or more. Smaller firms, which rely heavily on the spread of what they receive on loans and what they spend on funding, will be even more severely impacted. Charles Schwab (SCHW)  and E-Trade (ETFC)  could have estimated EPS declines of 50-60% in such an environment, Interactive Brokers (IBKR) by 35%, with numerous other regional banks seeing declines of 25% or more.
A healthy economy needs costs of capital that are not so distorted that they corrupt resource allocation and basic financial activity. Let's hope the U.S. continues to avoid such misguided policy.
Save 57% during our Halloween Sale. Don't let this market haunt you; join Jim Cramer's Investment Club, Action Alerts PLUS. Click here to sign up!
Citibank and JPMorgan Chase are holdings in Jim Cramer'sAction Alerts PLUS Charitable Trust Portfolio. Want to be alerted before Cramer buys or sells these stocks? Learn more now.
 The author is long IBKR