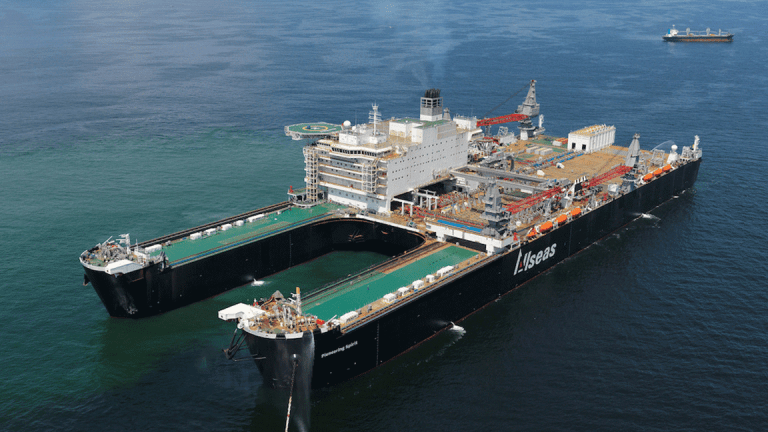 National Oilwell Varco Shares Slide on Lowered Guidance
National Oilwell Varco shares drop after the company lowers first-quarter revenue guidance.
National Oilwell Varco (NOV)  cut its revenue guidance for the first quarter to $1.94 billion from between $2.08 billion and $2.1 billion and the stock tumbled more than 6% on Friday.
Analysts had been calling for revenue of $2.09 billion.
On a consolidated basis, the company said it expects to report a GAAP operating loss of approximately $48 million and adjusted EBITDA of about $140 million. The prior estimate was for adjusted EBITDA of $192 million.
"The severity of the decline in demand for oilfield equipment resulting from the sharp fall in oil prices during late 2018, further compounded by capital austerity that has taken hold in upstream oil and gas markets, was greater than we expected," said Clay Williams, chairman, president and CEO.
Market weakness was "particularly acute among our oilfield service company customers resulting in a disproportionate impact to our Completion & Production Solutions segment," Williams said. "However, all three operating segments will report results below prior expectations."  
The CEO continued: "The price of oil has steadily improved since the beginning of 2019, slowly inspiring greater confidence among our North American customers, while international and offshore markets continue to exhibit steady signs of improvement. These dynamics translated into order intake that accelerated through the quarter and resulted in a sequential increase in bookings."
Wiliams added that "notwithstanding our expectations for market conditions and our financial results to improve as we progress through 2019, the outlook remains opaque. Therefore, we will be undertaking new initiatives throughout 2019 to align our cost structure with the current market environment." 
Shares fell 6.4% to $27.44. It has a $30.85 price target and consensus hold rating. Its dividend yield is 0.7%.
The company will release its first-quarter results on April 25.