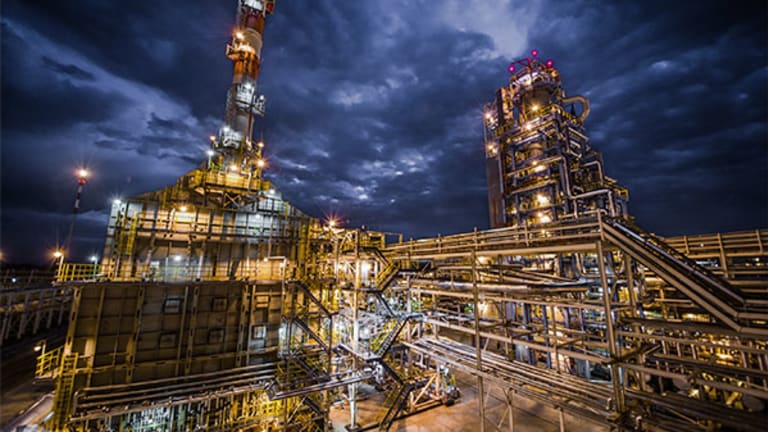 NatGas to Continue Surging as Signs Point to a Scorching Summer
The weather event that could cause warmer-than-expected weather has energy trading strategists optimistic about natural gas demand and stocks.
Natural gas prices were surging Tuesday and you can expect that the commodity will continue its rise in the coming months.
That's because signs continue to point to a potential El Nino weather event sometime later this year, according to Seaport Global Securities analysts.
Such an event can often cause warmer winds to blow from west to east across the United States, leading to warmer weather in various parts of the country, which believe it or not is good news for natural gas producers looking to bank off increased demand of the resource for use in air conditioning systems. 
Indications are that an El Nino event could start as early as this year and SGS' Head of Energy Trading Roberto Friedlander said that could continue to buoy NatGas prices even further into the mid-$3 range.
"Everybody likes to talk about the warmer winter weather, but now we've got the possibility of a warmer summer," Friedlander opined. "The result is a lot more demand [for natural gas] to power your air conditioning, which is good for these stocks that have been left for dead."
With that, Friedlander suggests the stocks of many natural gas-levered exploration and production companies could come up.
Beaten down gas stocks like Chesapeake Energy (CHK) - Get Free Report and Southwestern Energy (SWN) - Get Free Report, down around 29% and 31% in the past three months, respectively, could stand to benefit from such an uptick in demand.
Meanwhile natural gas ETFs, including the United States 12 Month Natural Gas (UNG) - Get Free Report , the ProShares Ultra Bloomberg Natural Gas (BOIL) - Get Free Report and the First Trust Natural Gas (FCG) - Get Free Report would also likely stand to benefit from rising natural gas prices. The ETFs were down slightly Tuesday as slumping oil prices were likely having a negative impact on many of their holdings.
Indeed, natural gas futures on the New York Mercantile Exchange were trending up around 1.5% Tuesday morning to $3.08 per one million British thermal units.
And as of Monday's settling price, natural gas futures have risen more than 18% over the past month.
An El Nino is characterized by the warming of the ocean surface, or above-average sea surface temperatures, in the central and eastern tropical Pacific Ocean, according to the National Oceanic and Atmospheric Association.
Seaport wrote Tuesday that surface waters off the coast of Peru are now 2.6°C warmer than average for the time of year. Such a temperature increase sends a strong signal about possible El Nino in the future and is likely what's affecting natural gas prices, the firm said.
The recent rise can in part be attributed to what the U.S. Energy Information Administration says is increasing base demand in the Northeast despite milder winter weather than anticipated.