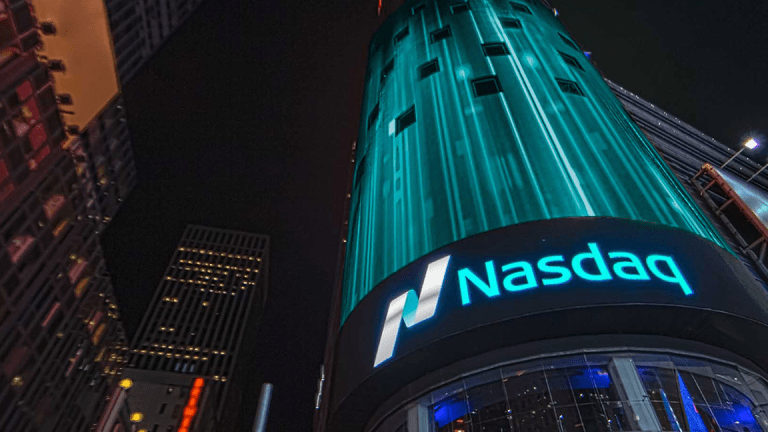 Nasdaq Exec: Exchange Is 'All-In' on Using Blockchain Technology
The exchange's head of blockchain product management Johan Toll said that far from fearing blockchain, Nasdaq is actively embracing the technology.
There's at least one traditional financial giant that not only doesn't fear blockchain technology, but is actively embracing it -- Nasdaq undefined , the second-largest stock exchange in the world by market cap.
Nasdaq's Head of Blockchain Product Management, Johan Toll, told the Street recently that his company is "all in" on using blockchain technology for its own transactions, as well as supporting external marketplaces that are moving into blockchain-based solutions.
Nasdaq first deployed blockchain technology on the secondary market it built, the Nasdaq Private Market, to enable the secure issuance and transfer of shares of privately-held companies.
But Nasdaq now also has some surprising collaborations underway with financial institutions -- including one with Citigroup (C) - Get Free Report , which is one of several big banks that have banned the purchase of cryptocurrency by customers using their credit cards. Nasdaq and Citi announced an integrated payment solution to trade securities internationally that combines Citi's commercial, multi-currency payments network with Nasdaq's blockchain technology. 
Nasdaq has also developed an electronic platform for shareholders to vote on acquisitions, new share issuances, and board elections, and licensed it in a few places -- first in a pilot program in Estonia and then, earlier this year, to South Africa's central securities depository, Strate, which oversees that country's equities and bonds markets.
All of the voting data is saved to an "immutable ledger," as Nasdaq's Toll describes it, and "issuers have online and real-time access to voting results." Toll emphasized the shared and trusted solution that the blockchain affords that largely -- and immediately -- eliminates other intermediaries.
Moreover, KYCs or "know your customer" data (in financial speak) can be easily audited on the blockchain by any party to the transaction. In most cases electronic vote auditing and tallying is conducted by the licensee of Nasdaq's blockchain technology and in the case of South Africa, by Strate. Toll added that anecdotally, he's seen a reduction in opportunities for fraud in South Africa's securities markets where its technology is deployed since the tech rolled out over the last year.
Mutual funds on the blockchain
Even in 2018, the mutual fund market can appear disjointed and cumbersome when compared to the equity markets, which rely on a Central Securities Depository that records and clears each transaction.
Mutual funds transactions are often handled through an intermediary like a brokerage, or directly with the fund company. When an investor wants to buy into a foreign company's mutual funds, the transaction gets even more complicated with separate bank and fund company solutions and phone calls and faxes to verify and record an order.
Because of the range of methods used to track mutual fund ownership, the industry is inefficient, with duplication and errors that require a re-do to correct the record all too common. International mutual fund records are particularly prone to error because of different record requirements in different countries. While most of the industry sees it as a cost, Nasdaq saw it as an opportunity. "We see the existing mutual fund transactional infrastructure as antiquated," Toll said.
In an effort to lessen the burden on the mutual-fund industry globally, Toll and his team at Nasdaq reworked its blockhain technology to specifically apply to mutual fund trading and records. Nasdaq piloted a program that included most major mutual fund families in Toll's native country of Sweden.
Nasdaq is now looking to deploy its blockchain-for-mutual-funds solution in all Nordic countries. "There was an opportunity to reduce manual work and reduce the risk of errors," said Toll, who explained that fund market liquidity and transactions were more easily verifiable but also "the individual investors benefit -- with way faster responses and faster mutual-fund purchases and sales."
Under Nasdaq's deployment, the mutual fund companies join a shared and trusted distributed database that records all transactions and ownership changes in real time. Powered by the Chain blockchain ledger -- a company that Nasdaq invested in -- the blockchain itself is private but the subscribers can immediately update fund investors through electronic means.
Blockchain for mutual fund families is a "win-win" according to Toll, where the tech can yield greater gains since some fund families are still recording some transactions with pen and paper. In what could likely be a new growth market for Nasdaq the company is marketing its solution to more mutual fund companies -- first in Europe and eventually, bringing the global mutual fund industry onto the blockchain.  
Blockchain-based payment systems are next 
Last year, TheStreet reported on Nasdaq's collaboration with CitiGroup to put Citi's business-payment services on Nasdaq's blockchain technology. Nasdaq's blockchain, used to trade shares of private securities, was integrated with Citi's bank transfer system typically used for dividends, interest, payroll and practically every conceivable type of commerce. 
The connection between Citi and Nasdaq brought enterprise transactions on to the blockchain for the first time and in a very understandable way by using the popular CitiConnect tool that shows account payments and cash balances -- and Linq, Nasdaq's proprietary blockchain tech for recording any number of private market transactions. 
The blockchain's distributed ledger automatically reconciles transactions in real time consistent with the transmission and payment instructions. Nasdaq's Toll says the deployment over the last year is one of just a few collaborations in the works on the road to a wholesale revision of how financial transactions are recorded, stored, and verified.
While Citi's transactions that use Nasdaq's blockchain represent only a fraction of the total commercial transaction market, Toll says that Citi is looking to expand the number of transactions on Nasdaq's blockchain. "It's a very real possibility that all enterprise payment transactions [could potentially] move onto the blockchain," says Toll. 
The earlier integrations, including CitiGroup's, have a good opportunity to earn significant savings and revenues from their contributions to the technology, too. For one, disruptions in traditional bank payment systems do occur and Nasdaq says that Citi has used blockchain as a backup system when payment clearing houses get disrupted or stop working momentarily. Second, Citi is able to collect a fee on blockchain-based transactions.
"Blockchain-enabled transactions are more quickly verifiable and offer more security when several players participate in the transaction chain," Toll said. So the larger the number of participants, the more secure the ledger on which the blockchain transactions are recorded. Given Nasdaq's bullishness on blockchain's prospects it looks like the technology has landed a key ally in pushing the technology forward as a viable substitute for existing, more vulnerable systems. 
Citigroup is a holding in Jim Cramer'sAction Alerts PLUS Charitable Trust Portfolio. Want to be alerted before Cramer buys or sells C? Learn more now.
The author holds stock in investment holding company, Leucadia, and remains a partner in an emerging technology fund. He holds no positions in cryptocurrencies or in any companies that invest in them.