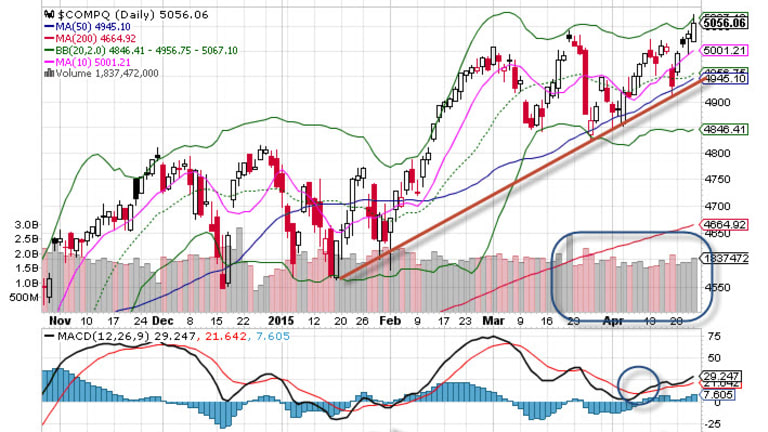 Nasdaq 5,000 Is Signaling a 'Broader' Bull Market in Stocks
Almost 15 years to the day in which the Nasdaq Composite hit a record high, the index hit the 5,000-mark on Monday -- the first time since its bust.
NEW YORK (TheStreet) -- Almost 15 years to the day in which the Nasdaq Composite hit a record high, the tech heavy index briefly crossed the 5,000-mark during Monday's intra-day trading.
The Nasdaq Composite got as high as 5,001.28 but then slipped below 5,000.
Associated with the dot-com boom -- and subsequent bust -- of Internet stocks, the Nasdaq Composite was once associated with high-flying, but not necessarily profit-making, technology and Internet companies. Following the bust, just one day after its record high, stocks like Amazon (AMZN) - Get Amazon.com, Inc. Report and eBay (EBAY) - Get eBay Inc. Report, which lost significant market cap went on to recover and then some, while many others like Pets.com went out of business completely.
To be sure, the Nasdaq is still off from its record high of 5,131.52, which it hit in intra-day trading on March 10, 2000. However, Monday's return to hit the 5000-market, signals that the current bull market "is broader because it's not just the S&P 500 and Dow that are continuing to push record highs," said Randy Frederick, the managing director of trading and derivatives at the Schwab Center for Financial Research.
"It's now every stock in all of the major indices which I think is very important. A key component ... is the fact that the Nasdaq's 12-month trailing price-to-earnings ratio was 100 then and it's now 23 so this level is much more realistic given the earnings of the companies versus in the past [when] it was very, what Alan Greenspan said [was] 'irrational exuberance.' It's not irrationally exuberant now because there's actual earnings behind it," Frederick said.
Today, the index looks vastly different than it did back in 2000. Today's Nasdaq Composite includes 2,569 companies listed on the Nasdaq Stock Market compared to more than 4,700 in March 2000. Technology companies, while still the biggest single sector in the index make up roughly 43% of stocks in the index, whereas 15 years ago the sector was 65% of the index, according to Nasdaq data. Consumer services and health care are the second and third biggest sectors in the index today, whereas telecommunications and consumer services were in 2000.
Today's biggest companies in the index by market cap? Apple (AAPL) - Get Apple Inc. (AAPL) Report of course, followed by Microsoft (MSFT) - Get Microsoft Corporation (MSFT) Report , Google (GOOGL) - Get Alphabet Inc. Class A Report, Amazon (AMZN) - Get Amazon.com, Inc. Report, Facebook (FB) - Get Facebook, Inc. Class A Report, Intel (INTC) - Get Intel Corporation (INTC) Report, Gilead Sciences (GILD) - Get Gilead Sciences, Inc. (GILD) Report, Cisco (CSCO) - Get Cisco Systems, Inc. Report, Comcast (CMCSA) - Get Comcast Corporation Class A Report and Qualcomm (QCOM) - Get QUALCOMM Incorporated Report.
Fifteen years ago, Microsoft held the top spot on the index followed by Cisco, Intel, Oracle (ORCL) - Get Oracle Corporation Report, Sun Microsystems, Dell, Qualcomm, Yahoo! (YHOO) , Applied Materials (AMAT) - Get Applied Materials, Inc. Report and JDS Uniphase (JDSU) .
Nasdaq has been actively courting company listings, both new companies coming to market as well as those switching from the New York Stock Exchange.
After two record years for IPOs, the pipeline "remains strong," and it's not just laden with tech companies, Bob McCooey, senior vice president of listings at Nasdaq told TheStreet last month.
Health care companies are currently one of the strongest sectors for IPOs as well as consumer companies, he said. Financial listings are also typically an important sector for IPOs each year, though they tend to be less buzz worthy, McCooey noted.