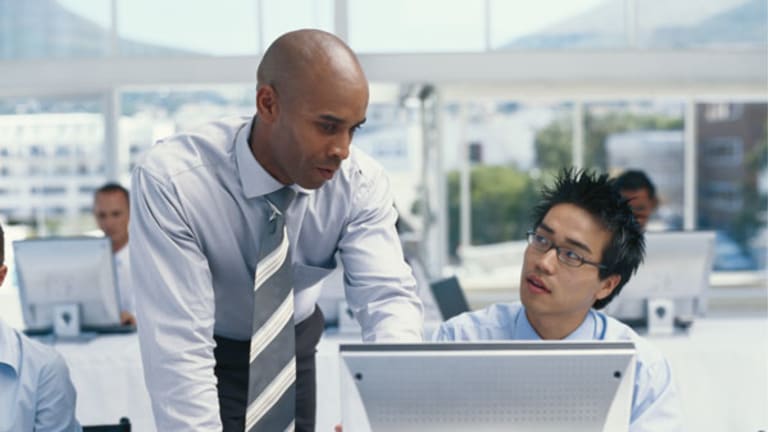 Napster Is Tuning Up for a Takeover
A high-profile addition to its board is the latest sign that the music service is readying itself for a sale.
A new appointment to Napster's( NAPS) board of directors indicates that the company is stepping up its efforts to shop its fledgling online music service.
Napster said in an 8-K filing with the
Securities and Exchange Commission
last week that it added one more director to its board, Ross Levinsohn, the former president of
News Corp's
(NWS) - Get News Corporation Class B Report
Fox Interactive Media.
While there, Levisohn spearheaded the acquisition of the wildly popular MySpace.com, gaming site IGN Entertainment and sports site Scout.com, among several other companies.
"This guy is not a low-profile guy, especially being involved in MySpace," says Darren Aftahi, an analyst with ThinkEquity who follows Napster. "I think it's an interesting turn of events given the fact that he's not really taking a permanent seat."
According to the filing, Levinsohn's term will expire at the company's annual stockholder meeting later this year.
Napster spokeswoman Becky Farina said that there was "no cloak-and-dagger" explanation for abruptly bringing on Levinsohn. Board members are appointed for three-year terms, and "he's just joining the group of board members who will be up for revalidation by the shareholders" at the meeting, she says.
When asked why Levinsohn doesn't just join the board at the annual meeting, Farina said that the company has an "interest in bringing him in sooner rather than later."
That might be because investors are growing impatient for a sale.
Napster said it was
exploring the idea when it hired banker UBS last fall. Shares had a nice run after the UBS announcement, but have sagged as months have passed without a buyer.
Napster shares were trading Tuesday at $3.97, up fractionally.
Gene Munster, an analyst with Piper Jaffrey, says that the high-profile board appointment does not signal an imminent deal but that Napster's "intentions are very real to sell the company. It kind of puts an exclamation point on what they said back in September."
"Right now they're not getting what they want," Munster says. "This is the next step. They need to step up the efforts."
Munster is confident that someone will buy the company, because the Napster brand "absolutely" has value, he says.
Everything from MP3-player manufacturers to cell phone makers or carriers to broadband-providers could be eyeing Napster, Munster says. But even with the well-known brand, a buyer could end up spending oodles of cash to compete with the reigning digital music king.
"The overall space has been a one-company show with
Apple
(AAPL) - Get Apple Inc. (AAPL) Report
," says Munster, who has a buy rating on Napster. He doesn't own shares, and his firm does not have a banking relationship with the company.
"The problem is in acquiring Napster you're stepping in front of a freight train, and the freight train is Apple," he says.
If a sale does not materialize, Think Equity's Aftahi says the company has "a lot of irons in the fire that will pay off in the back half of 2007." Aftahi doesn't own Napster shares, and his firm does not have a banking relationship with the digital media firm.
Napster recently announced a deal with
Time Warner's
(TWX)
AOL to be its
exclusive online music provider and it will absorb AOL's existing subscription music customers.
The company also has signed deals with
AT&T's
Cingular in the U.S., and
NTT DoCoMo
(DCM)
and
au/KDDI
, the two largest mobile networks in Japan.
By beefing up the board and signing the slew of strategic partnerships, "I think they are trying to boost the valuation for a takeout," says Mark Harding, an analyst with Maxim Group.
Harding upgraded the company to buy from hold in mid-January after the AOL deal, believing that the company has improved its partnerships to the point at which Napster would still survive if it weren't acquired.
"The cash burn rate certainly should come down significantly in the next few years, compared to what it's been," says Harding, who does not own shares and whose firm does not do banking with Napster, but it makes a market in the company.
Harding says Napster has cut back on sales and marketing, with plans to leverage the partnership with AOL instead. Subscriber growth should also help.
Napster CFO Nand Gangwani said on the
latest earnings call that the company should conclude its fiscal year in March 2007 with about $60 million in cash and short-term investments, adding that "we feel comfortable that we have sufficient cash to fund operations at least through the end of calendar 2008."
Even though he believes that Napster could make it on its own, Maxim Group's Harding sees "the most upside provided by the takeout possibility."