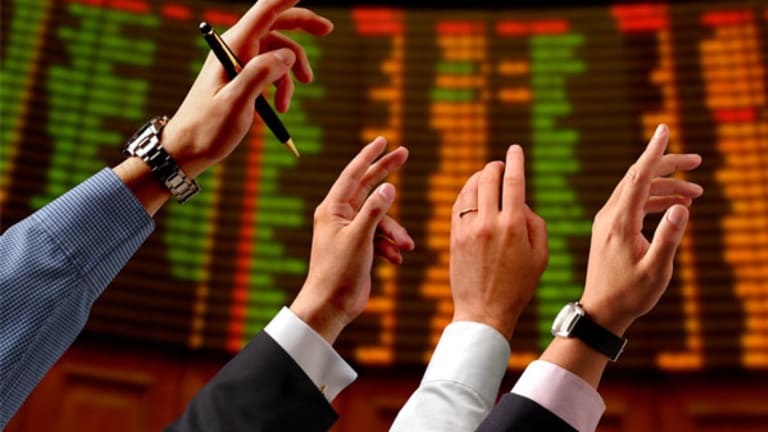 My Modus Operandi; Potential Outcomes: Best of Kass
In these highlights from his trading diary this week, Doug Kass writes about his method and Fed funds forecasts.
NEW YORK (TheStreet) -- Doug Kass of Seabreeze Partners is known for his accurate stock market calls and keen insights into the economy, which he shares with RealMoney Pro readers in his daily trading diary.
Among the posts this past week were entries about his method and Fed funds forecasts.
Please
for information about subscribing to
RealMoney Pro
.
The Method to My Madness
Originally published on Friday, Sept. 20 at 12:00 p.m. EDT.
I wanted to emphasize something that is obvious to all subscribers that have been around for a while.
As a matter of strategy it is my modus operandi to almost always average into positions (long and short) based on the notion that it is impossible for me to figure out the perfect/ideal entry point.
Read: Stocks Rise to Record High as Fed Maintains Stimulus
My sense is that many contributors go all in at the get-go in putting on positions and their first price is close to their average cost.
It is great having that confidence, but after four decades in this business, I simply cant exact that precision.
This means, from the first time I mention a position -- let's use my PowerShares QQQ
(QQQ) - Get PowerShares QQQ Trust Ser 1 Report
short as an example -- I am averaging up or down (based on macro or micro factors), and my total cost basis might be (far) different from my original mention.
Again, QQQ is a good example.
I originally mentioned the short at $77.40, but with today's large short add, my average cost is now slighlty over $79.
I hope my approach is well understood.
At the time of original publication, Kass was short QQQ.
Looking at Potential Outcomes
Originally published on Thursday, Sept. 19 at 9:34 a.m. EDT.
If you look at the range of
Fed
funds forecasts for year-end 2016, the high is 4.25% (Fisher?), the low is 0.5% (Evans?) and Bernanke falls seemingly right in the middle at 2%. The dovish view on the unemployment rate for the same point in time is 6%, while the hawkish view is that it will be down to 5.2%. The median is 5.6%, and that seems to be where Bernanke resides.
Read: Gold Rips Higher as Fed Maintains Stimulus
If you look at the interquartile range (kick out the top 25% and bottom 25%), the Fed funds views still range from as low as 1.75% (7 hikes if you start at zero) to as high as 2.75% (11 hikes up from zero). Note it is widely believed that Yellen is currently in the most dovish quartile, clearly outside the middle 50%, whereas Bernanke seems to lay claim to the median.
The difference of 4 hikes between the somewhat hawkish and somewhat dovish is about 6 months' time, which implies half the members believe the initial hike might occur as early as 24 months from now and 30 months from now, with 25% thinking it would need to occur sooner and 25% later. (This, of course, assumes that the future FOMC will follow a monotonic, 25-basis-point-per-meeting schedule, which is by no means guaranteed.)
Read: Subprime Loans Are Back?
The interquartile range for the unemployment rate is 5.4% to 5.8%. No doubt some members believe that this number will not fall as much as the increase in payroll jobs they are forecasting, as many seem to believe that improving conditions will draw in re-entrants from the ranks of the discouraged. My own sense is that the decline in participation we have seen is mostly structural and not very much cyclical -- that is, fewer of the long-term unemployed/marginally attached/claim-they-want-a-job-but-can't-find-work group will find their way back into the workforce than Bernanke seems to think). ISI group seems to disagree even more vehemently with Bernanke's view that the real unemployment rate may be closer to the 13.7% U-6 than the 7.3% U-3 rate as officially defined.
Based on the latest decision to continue to "jam credit into the economy," the question becomes whether that credit is capable of continuing at a pace fast enough to further lift asset markets (equities and residential real estate) to levels that may not be sustainable in a normalized interest rate environment (i.e., at a 4% fed funds rate, which is the Fed's own median longer-term forecast).
I wish I knew what that level was.
In other words, stay tuned.
Doug Kass is the president of Seabreeze Partners Management Inc. Under no circumstances does this information represent a recommendation to buy, sell or hold any security.