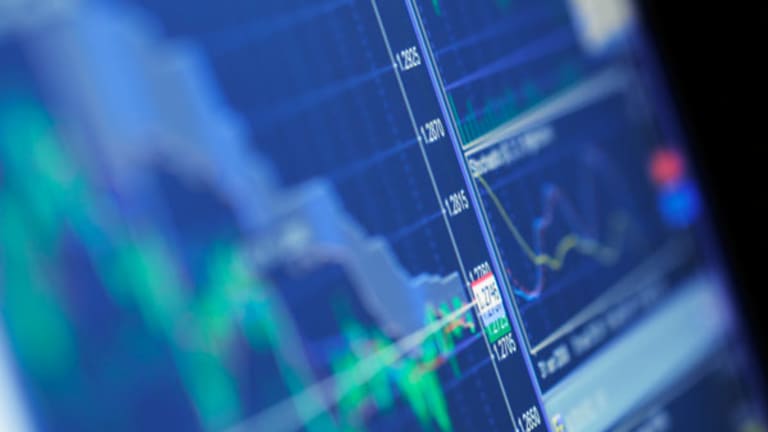 Must-See Charts: 5 Blue-Chip Trades for May
Here's a look at how some of the biggest names on Wall Street are trading technically.
BALTIMORE (Stockpickr) -- Stocks cleared a key level earlier this week as the S&P 500 shoved its way above the post-crash highs set back in late February. The S&P hit a high of 1357.49 in yesterday's trading -- the highest the index has seen since the summer of 2008. Other indices are positing similar performance right now as earnings season expectedly boosts the woefully low volatility that traders have encountered for the last few weeks.
Right now, the broad market is showing some ostensibly bullish signs for the first time since the start of 2011. With sentiment among "smart money" participants showing conviction toward the long-side, it makes sense to take a technical look at what's going on in some of Wall Street's biggest names right now.
Related:
5 Stock to Capture Bullish Sentiment
In case you're not familiar with
, technical charts are used every day by proprietary trading floors, the Street's biggest financial firms and individual investors to get an edge on the market. And according to some sources, skilled technical traders can bank gains as much as 90% of the time.
Every week, we take an in-depth look at large-cap stocks that are telling important technical stories. Here's a glimpse at
.
SPDR S&P 500 ETF
We took a look at the
SPDR S&P 500 ETF
(SPY) - Get SPDR S&P 500 ETF Trust Report
for a couple of reasons.
First, the $92.7 billion exchange-traded fund is modeled after its namesake stock index; as a result, it's an excellent proxy for the broad market. Second, and perhaps more important, this massive fund was showing us a bullish ascending triangle setup last week.
Related:
10 Best-Performing S&P 500 Stocks of 2011
As I mentioned earlier, that setup has broken out this week, a sign that any bearish supply of units at the $134 level has been absorbed by increasingly eager buyers who were willing to bid up shares. So this fund is in full breakout mode -- the question that remains is how long?
Because the ascending triangle in the S&P that we spotted last week was a relatively wide setup -- that is, it took a while to form -- it's reasonable to expect the effects of the SPY breakout to be reasonably long lasting. If buoyed by continued strong earnings, this setup could be the first of a long series of positive technicals for the market.
Ford
That broad market bullishness is carrying over to the S&P's constituents right now. Take
Ford
(F) - Get Ford Motor Company Report
, for instance. This best-in-breed automaker has been subject to regular appearances on our weekly lineup of Must-See Charts in the past year, to strong results. The technical outlook in this Detroit giant isn't much different now thanks to a well-formed inverse head-and-shoulders setup in shares.
If you're familiar with technical analysis at all, you've probably heard of the head-and-shoulders pattern. Its unique name and appearance have made it one of the most well-known -- not to mention overused and ill-applied -- technical patterns out there. Even so, recent academic studies show that the head and shoulders can provide profitable trading cues, so it makes sense to watch out for.
Ford's inverse head-and-shoulders is a bullish setup that suggests shares have found a bottom at the 200-day moving average. A break above the neckline (the blue like in the chart above) is the buy signal on this setup -- after that, I'd suggest a protective stop just below the neckline.
Ford, one of TheStreet Ratings'
, is one of the
, whose Soros Fund Management has a 2.5 million-share position in the stock as of the most recently reported period.
Amazon.com
Another example of an inverse head-and-shoulders is taking place in shares of
Amazon.com
(AMZN) - Get Amazon.com, Inc. Report
, the $88 billion online retailer. Amazon
reported strong earnings numbers
on Tuesday night, spurring
and a massive run-up in yesterday's market. That run-up shoved shares past the neckline level to close at $196.63.
Even though the sheer size of Amazon's market move ate some of the potential from the inverse head and shoulders setup, there's still room for this e-tailer to run. If you're looking to take a long position in this stock, consider waiting for any profit-takers to shake out of shares today.
Amazon, one of TheStreet Ratings'
top-rated Internet catalog and retail stocks
, shows up in
Blue Ridge Capital's portfolio
as the top holding, at 5.8% of the total.
iShares Silver Trust ETF
Silver has had a prodigious run
in the past year. All told, the metal has more than doubled in the trailing 12 months -- and one of the best ways to play it has been the
iShares Silver Trust ETF
(SLV) - Get iShares Silver Trust Report
, a $17.3 billion fund that represents physical ownership of the metal. As a result of its real-world holdings, the day-to-day value of the fund is very closely tied to silver futures themselves, net a bit of tracking error.
So, with all of the attention on this precious metal, does it still make sense to buy silver?
Related:
6 Silver Stocks Analysts Like for 2011
The short answer is a resounding yes, but not quite yet. Silver has run hard over the past month, outperforming similar assets like gold by a factor of four. That's shoved silver into overbought territory. I think it makes more sense to let silver get a bit closer to
(at Trendline 2 in the chart above) before going long.
Hess
Of course, not all setups can be quite so bullish. A much less predictable situation is unfolding in shares of
Hess
(HES) - Get Hess Corporation (HES) Report
right now thanks to a broadening pattern that's widened this firm's range considerably in the last few months. Broadening patterns are typically associated with reversals, but in my experience, they're rarely very predictive before a breakout occurs.
What these patterns do tell traders is that volatility has entered shares is a big way. Unfortunately, as long as shares remain within the broad footprint of the pattern, there won't be a high-probability trade to be found. The best case scenario for Hess right now is a bit of consolidation between $76 and $86 that tilts the upper trend line horizontal.
Either way, I wouldn't take a position in Hess until a breakout in one direction or another happened first (an if/then trade).
To see this week's potential trades in action, check out the
High Volume Technicals portfolio
on Stockpickr.
-- Written by Jonas Elmerraji in Baltimore.
RELATED LINKS:
>>8 Stocks for the Coming Oil Sands Boom
>>Stocks That Pay Monthly Dividends
>>5 Stocks Insiders Are Buying Like Crazy
Follow Stockpickr on
and become a fan on
Facebook.
At the time of publication, author had no positions in stocks mentioned.
Jonas Elmerraji is the editor and portfolio manager of the Rhino Stock Report, a free investment advisory that returned 15% in 2008. He is a contributor to numerous financial outlets, including Forbes and Investopedia, and has been featured in Investor's Business Daily, in Consumer's Digest and on MSNBC.com.