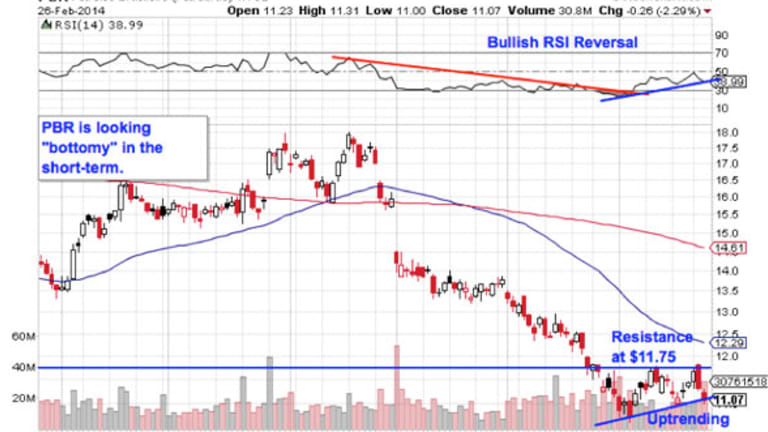 Must-See Charts: 5 Big Charts to Trade for Gains
Here's a look at how to trade some of the biggest names on Wall Street.
BALTIMORE (Stockpickr) -- Stocks are pointed lower this morning, the first hint of a short-term correction after the nonstop rally the S&P 500 has been on for the past month.
As I write, the big index is sitting on the high end of its uptrend -- and while that "frothiness" may make some investors nervous right now, it shouldn't. Make no mistake, we're still in a "buy the dips" market. Now it's time to wait for the next dip.
But that doesn't mean you have to sit on your hands and wait for the S&P 500 to roll over. While the big index is on "pause" right now, there are breakout trades setting up in Wall Street's biggest stocks right now. Today, we'll take a technical look at five of them.
>>5 Stocks Ready to Explode Higher
If you're new to technical analysis, here's the executive summary.
Technicals are a study of the market itself. Since the market is ultimately the only mechanism that determines a stock's price, technical analysis is a valuable tool even in the roughest of trading conditions. Technical charts are used every day by proprietary trading floors, Wall Street's biggest financial firms, and individual investors to get an edge on the market. And research shows that skilled technical traders can bank gains as much as 90% of the time.
Every week, I take an in-depth look at big names that are telling important technical stories. Here's this week's look at five high-volume stocks to trade this week.
Petrobras
It's been a rough quarter for shareholders of Brazilian energy giant Petrobras (PBR) - Get Free Report; the $72 billion national oil company has slid more then 30% in those last three months. But after selling off hard into the start of 2014, this stock looks ready to reverse. Here's why.
>>5 Stocks With Big Insider Buying
Petrobras is currently forming an ascending triangle pattern, a bullish setup that's formed by horizontal resistance above shares at $11.75 and uptrending support to the downside. Basically, as shares bounce in between those two technically important price levels, they're getting squeezed closer and closer to a breakout above resistance. When that happens, we've got our buy signal.
Momentum adds some confirmation that when shares of PBR do break out, it'll hold. Our momentum gauge, 14-day RSI, achieved a bullish reversal at the start of the month, and it's been trending higher ever since.
Even though Petrobras' ascending triangle points to a shorter-term move, the breakout will push shares above the downtrend that they've been in since November. That gives a move above $11.75 long-term trading implications.
LabCorp
LabCorp (LH) - Get Free Report is another beaten-down name that looks ready for a reversal. Shares of the $8 billion clinical lab stock have slid double-digits in the last few months, a period when the S&P was actually making its way higher. But shares of LabCorp look "bottomy" right now, and traders are getting a second chance at a low-risk entry this week.
>>Cheap Trades: 5 Breakout Stocks Under $10
LabCorp has spent the last two months forming a double bottom pattern, a reversal setup formed by two swing lows that bottom out at around the same level. The buy signal came on the breakout above $93, which LH managed to push above last week. Don't worry if you missed the entry in shares; they are coming back down to retest newfound support at $93, a move called a "throwback."
A throwback happens when a stock moves back down to test newfound support at its former breakout level -- in this case at $93. And while throwbacks look ominous, they're actually constructive for stock prices because they re-verify the stock's ability to catch a bid at support.
Wait for LH to bounce off of $93, then it becomes a buy again.
MSCI
Investment index designer MSCI (MSCI) - Get Free Report has fared a lot better lately. In the last year, shares of the firm have rallied more than 32% -- not a huge surprise considering the firm's exposure to the investment management business makes it a leveraged bet on stocks. As equity prices have climbed higher, MSCI has capitalized on buoyant stock prices.
But now, shares look primed for an even bigger breakout.
>>5 Rocket Stocks Ready for Blastoff This Week
That's because MSCI is currently forming an inverse head and shoulders pattern, a bullish setup that indicates exhaustion among sellers. The pattern is formed by two swing lows that bottom out around the same level (the shoulders), separated by a deeper low (the head). A breakout above the neckline is the buy signal; MSCI's neckline is right at $45. When and if shares close above that $45 level, it's time to jump into this trade.
That's not magic; whenever you're looking at any technical price pattern, it's critical to think in terms of buyers and sellers. Pattern names are a good quick way to explain what's going on in this stock, but they're not the reason it's tradable. Instead, it all comes down to supply and demand for shares.
The $45 neckline level is a price where there has been an excess of supply of shares; in other words, it's a place where sellers have previously been more eager to step in and take gains than buyers have been to buy. That's what makes a breakout above it so significant the move means that buyers are finally strong enough to absorb all of the excess supply above that price level. That push could happen sooner rather than later.
Delta Air Lines
Delta Air Lines (DAL) - Get Free Report is a chart we just looked at last week. At the time, shares were coming down to test trendline support for a tenth time during its uptrend, and it looked like time to buy. In the trading sessions since, Delta has rallied more than 10%, showing us a textbook trend channel bounce. So how do you trade it from here?
Delta has pushed into the upper half of its price channel. And while the move through the previous swing high at $33 was an extra bullish move this week, shorter-term traders should think about scaling out of the trade as shares approach the top of their channel. If you're holding on for the longer-term, keep holding. This stock is still very much a bullish trend trade.
Just keep a protective stop at the 50-day moving average, which has been a solid proxy for support all the way up.
MasterCard
We're seeing a similar setup in shares of MasterCard (MA) - Get Free Report this week -- the only difference is the fact that MA is only just bouncing off of its trend line support level. Investors looking to replicate the Delta trade are looking at a buying opportunity in shares of this blue chip payment network stock.
MasterCard's price channel gives us a high-probability range for shares to stay within. More important, we got a bounce off of support in yesterday's session, so it makes sense to buy on the next white bar day. Waiting to buy off a support bounce makes sense for two big reasons: it's the spot where shares have the furthest to move up before they hit resistance, and it's the spot where the risk is the least (because shares have the least room to move lower before you know you're wrong). Support has been a more important level than resistance on the way up, which provides an ideal situation for longs right now.
None of that changes the fact that risk management is crucial right now. If you decide to be a buyer here, I'd recommend keeping a stop just below MA's latest swing low at $75.
To see this week's trades in action, check out the Must-See Charts portfolio on Stockpickr.
-- Written by Jonas Elmerraji in Baltimore.
RELATED LINKS:
>>What Janet Yellen Doesn't Want You to Know About QE5
>>4 Big-Volume Stocks to Trade for Breakouts
>>5 Hated Earnings Stocks You Should Love
Follow Stockpickr on Twitter and become a fan on Facebook.
At the time of publication, author had no positions in the names mentioned. Jonas Elmerraji, CMT, is a senior market analyst at Agora Financial in Baltimore and a contributor to TheStreet. Before that, he managed a portfolio of stocks for an investment advisory returned 15% in 2008. He has been featured in Forbes , Investor's Business Daily, and on CNBC.com. Jonas holds a degree in financial economics from UMBC and the Chartered Market Technician designation. Follow Jonas on Twitter @JonasElmerraji