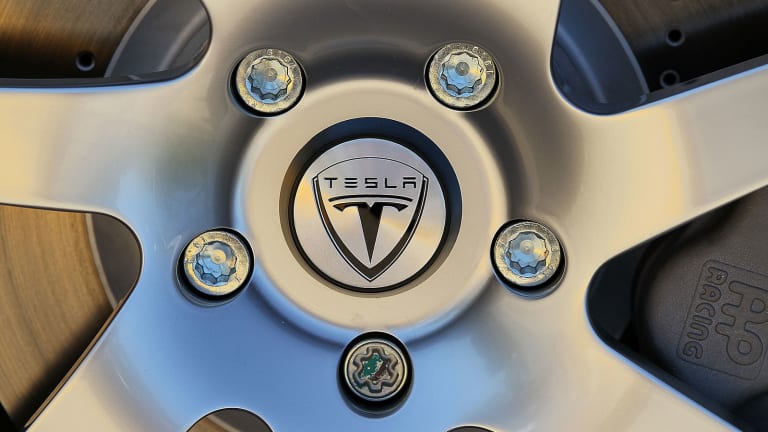 Tesla CEO Elon Musk Unveils His Mind-Blowing Electric Truck, High-End Roadster
Tesla's Elon Musk unveiled the company's first electric truck Thursday, and surprised attendees with a new electric roadster set to do 250 mph.
Tesla (TSLA) - Get Tesla Inc Report CEO Elon Musk announced a new electric powered semi tractor-trailer truck Thursday with a range of 500 miles, and threw in a surprise announcement of a new roadster that he said would be the fastest production car ever, with a top speed of 250 mph.
The announcements mark the car maker's latest transportation forays even as it struggles to build and deliver tens of thousands of its model 3 automobiles.
Musk unveiled the new vehicles at an event in Hawthorne, Calif., livestreamed over the company's website.
See TheStreet's live blog of the event.
Manufacturing problems have slowed deliveries of the company's Model 3 electric vehicle, though Musk insists Tesla will pick up production in the months ahead.
Musk said the trucks, scheduled to come into production in 2019, will accelerate from 0-60 mph with a full load of 80,000 pounds in 20 seconds. He also claimed the vehicles have a lower drag coefficient than a Bugatti Chiron supercar. No pricing data was offered, but Tesla is asking for $5,000 to reserve one of the vehicles.
In a surprise, Musk also announced a new roadster sports car with a range of 620 miles. The car will accelerate from 0-60 mph in 1.9 seconds. "This is the base model," Musk said. Each of the first 1,000 units of the car, called the Founders Series, can be reserved with a $250,000 payment. Assuming they are fully subscribed, that will bring in $250 million to Tesla.
The  regular roadster, not expected until 2020, can be held with a more modest $45,000 payment. 
Last month, Mercedes Benz parent Daimler unveiled an electric short-haul truck with an 11-ton capacity. 
The high-end roadster is far from the first time Elon Musk made a show stopping announcement: 
More of What's Trending on TheStreet:
Employees of TheStreet are restricted from owning individual securities.