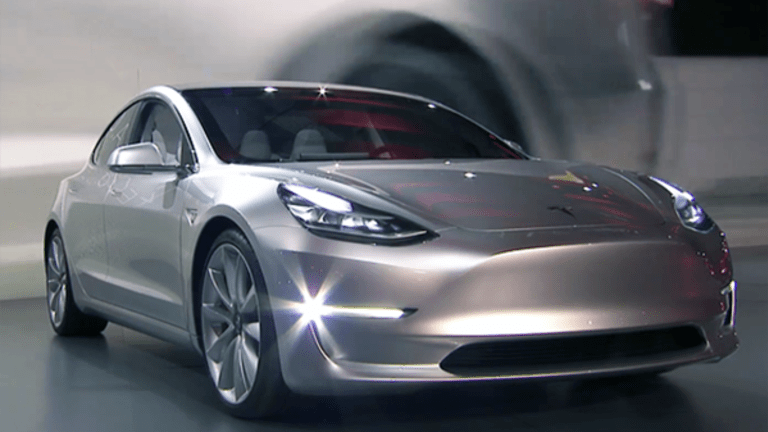 Tesla Isn't Blowing Everyone Away in the Electric Car Industry This Year -- Here Are the Numbers
Electric car sales rose 43% in 2017's first five months compared to a year ago, but it's not all Tesla.
Tesla  (TSLA) - Get Report steals all the thunder when it comes to electric cars in the U.S. thanks to Elon Musk's mad-genius appeal and his cars' sexy cachet, but the race for dominance in the market is really neck and neck, and while Tesla leads overall, its upcoming push to ramp up production needs to work smoothly if it's to hold the title.
According to industry tracking Website wattev2buy.com Tesla was the number one seller of electric vehicles in the year to date, with 15,590 units sold. That's a mere 441 units more than number 2 maker Chevrolet, whose popular models have been selling well, if with less fanfare than Musk's machines.
According to wattev2buy electric car sales rose 43% in 2017's first five months, compared to a year ago. That made May the second best year ever for electric vehicle sales. For May, year-to-year sales improved 46%.
It's interesting to note that while Tesla is the overall leader in sales, Toyota's Prius took the title away from the Chevrolet Bolt as the best monthly seller for the first time in 2017, the report said.
Perhaps more concerning for Tesla as rivals pour their experience and capital into fighting the upstart, waatev2buy said, "The Tesla Model S also dropped out of the top 3, a rare occurrence, making way for its sibling, the Tesla Model X. The Hyundai Ionic and Chrysler Pacifica both climbed five or more positions for the year, with the Chevrolet Bolt increased its units sold with 21% in April but remaining in the 5th place overall for the year. "
It said the Mercedes C350e, Audi A3 e-tron, and Ford  (F) - Get Report Focus Electric were May's worst sellers.
"The Top 3 brands remained the same as this time last year with Tesla, General Motors'  (GM) - Get Report Chevrolet and Ford taking the top three positions. The rest of the brands had to make way for the rise of Toyota, taking the 4th place. Volvo gave up the most ground, falling from 9th to 12th spot," the report concluded.
Still, the bulls are likely to keep riding with Tesla in the near-term.
Sales expectations for the upcoming Model 3 are too low given likely high consumer interest, Pacific Crest analyst Brad Erickson said in a note on Tuesday. "If the car is perceived as awesome, already low second half 2017 buy-side expectations will actually fall. Under this scenario, we believe downside risk from significant production shortfall would likely be minimal."Brian Sozzi contributed to
Brian Sozzi contributed to this story. 
Click here for the latest business headlines.
Editor's Pick: Originally published June 6.