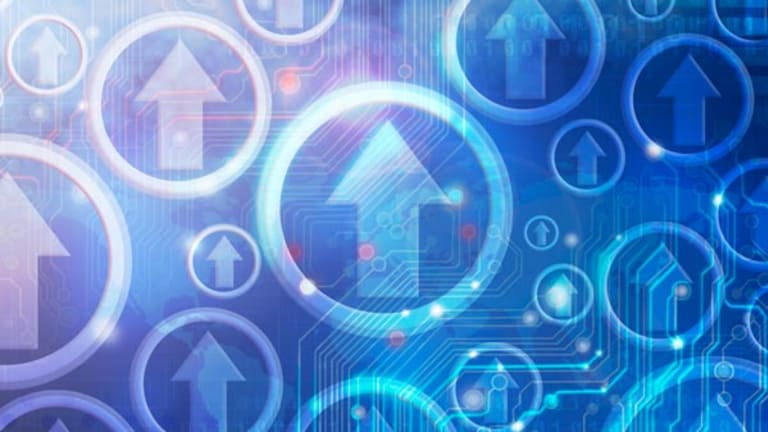 Munder Sets Big Private Deal With Soaring Multex.com
RealMoney.com's DAILY BULLETIN
July 21, 2000
http://www.realmoney.com
Market Data as of Close, 7/20/00:
o Dow Jones Industrial Average: 10,843.87 up 147.79, 1.38%
o Nasdaq Composite Index: 4,184.56 up 128.93, 3.18%
o S&P 500: 1,495.47 up 13.51, 0.91%
o TSC Internet: 865.15 up 32.09, 3.85%
o Russell 2000: 534.75 up 6.89, 1.31%
o 30-Year Treasury: 106 07/32 up 1 19/32, yield 5.814%
Companies in Today's Bulletin:
Lucent (LU:NYSE)
Munder NetNet
Federated (FD:NYSE)
Target (TGT:NYSE)
PurchasePro.com (PPRO:Nasdaq)
Ariba (ARBA:Nasdaq)
Commerce One (CMRC:Nasdaq)
In Today's Bulletin:
o The Chartist: The Daily Chartist: Don't Confuse Selling With Profit-Taking

Mutual Funds: Timing Is Everything: Munder Sets Big Private Deal With Soaring Multex.com
The $30 million private placement was at a premium to the stock price -- at least, before Thursday.
http://www.thestreet.com/funds/funds/1009474.html
Retail: How E-Tail Stocks Might Get Their Groove Back
A few factors that could spark a summer sector rally.
http://www.thestreet.com/stocks/retail/1007655.html
Retail: Broken Fingerhut Hammers Federated Stock
The retailer also continues to have problems grasping an Internet strategy.
http://www.thestreet.com/stocks/retail/1009255.html
Bond Focus: Greenspan's Neutrality Unleashes Huge Bond Rally
Markets that were braced for a warning about additional rate hikes breathed a big sigh of relief.
TO VIEW TSC'S ECONOMIC DATABANK, SEE: http://www.thestreet.com/markets/databank/999263.html
http://www.thestreet.com/markets/keynumbers/1009261.html
Telecom: Lucent Gets Lashed After Another Shortfall, and Heads May Roll
Analysts are saying the phone-equipment maker's woes point to a leadership failure.
http://www.thestreet.com/tech/telecom/1008823.html
Internet: A Percentage Game: PurchasePro.com Bests Ariba
And says it'll turn profitable two quarters ahead of expectations.
http://www.thestreet.com/tech/internet/1009029.html
Telecom: Lucent Spinoff May Stem Engineering Attrition
Still, some observers aren't sure it's more than a fig leaf.
http://www.thestreet.com/tech/telecom/1009436.html
Stocks to Watch: Stocks to Watch Friday: AOL, Sun Microsystems, Agilent, CNet, Palm, More
http://www.thestreet.com/markets/stockwatch/1009581.html
The Chartist: The Daily Chartist: Don't Confuse Selling With Profit-Taking
By
Helene Meisler
Special to TheStreet.com
7/20/00 9:33 AM ET
July 20, 2000
When I first entered this business, I'd hear the phrase "profit-taking" and think it was just a euphemism for selling. Sure, when you take a profit (if you're long) you are in fact selling, but that's a much different sort of selling from what we see when investors are doing some serious selling.
The difference is profit-taking brings the winners back down, while real selling happens when stocks that are already down keep going down. What we've seen over the past few days is profit-taking, and profit-taking is what keeps a market healthy; it shakes out the weak holders. If we were seeing real selling, even the dogs would keep going down. That's not what's happened, as many of the dogs are simply marking time at their lows right now. The most obvious example of this is the lack of expansion in the stocks making new lows.
When we're finished shaking out the weak holders, there will be room to move higher with ease. Many of the big averages, including the
Nasdaq Composite Index
and the
S&P 500
have fallen right back into their original trading ranges, most now sitting back at the top of those trading ranges, which may begin to provide some support. However, the oscillators suggest that there is still some more time before we can call this market oversold. I'd prefer we reached an oversold condition before calling an end to this correction phase.
Overbought/Oversold Oscillators
For an explanation of these indicators, check out The Chartist's
primer.
Helene Meisler, based in Singapore, writes a technical analysis column on the U.S. equity markets on Tuesdays and Fridays, and updates her charts daily on TheStreet.com. Meisler trained at several Wall Street firms, including Goldman Sachs and Cowen, and has worked with the equity trading department at Cargill. At time of publication, she was long Amgen, although holdings can change at any time. Under no circumstances does the information in this column represent a recommendation to buy or sell stocks. She appreciates your feedback at
KPMHSM@aol.com.
Copyright 2000 TheStreet.com, Inc. All rights reserved.