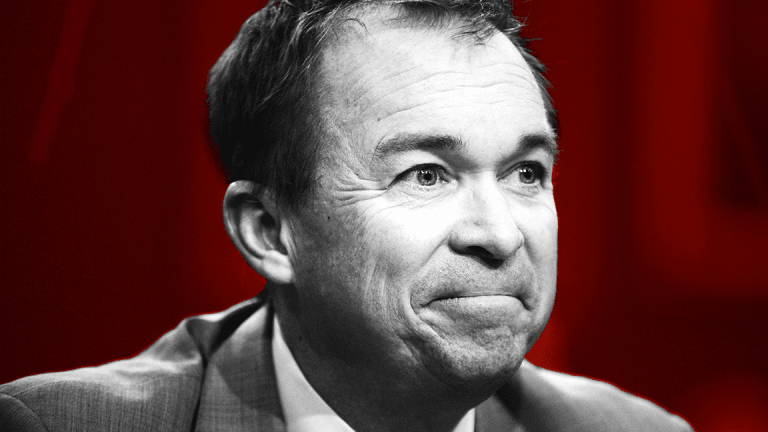 Trump 'Doesn't Have Ability' To Fire Fed Chairman Powell, Mulvaney Tells ABC
Following Bloomberg's report that Trump is eyeing firing Jerome Powell, White House Budget Chief Mick Mulvaney and Treasury Secretary Steven Mnuchin say it won't happen.
After reports that President Donald Trump is eyeing firing Federal Reserve Chairman Jerome Powell circulated over the weekend, Mick Mulvaney, the White House's own budget director, said in a televised interview that the president "now realizes he does not have the ability" to fire the Fed chief.
White House Office of Management and Budget Director Mulvaney said during an interview on ABC News' "This Week," that after speaking with Treasury Secretary Steven Mnuchin, he was assured Trump wouldn't try to fire Powell.
"It's not at all unusual for a president to complain about the actions of the Federal Reserve Chairman," said Mulvaney, who's also acting chief of staff, adding that the "tension" between the two is traditional.
"I think he put out a Tweet last night specifically saying that he now realizes that he does not have the ability to fire him," Mulvaney said, before the host, ABC News' chief White House correspondent Jonathan Karl, corrected him, and said that the Twitter post was from Mnuchin.
Mnuchin said over Twitter earlier that while Trump "totally" disagrees with the Fed's policy and that he thinks raising rates is a "terrible thing to do at this time," the president said he "never suggested firing Chairman Jay Powell, nor do I believe I have the right to do so."
Earlier, Bloomberg had reported that Trump wanted to sack Powell over the central bank's moves to hike U.S. interest rates.
Later on Saturday, however, White House Press Secretary Sarah Huckabee-Sanders said she was not aware of any plans to fire Powell, according to a report from CNBC.
Bloomberg had cited four unnamed persons with knowledge of the situation as saying the president has talked in recent days about sacking the Fed chief, whom Trump appointed.
The rumor followed months public venting by the president over the central bank chief. In October, Trump reportedly called Powell "crazy."
Canning Powell could roil markets at a time when volatility and uncertainty already rule Wall Street. Investors are facing a wildly swooning stock market, the special counsel probe, a U.S.-Chinese trade war, top White House officials' exits and, most recently, the federal government shutdown.
"While I can understand the president's frustration given that he likes to use the stock market as a barometer of his presidency, if he were to focus on the data of late he would likely realize that Fed Chairman Powell is signaling a softening toward rising interest rates in 2019," said Chris Versace, chief investment officer at Tematica Research and a columnist for TheStreet's Real Money premium site for active traders.
"Trump also has to consider what it would mean to the market in terms of uncertainty were he to formally consider removing Powell," Versace said. "The market is grappling with a number of issues and uncertainties as it is, and removing a Fed chair that has been on the job for just under a year would only add to them."
Save 66% with our '12 Days of Holiday Deals' Sale.Join Jim Cramer's Action Alerts PLUS club for investors and get our best deal of the year. Click herefor details or to sign up.