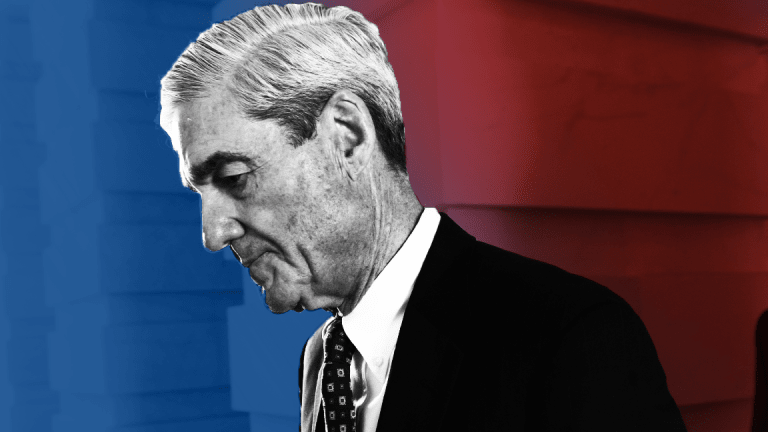 Special Counsel Mueller: Charging Trump With a Crime Wasn't an Option
'A president cannot be charged with a federal crime when he is president. It is not constitutional,' the special counsel said in a press conference Wednesday.
Special Counsel Robert Mueller said at a press conference Wednesday that while his office's investigation into Russian collusion in the 2016 election wasn't intended to indict President Donald Trump for a crime, if he found that the president hadn't committed a crime Mueller's report explicitly would have said so.
"We did not make a conclusion that the president did not commit a crime," Mueller said, noting that longstanding U.S. Justice Department is that "a president cannot be charged with a federal crime when he is president. It is not constitutional."
Instead, Mueller seemed to put the impetus on Congress to move his investigation forward, meaning the tenor in Washington could turn even more sour as Democrats ramp up pressure on Trump as major Democratic candidates gear up for the next presidential election in 2020. 
Mueller also said that his testimony on the matter would not go any further than Wednesday's comments, throwing a wet blanket on Democrats' plans to call Mueller to testify before Congress.  
Muller said he would be formally closing the special counsel's office and resigning from the Justice Department.
House Speaker Nancy Pelosi, a Democrat from California and the highest-ranking congressional Democrat, has declined to advance impeachment proceedings in the weeks since Mueller's report was first made public. But Wednesday's press conference may put extra pressure on her to move the proceedings forward. 
Trump tweeted shortly after Mueller left the podium.
The White House put out an official statement about an hour after Muller left the stage saying: "The special Counsel has completed the investigation, closed his office, and has closed the case. Mr. Mueller explicitly said that he has nothing to add beyond the report, and therefore, does not plan to testify before Congress. The report was clear - there was no collusion, no conspiracy - and the Department of Justice confirmed there was no obstruction. Special Counsel Mueller also stated that Attorney General Barr acted in good faith in his handling of the report. After two years, the Special Counsel is moving on with his life, and everyone else should do the same."
House Speaker Pelosi issued a statement Wednesday afternoon stating in part: "It is with the greatest respect for Special Counsel Robert Mueller and the deepest disappointment in the Department of Justice holding the President above the law, that I thank Special Counsel Mueller for the work he and his team did to provide a record for future action both in the Congress and in the courts regarding the Trump Administration involvement in Russian interference and obstruction of the investigation."
Congress is in recess this week before the Senate returns to work on Monday. House congressional members are on vacation until Tuesday, June 4. 
Stocks markets in the U.S. were down sharply in the minutes since Mueller's comments concluded. The Dow Jones Industrial Average was down 303 points, or 1.2%, to 25,042.