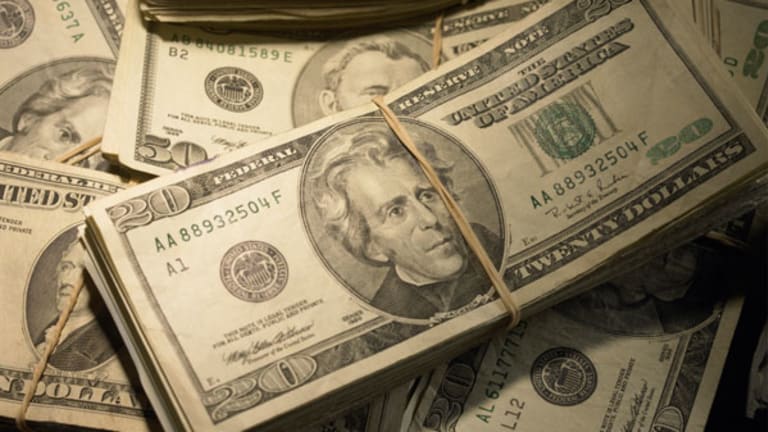 MSFT, QLIK, ADBE: Jim Cramer's Views
Cramer shares his views on how the world hates tech right now and opines that taking a step back might give some perspective.
Jim Cramer shares his views every day on RealMoney. Click here for a real-time look at his insights and musings.
Cramer: The World Hates Tech Right Now
Posted at 6:47 a.m. EDT on Friday, Dec. 2, 2016

Are we having another LinkedIn (LNKD) / Tableau Software (DATA) moment?
That's all I could think about when I listened to Workday's CEO Aneel Bhusri drop a bomb on his earnings call about deals that have slipped amid global uncertainty.
If you recall, back in February of this year LinkedIn and Tableau Data, two cloud-based software companies that are fellow travelers with Workday (WDAY) , simultaneously announced that they saw some weakness and uncertainty in their businesses; it caused a tsunami of tech selling that reached far beyond the borders of those two companies.
Workday's comments conceivably could set off a similar flood of selling, as the company very pointedly made clear that the uncertainty is palpable and hasn't yet gone away.
Here's the specific comments by Aneel Bhusri at the end of his prepared remarks, which are causing the stock to roll over: "one recent development worth mentioning is a slippage of some large deals early in Q4--specifically, we have seen a few multinational prospects delay their projects." Bhusri went on to say: "Some attribute the delate to global uncertainties such as Brexit, the U.S. presidential election and pending elections in other G8 Countries. We suspect and hope these are isolated events that will be short-lived, but felt it was noteworthy enough to mention on this call."
Wowza.
Now, let's put this into the right context. Unlike Tableau Data and LinkedIn, Workday reported a terrific quarter and didn't cut guidance, although bullish analysts did have to bring numbers down for the next quarter. It did have a surprise profit. The revenue is growing at 34% and remains dynamic, with subscription growth at 38% with improving margins.
That's a far cry from the chatter on Tableau Data's nasty call back in February, when the company dramatically lowered its growth rate, citing cheaper competition and also cut its forecast from a $0.06 gain to an $0.08 to $0.12 loss.
It's also a more positive message than LinkedIn sent back in February, as the social networker took its forecast down for the next quarter from $867 million to $820 million and said it saw weakness in its core marketing and advertising markets.
Still, you could see how someone might panic and sell Workday's stock after hearing those words, especially because it is an expensive stock, with an enterprise value-to-sales ratio of 8.7--one of the highest of all companies that I follow.
Again, it shouldn't be as severe as LinkedIn, which saw its stock plunge from $192 to $108 after its comments or Tableau Data's stock, which was eviscerated, diving from $81 to $41 in that same awful February 4 session.
It is worth noting that in the wake of the declines that February day, Workday's stock fell from $64 to $54 and then to $48 the next session. So it's easy to see why this stock could go down more, as it is in the blast zone and not some collateral damage site. A host of cloud companies that looked like LinkedIn and Tableau Data, such as Salesforce.com (CRM) , ServiceNow (NOW) , Splunk (SPLK) and Action Alerts PLUS charity portfolio name Adobe (ADBE) saw similar declines.
For a cloud benchmark, though, Salesforce's stock fell from $67 to $58 on the day LinkedIn and Tableau Data blew up, then settled at $54 the next day. ServiceNow fell from $58 to $52 to $46; Splunk got crushed, dropping from $47 to $36 to $31 and Adobe plummeted from $86 to $79 to $74 during those horrible days.
It turned out, by the way, to be a terrific buying opportunity for all but Tableau Data, which still meanders three bucks above where it bottomed. It was a fabulous time to plunge into LinkedIn; four months later, Microsoft (MSFT) bid $196 for the company, a 50% premium.
Later, we even found out that Salesforce used the weakness to cast a wide net for possible acquisitions, which included LinkedIn itself. It's also worth pointing out that Qlik (QLIK) , another lookalike, fell from $24 down to $18 after those horrid days but was then acquired by Thomas Bravo, a private equity firm for $30.50 in June. Demandware (DWRE) , still one more fellow traveler, got crushed, going from $44 to $37 on the fated day and then slipped to $27 a few days later before Salesforce went on a shopping spree and picked it up at $75 in June.
These companies' businesses did not share in the issues of LinkedIn or Tableau Data, so the guilt by association was wrong. I am pretty sure that not all of the companies that will go down today share the global concerns of Workday, but the fact that Workday was talking about future deals not closing is anything but reassuring.
Nevertheless, it's important to point out that in none of these cases did it pay to buy the first day after the crash. Three days later, you hit terra firma for most though.
More important? The world hates tech right now. Workday's just one more reason to hate it.
Perhaps that, more than anything else, is the true takeaway. Oh, and that if you wait long enough maybe private equity and Salesforce scoop you up at the lows. But that could be both wishful thinking and a far way's away before it happens ... if it happens at all.
Action Alerts PLUS, which Cramer co-manages as a charitable trust, is long ADBE.
What the heck? Did we have a tale of two markets today or what? We had the winners, mostly old-line industrials and banks as represented by the Dow Jones average, and we had the losers, almost everything in the Nasdaq, and we had the S&P, which was somewhere in between.
Cramer: Not What Bulls Wanted to See
Posted at 2:59 p.m. EDT on Thursday, Dec. 1, 2016

Remember when I wrote that bulls would be fine with a market that didn't rob Peter to pay Paul, meaning if enough new money came into the stock market from the sidelines it could buoy all sorts of sectors and we didn't need to see some important groups be smashed in order to fund other winners. We didn't want zero sum.
Well, today there was highway robbery of the techs and the health cares, ransom money to buy shares of industrials, banks and oils.
It was exactly what a bull did not want to see. We basically ran out of money to fund a healthy, broad-based advance and instead went narrow into a couple of so-so leadership groups, and that's not positive for a long-term scenario.
You don't want fuel stolen from the techs, the health cares, the interest-rate-sensitive stocks and those dear old bond-market-equivalent stocks that aren't so equivalent when interest rates spike as hard and as fast as they have in the last few days. You want them to hang in there and not get killed like they did again today, the second shellacking after yesterday's butchering.
Let me start by saying we have had a huge run since the election and you knew we were bound to have profit-taking. You had to figure when it came it would be vicious because things have really bolted here. In November, the Dow rallied 5.4%, the S&P soared 3.42%, the Nasdaq move up 2.59% and the all-important Russell 2000, the small-capitalization stocks we don't talk much about, ran up 10.99%, the best monthly gain in five years.
Now after those advances, if you are a bull, what did you want to see? Simple. You wanted to see an easy rotation where some red-hot stocks stalled or had some mild profit-taking while others in different sectors climbed, a sign that new money was coming into the market and there was no need to steal from the tech winners like Facebook (FB) or Alphabet (GOOGL) in order to fund purchases of the Caterpillars (CAT) and the Deeres (DE) and the Diamondbacks (FANG) -- to name two mammals and a reptile -- that all happened to hit or come near a 52-week high today. (Facebook and Alphabet are part of TheStreet's Action Alerts PLUS portfolio.)
And it is clear that for most of November new money flowed in to stocks and the profit-taking was mild.
But obviously after the carnage we saw in the Nasdaq today, we know that phase is over.
Bulls also wanted to see a breather in the winners after some breathtakingly frenzied rallies, especially in the oils and the banks. The former's pop yesterday off a shocking OPEC agreement to cut output was way too aggressive for this guy, even if crude does go higher. I have seen a lot of rallies in my time and I can tell you that kind of rally simply isn't sustainable. It's built on the quicksand of panicked short-covering and fund managers desperate to have more energy exposure at any price.
I hate that game of chase and I always tell you that if a stock is up 8% to 10% in a day, it is almost always a sucker's game to come in and buy on top of such a shaky foundation.
Meanwhile, the banks are going up because interest rates are going higher and regulations may be cut, both of which would be fabulous for their earnings. But the banks don't report for ages and interest rates spiking too high too fast will squelch demand for money. At this pace, it might get bad again before it gets better for these stocks.
Remember, stocks have historically forecast growth in earnings out about six months, but not every forecast is right and the dramatic run in the banks and the oils has left little room for error. They both have moved too fast too soon and I expect you will have a better chance to buy them lower. I like both groups, but let's not go crazy here.
Perhaps, though, if we step back and ask what's happening in the real world, we can get a better grasp of why we are having these vicious, upsetting moves in all sorts of stocks in what has again become a bit of a treacherous market if you are in the wrong stocks.
First, let's go back in time to the week before the election and the seeds of this rally, really less than a month ago. At the time, the consensus had a particular market thesis in mind and it went like this: The election would coronate Hillary Clinton as president. Trump would lose, perhaps even by a landslide. The Senate would most surely go Democratic and with it some key chairmanships would be up for grabs. A couple would most likely go to Sens. Bernie Sanders and Elizabeth Warren.
How would you play that outcome? You would presume that we would still have gridlock because the House would stay Republican. You would bet that the Senate would join Clinton in hectoring the banks and the fossil-fuel companies. You figured taxes would be going up for many and health care costs for all. Most important, you estimated there would be little growth and interest rates would stay low, putting a premium on the bond-market-equivalent stocks and those stocks of companies that do well in a slow, drooping economy.
And in a low-growth environment, you would buy the stocks of companies that don't need a strong economy to grow, stocks like the biotechs and the techs, particularly those that were involved with social, mobile, cloud, internet security, machine learning, artificial intelligence, self-driving cars and all the other cool things we keep hearing about.
Those bets were all being made. Every day.
But then what happened? We elected a pro-growth president who, when aligned with a Republican Congress, can make something happen that might accelerate the economy. It means deregulation of fossil fuels and banks, not tougher regulation. Basically, what would have been slaughtered under a Clinton regime suddenly finds itself in the catbird seat.
Initially, that result was actually fine with the market. Nobody needed to sell shares in companies that were doing well now to buy others that could do well if the Trump agenda succeeds.
There was plenty of sidelined money coming in after the election, either because that big, bad, unpredictable event was at last over or because many people just figured, what the heck, Trump could make something happen, break the logjam and help propel profits of all sorts of businesses.
But now it looks like the money's run out. And it has run out at a bad time because now interest rates are much higher, causing some competition to stocks, the dollar's much stronger, which might hurt the earnings of our international companies, and some are pushing back on Trump, saying he won't get nearly as much done as the buyers thought. We are hearing the whole darned thing has been a fairy tale created by foolish bulls in love with Trump who should have known better.
So now what happens? I think that just as we were too negative before the election, we got a little ahead of ourselves after it.
That said, though, a pro-growth president coupled with some green shoots in the economy, of which there are many, should ultimately produce better returns for stocks, all stocks. But without new money, it won't happen all at once. There will be pitfalls, there will be hard selloffs and there will be buying opportunities with the babies thrown out with the bath water but not now, selling opportunities with stocks that have soared to close to the sun.
In short, the industrials and the banks have moved too far too fast in one direction while the techs and the health cares and the consumer-goods stocks as well as the interest-rate-sensitives have moved too far too fast in the other.
My take? I want to go against the grain. I want to buy some of the stuff that's been thrown away and take some profits in the stuff that's too strong, as I wrote earlier. Most important, though, I do not want to get too skeptical or too negative. Some good things for the economy are going to happen here. To say the Trump rally was silly or it's over is way too dismissive, even as I heard it all day.
So give it some time. Pick up something that's suddenly hated. Sell something that's way too loved. And ready yourself, or I should say, strap yourself in, for the next rotation. I don't think we will have that long to wait.
Action Alerts PLUS, which Cramer co-manages as a charitable trust, is long FB and GOOGL.
Action Alerts PLUS, which Cramer co-manages as a charitable trust, is long ADBE.