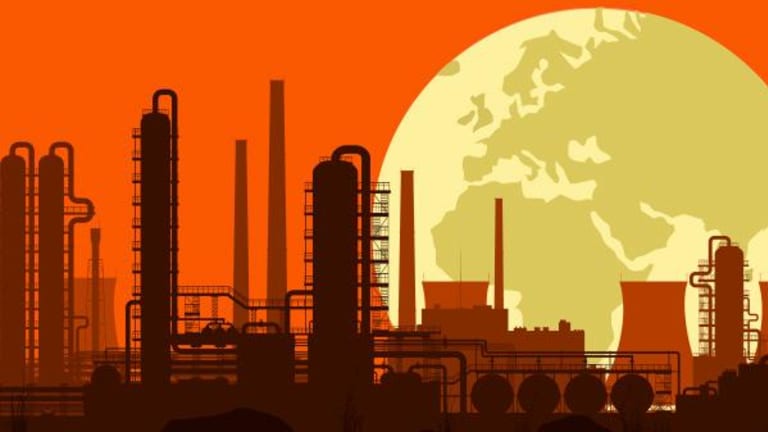 Move Over, Snap, Many Oil & Gas IPOs Are Coming
The financing window is wide open, but that will make it harder for investors to profit.
This column originally appeared at 5 ET on Real Money, our premium site for active traders. Click here to get great columns like this from Jim Cramer and other writers even earlier in the trading day.
The markets are in a near-frenzy lately, and the Snap (SNAP) - Get Snap Inc. Class A Report IPO is yet another sign of exuberance. It is up to the investor, of course, to determine whether that exuberance is irrational or not. One way to maintain rationality is to focus on companies that have real, tangible, valuable assets. I'm not talking about brand value or presence, or any other cockamamie catchphrases. I'm talking about a balance sheet. 
That may make me sound like a crotchety old man, and maybe I am, but I often remind myself that there are no style points in investing. If it goes up (assuming you are long), it's good, and it doesn't, then you were wrong. 
So don't ever make the mistake of thinking a stock's investors are "dumb" because they are buying a company with little or no balance-sheet value. In fact, an even worse mistake is to think that just because a company owns hard assets, it is impossible for the market to overrate its value. Nothing could be further from the truth. 
According to Simmons & Co. research, there are more than 20 oil and gas IPOs in the (pardon the pun) pipeline. Crude oil prices seem range-bound in the low $50s at the West Texas Intermediate fixing and natural gas have been hit hard by the much-warmer-than-normal winter in the Midwest and parts of the Northeast. Natgas is quoted at $2.80 as I write this, and hopes of a sustainable run in the mid-$3 to $4 range seem farfetched as last week saw a net injection of natgas across the U.S. for the first time in a February week in 20 years. 
Then why so many oil and gas IPOs in the offing? Because the financing window is open. It's a hoary cliche, but one that is quite true in commodity industries. It's like some kind of giant group-think in which private-equity players, strategic industry buyers and lastly the investing public (via higher stock valuations) decide that now is a good time to finance growth in a particular sector. 
I'm in Dallas this week, and judging by the number of bankers -- both investment and commercial -- I have seen lurking in doorways and emerging from conference rooms, the financing window for oil and gas is wide open. 
It's a self-fulfilling prophecy. In a capital-intensive industry, access to capital makes a company more valuable, regardless of the quality of its underlying assets. 
What does that mean for investors? It's going to be harder to make money in oil and gas stocks. 
My best trades have been on the stocks of companies in industries where the financing window is closed. Even better, buying distressed fixed-income securities of those companies can yield asymmetric returns. A great example of this is my purchase of Navios Maritime's (NM) - Get Navios Maritime Holdings Inc. Report preferred stock last January. That pick, as you can see on the right side of this page, still puts me in first place in Real Money's Best Ideas league table. 
I bought those prefs when the market seemed convinced that dry bulk shipping was dead. The financing window was so tightly closed that bankers quite literally stopped calling on clients in the shipping industry. 
Conversely, when the bankers are all over the place, that's the time to exercise extreme caution with commodity stocks. In shipping, too many orders are placed, in E&P too many rigs are run, in mining too many projects are greenlighted, etc. 
So, I'm still sticking with shipping stocks. I believe traditional methods of financing tankers and bulkers are still very difficult to achieve; the financing window has barely budged. Obviously that is not the case for U.S. energy companies. 
In the energy space, I'm focusing solely on companies that have sparkling-clean balance sheets, long-lived assets and reward shareholders with healthy dividend payments. Two examples at either end of the capitalization spectrum are small independent Evolution Petroleum (EPM) - Get Evolution Petroleum Corporation Inc. Report and integrated behemoth Exxon Mobil (XOM) - Get Exxon Mobil Corporation Report . My firm owns both names, and my clients and I will continue to clip dividend coupons on them as the rest of the industry does deals. 
At the time of publication, Collins was long NM, XOM and EPM, although positions may change at any time.