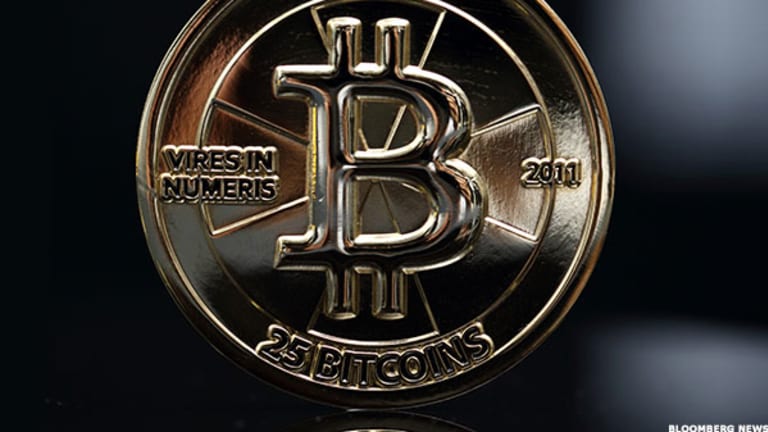 Move Out of the Way, Bitcoin: Here Come the Banking Heavyweights
Deutsche Bank, Banco Santander, and Bank of New York Mellon are teaming with broker ICAP, technology company Clearmatics, and UBS Investment Bank to create a "utility settlement coin."
*This article, originally published at 9:59 a.m. on Thursday, Aug. 25, 2016, corrected the U.S. Bancorp (USB) reference to UBS Investment Bank.
By now, you've probably heard of Bitcoin. What you may not know is that an increasing number of banks are looking for ways to take advantage of blockchain, the technology that powers it, while steering clear of the cryptocurrency itself.
Deutsche Bank (DB) , BancoSantander (SAN)  and Bank of New York Mellon (BK)  joined the field this week, announcing a partnership with broker ICAP, technology company Clearmatics, and UBS Investment Bank to create a "utility settlement coin" that can be used in cross-border payments and easily converted to central-bank currencies from the U.S. dollar to the euro and the British pound.
"Digital cash is a core component of a future financial market fabric based on blockchain technologies," Hyder Jaffrey, UBS Investment Bank's head of strategic investment & fintech innovation, said in a statement. "There are several digital cash models being explored across the Street. The utility settlement coin is focused on facilitating a new model for digital central bank cash."
Among the key challenges in using the technology, which lets multiple parties access a secure ledger for a transaction without relinquishing control over their piece of the deal, "is the need to represent cash, fiat currencies, in a blockchain format," Saket Sharma, who works with BNY Mellon's treasury services technology, said in an email. "While it is still early days, we see the settlement coin as a potential enabling transaction for a wide variety of use cases." 
The utility settlement coin is among several financial-industry developments related to blockchain. The potential the distributed-ledger system has for improving efficiency behind the scenes is what caught banks' attention. Because such ledgers could be accessible from multiple institutions, they might eliminate the need for reconciliations between systems and third parties. 
"Removing the need for a middle man, one lowers potential security concerns from hacking to corruption as well as speeding up manual processes that are antiquated and can take too long," Robert Boroujerdi, a Goldman Sachs analyst, wrote in a report. Services "from banking and payments to notaries to voting systems to vehicle registrations" could be made quicker, less expensive and safer, he wrote.
R3 CEV, a firm specializing in the technology, recently completed two prototypes on a platform called Corda to help with trade financing-processes such as letters of credit. Industry heavyweights Goldman (GS)  , Citigroup (C) and JPMorgan Chase (JPM) , meanwhile, have created their own blockchain technology internally or are investing heavily in startup companies that specialize in it.
Citigroup established a cryptocurrency called CitiCoin to help with cross-border payments, and Goldman Sachs filed a patent for its own digital currency, called SETLcoin, which could help with securities settlements. JPMorgan is part of R3's consortium on blockchain and has partnered with a startup, Digital Asset Holdings, to move its process forward.    
"Revenue opportunities will grow out of the improved data sources, greater liquidity and lower frictional costs fostered by blockchain," JPMorgan wrote in a July report. "Asset managers will be able to serve clients in new ways, for example, with real-time reporting or alternate trading strategies."
EXCLUSIVE LOOK INSIDE: Citigroup is a holding in Jim Cramer's Action Alerts PLUS Charitable Trust Portfolio. Want to be alerted before he buys or sells the stock? Learn more now.
While there are potentially significant benefits from blockchain technology, there are also challenges for regulators, according to a recent report by the Financial Stability Oversight Council, set up under the Dodd-Frank Act to monitor the financial stability of the U.S. financial system.
"Because distributed ledgers can be designed to be broadly accessible and verifiable, they could provide a valuable mechanism for enhancing market transparency," the council wrote, but "a considerable degree of coordination among regulators may be required to effectively identify and address risks."