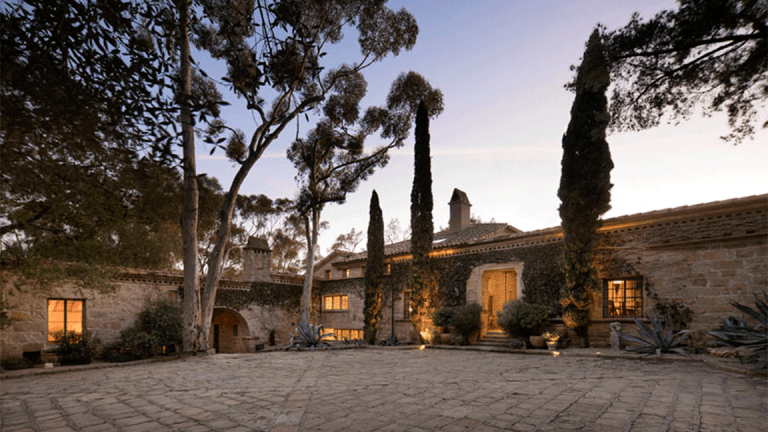 Floyd Mayweather Just Joined List of 10 Outrageously Expensive Celebrity Homes
Whats the point of being famous if you can't live extravagantly? TheStreet takes a look at some high-profile celebrity homes.
Celebrity homes are not like our homes. Breakfast nooks and poolside jacuzzis are all pretty standard trappings of the abodes of the 1%. 
Celebrities tend to like to move around, reselling their million dollar homes, sometimes at a loss. TheStreet scoured Zillow (Z) - Get Free Report to find some of the nicest looking homes owned by celebrities. 
Here's a list of 10 of the most expensive celebrity homes, just in case you weren't feeling very envious today. Floyd Mayweather, which reportedly just plunked down $26 million on a new mansion, has some serious company. 
10. Sally Quinn 'Grey Garden' Estate
List price: $19.995 million
Sq Footage: 6,000
9. Meg Ryan SoHo Apartment
List price: $9.85 million
Sq Footage: 4,100
8. Jennifer Lopez Bel Air Estate
List price: $28 million
Sq Footage: 14,000
7. Kelsey Grammar Chelsea Home
List price: $7.95 million
Sq Footage: 3,076
6. Lil Wayne Miami Mansion
List price: $10 million
Sq Footage: 15,000
5. Barack and Michelle Obama D.C. Home
List price: $8.1 million
Sq Footage: 8,200
4. Ron Howard NYC Home
List price: $12.5 million
Sq Footage: 3,000
3. Ellen DeGeneres Santa Barbara Villa
List price: $45 million
Sq Footage: 10,500
2. Gweneth Paltrow Tribeca Loft
List price: $9.995 million
Sq Footage: 3,892
1. Former Warren Buffett Laguna Beach Home 
List price: $11 million
Sq Footage: 3,500