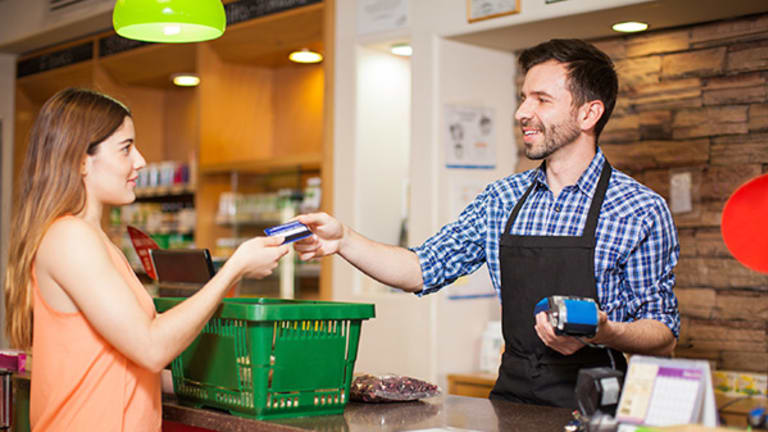 Amazon Tie-Up Keeps Morrisons Humming, But U.K. Retail Gloom Hits Shares
The fallout from Amazon's purchase of Whole Foods and Britain's broader retail gloom is pushing Morrisons shares lower
Wm Morrison Supermarkets plc (MRWSY) shares feel sharply Thursday as the fallout from Amazon's (AMZN) - Get Free Report move in the food market with its purchase of Whole Foods Market (WFM) continues.
Despite reporting a strong first half and increasing profit outlook from its tie-up with Amazon, Morrisons shares were marked 4.9% lower in the first hour of trading, changing hands at 233.2 pence each, their biggest drop since March 9.
Supermarkets shares have been under pressure since Amazon completed its purchase of Whole Foods in late August and dropped prices at the supermarket by as much as 42%.
Britain's No. 4 grocery store chain reported an increase of 3% in same store sales the six months ended July 30. The majority of this, 2.5 percentage points, was from Morrisons's retail divisions, including its supermarkets and online distribution channel. A further 0.5 percentage points came from wholesaling to third parties - including McColls and Amazon.
The supermarket now expects wholesale supply sales to its partners, including Amazon, to exceed £700 million by the end of 2018 and to be more than £1 billion "in due course."
Morrisons offers certain products for sale through Amazon and has a tie up that allows one hour delivery of a Morrisons order to Prime members.
During the first half, Morrisons reported £14 million incremental profit from wholesale, services, interest and online, bringing the total to £32 million so far. It now expects profit from these four arease to be between £75 million and £125 million in the medium term, increased from £50 million to £100 million previously.
While the grocer's numbers are cheery and show that its turnaround is well under way, they have been released at a trying time for supermarkets and retailers in general. Not only is Amazon now putting pressure on margins, the retail sector in the U.K. is reeling from one of the worst hits on real income growth since the Thatcher era.
Inflation in the U.K. hit 2.9%, figures from the Office for National Statistics showed this week, while wages grew by just 2.1%, making for a challenging environment for retailers.
More of What's Trending on TheStreet: