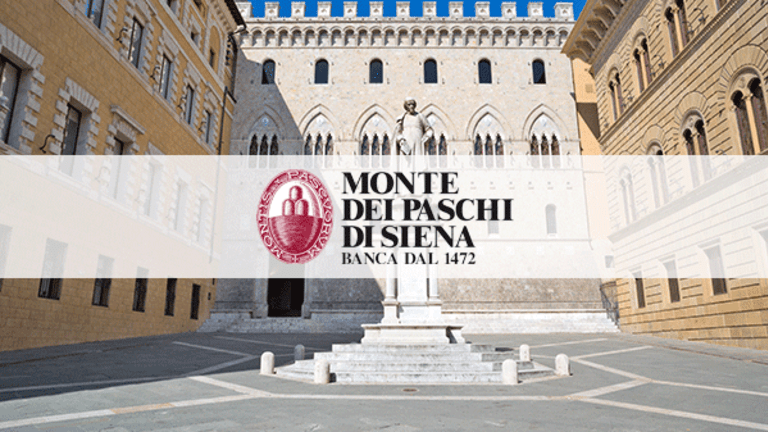 Monte dei Paschi Under Pressure as Government Rescue Talk Intensifies
Markets focus on bondholder losses after the Tuscan lender falls $3.1 billion short of required capital.
Monte dei Paschi (BMDPY) stock whipsawed again Thursday as speculation of a government-led bailout intensified amid disappointing results from the country's third-largest bank to raise its own capital. 
BMPS raised around €2 billion in new capital from a month-long debt-for-equity swap offer as it seeks to plug a €5 gap in its balance sheet and sell a €27 billion nonperforming loan portfolio on instructions from the European Central Bank. The total capital raise is equivalent to more than ten times the current market capitalization of the bank.
Monte dei Paschi stock fell as much as 9% in Milan in early trading to €14.66 before rebounding into positive territory later in the session to change hands at €16.74 by 09:45 GMT.
Investors have speculated that the Italian lender has failed to find a so-called anchor investor to back its share offer, with Italian media suggesting that the Qatari Investment Authority has taken a pass, leaving it with little hope of finding such a large chunk of equity capital in so short a space of time. 
The Italian parliament approved €20 billion of new borrowing to fund a banking sector clean up on Wednesday, while the Italian press speculated on Thursday that a state-rescue of Monte dei Paschi will likely commence in the New Year and conclude in around three months time.
The focus will now likely shift to what losses, if any, will be imposed upon bondholders during the rescue, many of whom are Italian retail investors and could thus pose a political challenge for Italy's new Prime Minister Paolo Gentiloni.
The political consequences of a so-called bail in of bondholders, a mandatory haircut under European Union rules, could be far-reaching. Given the ECB's role in pushing Monte dei Paschi into such a large scale capital raise, and a subsequent bail-out, it is possible that the failure of the bank will fuel the rise of anti-European Union political parties in Italy and risk bringing further instability to the continent.  
Italy's third largest lender, that is also said to be the world's oldest bank, has been instructed by the ECB to reduce the nonperforming loan exposures on its balance sheet so that they are equivalent to no more than 20% of its overall loan book.
It was also instructed in June to provide a credible plan detailing how it would further clean up its balance sheet and maintain sufficient liquidity resources during the years to the end of 2018.
On Wednesday it reminded investors that its depositor base shrank by more than 11% during the first nine months of the year and said that it now expects to burn through its liquidity resources in as little as four months as opposed to the originally forecast 12 months.