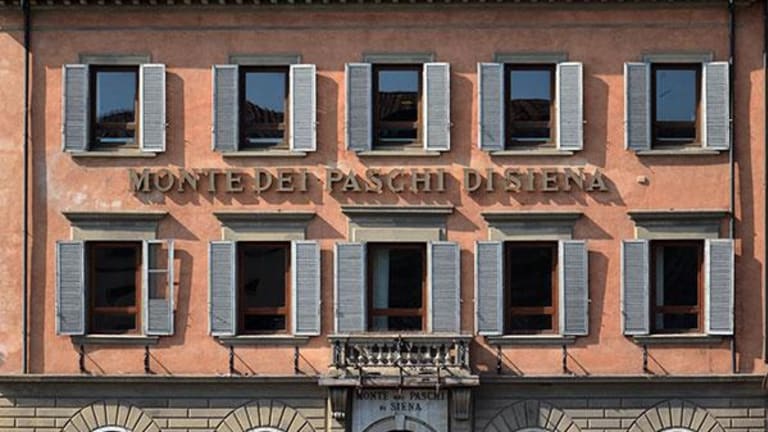 Monte dei Paschi Stock Under Pressure as Share Sale Launched
Italy's third-largest lender is touting its share-offer to retail investors as the clock ticks on an ECB deadline.
Monte dei Paschi (BMDPY)  shares tumbled Monday as the bank launched what may effectively be a final effort to save the world's oldest bank from collapse.
Italy's third-largest lender needs to raise a total of €5 billion ($5.2 billion) from investors in its share-offer, which runs until the end of Wednesday, in order to plug a capital gap on its balance sheet. It is expected that MPS will raise between €2 billion and €3 billion from a debt-for-equity swap and the remainder from a rights issue.
Both the capital increase and a disposal of €27.7 billion in non-performing loans by Dec. 31 in order to comply with a deadline European Central Bank. 
MPS stock dropped 10% €18.00 each in early Milan trading before paring losses to around 4.1% at €19.39 by 10:00 GMT. 
It said over the weekend that the debt swap element of the capital increase has now been extended to retail investors, more than two weeks after it began offering institutional investors the chance to swap their notes for new equity.
Many investors might feel as if they have been left with little choice but to cooperate with the Monte dei Paschi request to swap debt for equity.
The swap will mean a haircut for many investors. But if the bank fails to secure new capital it could be forced into a so-called resolution, which can otherwise be described as an orderly and managed death at the hands of regulators.
In the resolution scenario, some bondholders will lose everything while equity holders will almost certainly be wiped out.
Advisers from JPMorgan, long term bankers to Monte dei Paschi, are leading the capital raising efforts.
But in an ominous sign of what may be to come, the Italian lender said last week that JPM and other banks involved in the process are no longer underwriting the capital increase and instead, it will now be carried out on a 'best efforts' basis.
The frenetic and ongoing attempt to shore up Monte dei Paschi's balance sheet is the fourth such effort since the beginning of 2012. The bank had the Italian government stood behind it in previous rescue attempts but lawmakers are now prevented, by European Union rules, from using public funds to go to the aid of stricken banks in most circumstances.