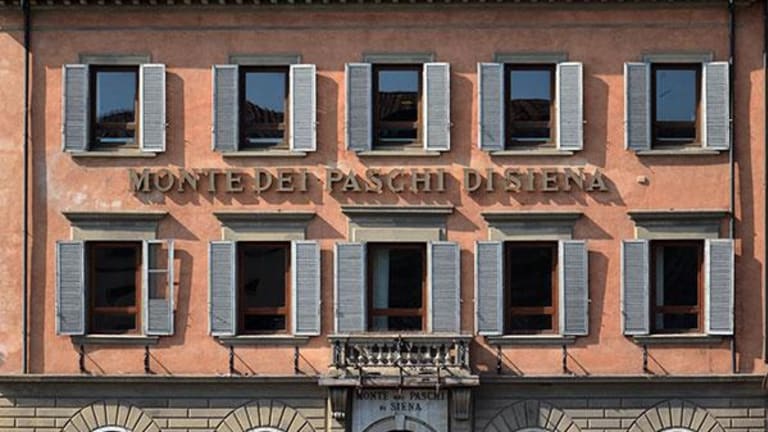 Publish date:
Monte dei Paschi Shares Leap Again as Rescue Plan Is Unveiled
Europe's most at-risk lender will sell shares and debt, and cut 2,600 jobs in a bid to secure its future.
Europe's most at-risk lender will sell shares and debt, and cut 2,600 jobs in a bid to secure its future.
Italian lender Monte dei Paschi di Siena (BMDPY) on Tuesday unveiled a €5 billion ($5.44 billion) capital increase and an agreement to sell €27.6 billion of non-performing loans for €9.1 billion as the centerpieces of a turnaround plan designed to secure the bank's future.
Shares in the bank, which is the world's oldest lender, climbed 21% to €0.419 on Tuesday morning. The gains continued a remarkable rally that has added 144% to the bank's market capitalization over the past week since rumors of the plan leaked.
The new plan represents a recalibration of a July 29 restructuring blueprint to recapitalize the bank by selling shares and debt. That plan collapsed as Monte dei Paschi shares continued to tumble, ultimately costing CEO Fabrizio Viola his job. He was replaced last month by Marco Morelli.
Morelli aims to draw a line under years of woes that began in 2009 when the credit crisis and a downturn in Italy's economy left Monte dei Paschi exposed to tens of billions in failed loans, leading to two government bailouts and forcing the company to twice tap shareholders for emergency funding.
Despite those injections of capital, the Siena-based bank was found to be Europe's most at-risk lender in stress tests conducted in July by the European Banking Authority. The risk of its collapse and the sytemic dangers it presented has weighed on rivals, making its turnaround a priority not just for Rome but for Europe. The lender is Italy's third-biggest banks by assets.
In addition to the share and debt sales the bank is in talks to sell it merchant banking unit for €520 million to Istituto Centrale delle Banche Popolari Italiane and said it will cut 2,600 jobs and close 500 branches. The cost savings and financial restructuring should deliver annual profit of €978 million in 2018 and €1.11 billion in 2019, the bank said.
Monte dei Paschi on Tuesday reported a net loss of €849 million over the first nine months on revenue  of €3.4 billion. The loss included a €750 million writedown of its loan portfolio in the third quarter that took its total writedowns over the first nine months to €2 billion.
The new share sale will be split into three components with an unspecified amount reserved for a debt-for-equity swap with institutional investors, a second tranche set aside for a new cornerstone investor and the rest reserved for existing shareholders. The share sale will be underwritten by a consortium of  banks including the sales joint global coordinators JPMorgan and Mediobanca.

Italy's bank rescue fund Atlante will buy nearly all of the bad loans portfolio, leaving Monte dei Paschi with a portfolio of €15 billion of so-called "unlikely-to-pay" loans, which will have a coverage ratio of 42%, up from the current 29%.
Previous efforts to secure the bank's future through equity increases have been hampered by opposition from shareholders, many of which are small private investors, who have proven reluctant to see their capital diluted. They will be asked to vote on the turnaround plan on Nov. 24.