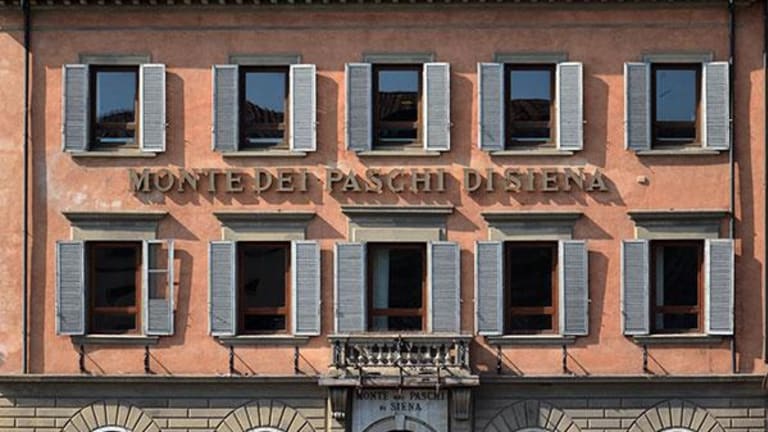 Monte dei Paschi Races to Finalize Rescue Plan; Shares Surge
UBS sent a letter to Monte dei Paschi outlining a possible bailout plan.
Monte dei Paschi (BMDPY)  is said to be close to finalizing a private bail-out deal that will prevent partial nationalization of the beleaguered Italian bank.
The board is reportedly set to reject a plan put forward yesterday by Swiss bank UBS and Italian businessman Corrado Passera. The board has instead approved the original plan drafted by JP Morgan and investment bank Mediobanca, the Financial Times reported.
Sources told Reuters that the JP Morgan deal includes a €5 billion ($5.6 billion) share issuance and a €10 billion sale of non-performing loans.
Yesterday, UBS and Passara approached the board of Monte dei Paschi with the alternative deal. 
Monte dei Paschi confirmed early this morning that it had received letters from Passera and UBS containing proposals for the bank.
"The bank's board of directors has promptly arranged the analysis of the content of these letters, and has already requested clarifications, additional data and information which it deems necessary to fully assess the terms and conditions of the proposals," the statement said.
The Siena-based lender is racing to get a bail-out agreement in place before the results of the European banks stress tests are revealed tonight. 
Monte dei Paschi is expected to be characterized as one of Europe's weakest banks in the tests performed by the European Banking Authority.
Yesterday it was reported a person familiar with the deal said a large chunk of the loans will be purchased by Altante, a fund put together by the Italian government and financed by Italian banks, insurers and pension funds. This would lead the way for the bank to raise €5 billion.
Monte dei Paschi shares were up more than 8.1% in morning trading and were recently trading 5.45% up.