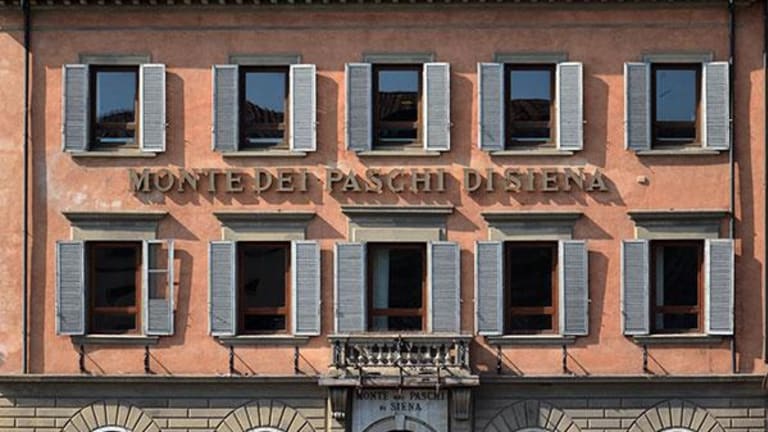 Monte dei Paschi Plummets Amid Rift With Government Rescue Fund
Atlante has raised questions over the structure of the securitization of nonperforming loans, heaping more doubt on whether Monte dei Paschi can meet its bailout deadline.
Monte dei Paschi di Siena (BMDPY) shares plummeted in Milan Monday as a rift emerged between the bank and state-backed rescue vehicle Atlante over the structuring of a loan connected to the sale of its bad debt portfolio.
The bank said that Quaestio Capital Management, the investment manager behind Atlante, has objected to the terms relating to a bridge loan it will provide to Monte dei Paschi while its nonperforming loan portfolio is securitized.
The stock was down nearly 7.8% to €19.29 in Milan by around 14:00 GMT.
MPS said it is seeking to reach an alternative agreement with Quastio Capital but warned investors that without a solution, it will miss the Dec. 31 deadline imposed on it by the European Central Bank for the reduction of nonperforming loans on its balance sheet and repair of its capital buffers.
The news leaves hopes of a successful recapitalization before year-end hanging by a thread and is the latest blow to efforts by the world's oldest lender to pull itself out of a financial quagmire that has kept it marooned upon the rocks of financial disrepair ever since the European debt crisis.
The lender was forced to tell investors last week that the syndicate of banks organizing its recapitalization are no longer underwriting its rights issue. Instead it will issue new shares through a debt-for-equity swap and a rights issue carried out on a 'best effort' basis.
In the event that its private-sector bailout is succesful, it is expected that the bank will raise between €2 billion and €3 billion ($2.08 billion to 3.12 billion) from a debt-for-equity swap and the remainder of the €5 billion total that it needs from a rights issue. 
It must tap investors for the fourth time in just as many years in order to repair a capital hole opened up on its balance sheet by a festering pile of nonperforming loans. The loans contributed to Monte dei Paschi's dire performance in recent European Banking Authority stress tests, during which the lender imploded -- leaving it a smouldering pile of ruins at the end of the EBA's so-called adverse-economic scenario.