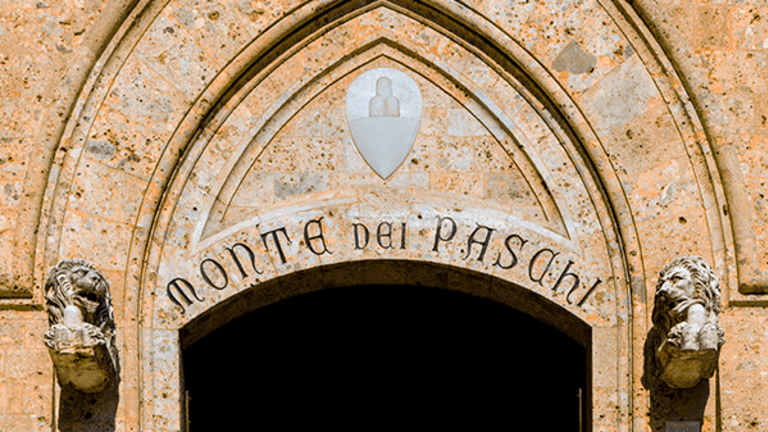 Monte Dei Paschi Needs $9.2 Billion to Avert Potential Shortfall
Troubled Italian lender Monte dei Paschi says a potential capital shortfall identified by the European Central Bank has widened to €8.8 billion ($9.2 billion).
Troubled Italian lender Monte dei Paschi remains solvent, a requirement for a government bailout under European Union rules, but its potential capital shortfall has widened to €8.8 billion ($9.2 billion).
The assessment from the European Central Bank, previously reported by news services including Reuters, was confirmed by Siena-based Monte dei Paschi in a statement on Monday. The regulator's report allows the lender to move forward with a "precautionary recapitalization," according to a person familiar with the matter. Such an infusion is meant to prevent a future shortfall rather than cover any previous or current losses.
Monte dei Paschi, the world's oldest bank and the third-largest in Italy, said its net liquidity has deteriorated rapidly in the three weeks through Dec. 21, dropping 36% to €7.7 billion. The lender confirmed Friday it had requested a bailout after financial markets snubbed its efforts to raise €5 billion ($5.22 billion) to bolster a balance sheet depleted by bad loans. 
The announcement came moments after Italy's cabinet approved the emergency creation of a €20 billion fund to help distressed lenders, raising the prospect that the bank would be nationalized.
Monte dei Paschi said last week it had secured a €2 billion debt-for-equity swap as it worked to raise money from institutional investors, but the lender was unable to obtain the remaining €3 billion, in part due to political turmoil in Italy. Voters in the country had rejected constitutional reform early in the month, effectively forcing the resignation of Prime Minister Matteo Renzi, one of the driving forces behind Italian bank restructuring.
The new caretaker government, led by Prime Minister Paolo Gentiloni, said Friday that the bailout of Monte dei Paschi would comply with European Union rules, and that bondholders would have to accept some losses to lighten the burden on Italy's taxpayers.
Holders of so-called Tier 1 bonds, which are mainly institutions, will have their debt converted into shares at a rate of 75 cents on the euro. The losses won't extend to about 40,000 junior bondholders, many of them retail investors, who bought their debt in an earlier recapitalization and have claimed they were not made aware of the risks. Their loans will be swapped for senior debt of the same value.
The state said that no fees would be paid to the banks, including JPMorgan Chase (JPM) - Get Report and Mediobanca, that advised Monte dei Paschi on its fundraising efforts.