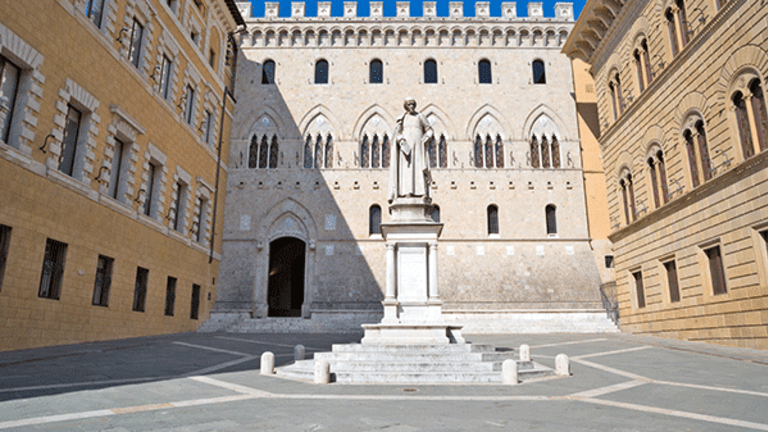 Monte dei Paschi Dilemma Could Reignite Growth in Italy: More Squawk From Jim Cramer
'If you get some banking going on in Italy, that country is going to do better,' TheStreet's Jim Cramer said.
The board of the world's oldest bank, Monte dei Paschi di Siena, were slated to confer Thursday evening to request a government bailout after the Italian bank failed to raise enough capital to save itself.
"They don't have a banking system in Italy. I can tell you that firsthand. They just do not have banking system that functions," TheStreet's Jim Cramer said on CNBC's "Squawk on the Street" Thursday morning.
Furthermore, Cramer acknowledged the poor GDP growth Italy embodies, but said notions that the workforce is not economic, or that the country is too reliant on Chinese exports is "nonsense."
"If you get some banking going on there that country is going to do better," Cramer contended. One step in rectifying the flailing banking system in Italy is remedying the Monte dei Paschi dilemma.
The Italian parliament voted this week to approve a 20-billion-euro bailout package aimed at providing emergency liquidity to weak banks, a portion of these funds will be used to save Monte dei Paschi.
"The pensioners who bought the Monte dei Paschi subordinated debt, there was 5 billion euros that was done in the last couple of years, they could be hung out to dry," Cramer noted.
Monte dei Paschi announced on Thursday that it had accumulated 2.5 billion euros in private funds from investors. However, that mark is short of its previous stated goal of 5 billion euros.
"That will bring a strain of nationalism upon Italy," Cramer said. Leading him to describe the two "things in play" moving forward in Italy.
"The possibility of a more nationalistic streak developing in Italy because of the losses, and you have the potential for a re-ignition of growth because of a banking system," Cramer explained.