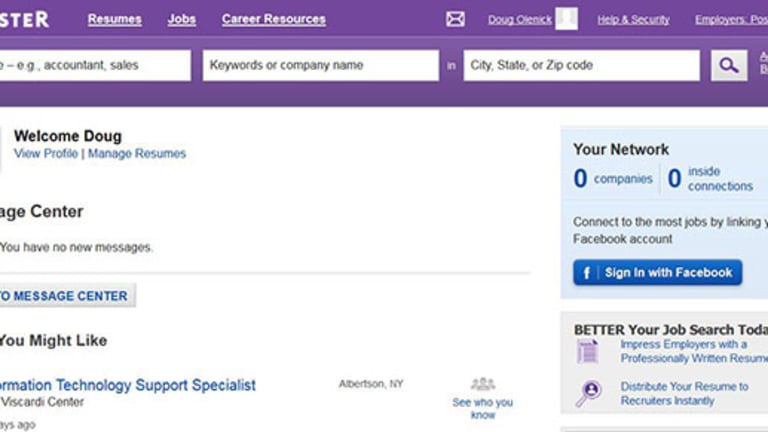 Monster M&A Mash: What's Driving Recruitment Industry Dealmaking
Japan's Recruit Holdings and private equity investors are expected to lead the buying spree.
M&A appetite has never been stronger in the global recruitment sector, with Japan's Recruit Holdings. and private equity buyers expected to lead the charge, and markets like the U.K. still highly fragmented and ripe for further consolidation.
That's the word from industry watchers after the Netherlands' Randstad (RANJF)  unveiled an agreement Tuesday to buy job site operator Monster Worldwide (MWW)  for an enterprise value of $429 million. Adecco (AHEXY) , of Switzerland, has also been active, but said Wednesday it aims to keep a lid on costs this year after posting better-than-expected second-quarter earnings.
Randstad is the world's second largest staffing company after Adecco, which recently snapped up London's Penna Consulting plc for about £105.3 million ($137.23 million) to boost its leading position in the U.K., its third largest market after France and North America. Adecco's latest earnings report, published on Wednesday, shows that revenues in the U.K. are starting to grow again, up 6% on an organic basis in the second quarter.
Until recently, the industry's largest players have mainly opted to return cash to shareholders to pay down debt, according to Mark Maunsell, a business services analyst with Clearwater International in London. He said that all changed in the past year when Randstad bought Proffice, of Sweden, to become No. 3 in the Nordic region, and when Adecco pounced on Penna, setting off a new M&A wave.
"Adecco spent two years looking for a transformational deal," he said, finally opting for a target they understood well given a long-standing alliance with Adecco's Lee Hecht Harrison unit. "They understand the business and the culture, so it will be a lot easier to integrate," he said.
Other recent deals include Monster's own acquisition in June of mobile job discovery app Jobr, and Randstad's $100 million purchase last September of San Jose, Calif.-based RiseSmart, which uses a digital platform to help departing employees find new jobs. Randstad CEO Jacques van den Broek said Tuesday that Monster is a natural complement to his company with its industry leading technology and easy to use digital, social and mobile solutions.
"This deal underscores how complex talent acquisition has become and is one example of an organization trying to tie more pieces of the hiring landscape into one company," said Susan Vitale, chief marketing officer with iCIMS, a New Jersey-based provider of job applicant tracking systems and recruiting software, via e-mail.
In coming months, Randstad and Adecco are not expected to do much buying as they digest recent acquisitions. Randstad said Tuesday it will limit M&A in the medium term to €100 million ($111.7 million), while Adecco pledged Wednesday to maintain "price discipline and tight cost control," as CEO Alain Dehaze told Reuters he was "absolutely not" under pressure to act after Randstad's Monster move.
Milwaukee, Wis.-based Manpower Group (MAN) , the global No. 3, has also been doing selective acquisitions, becoming No. 3 in Germany, Europe's largest economy, through last year's purchase of the 7S Group for €136.5 million.
It's not just the "Big Three" that have been active buyers. They have plenty of competition from Recruit Holdings of Japan, which has been on a wild spending spree since raising ¥197 billion ($1.94 billion) for its war chest on the Tokyo Stock Exchange in 2014 and aims to become the world's biggest temporary jobs provider by 2020.
Recruit's largest deal to date is the purchase completed earlier this year of USG People of the Netherlands, for €1.61 billion including debt, which followed a string of acquisitions in the U.S., the U.K. and Australia. Recruit is looking to USG People to expand in Europe, using USG People's head office in Almere, the Netherlands as a base.
"We are seeking to grow our business platforms in Japan and abroad organically and through acquisitions," said Recruit chairman and CEO Masumi Minegishi last December. "The acquisition of USG People is perfectly aligned with this strategy."
Asked what Recruit is likely to go for next, one Benelux analysts predicts further deals in the €1 billion range, and most likely champions in France, Italy or Spain, rather than a pan-European player. Recruit "still seeks a sizeable European footprint," said the analyst, who didn't want to be named.
Maunsell predicted more private equity buying in the space, saying that many recruitment firms backed by buyout shops have "significant firepower" to do bolt-on acquisitions. Recent examples include Sovereign Capital-backed Synarbor Group, an education recruitment business adding Just Teachers in February, and TPG Capital's TES Group in April buying ABC Teachers.
He also predicts a number of private equity investments coming up to their investment horizons in the next year or so, creating new opportunities for hungry acquirers. "We are basically in a situation where we had so many PE investors in 2013, that there's now going to be a lot of investments coming up for sale, and we'll see larger PE funds stepping in to buy," he added.
Maunsell said there are plenty of buying opportunities especially in the U.K, which remains highly fragmented and highly attractive, though it's too early to say what if any effect Brexit will have. "There are loads of buyers, loads of sellers, and loads of private equity funds at the moment with lots of cash to spend," he said.