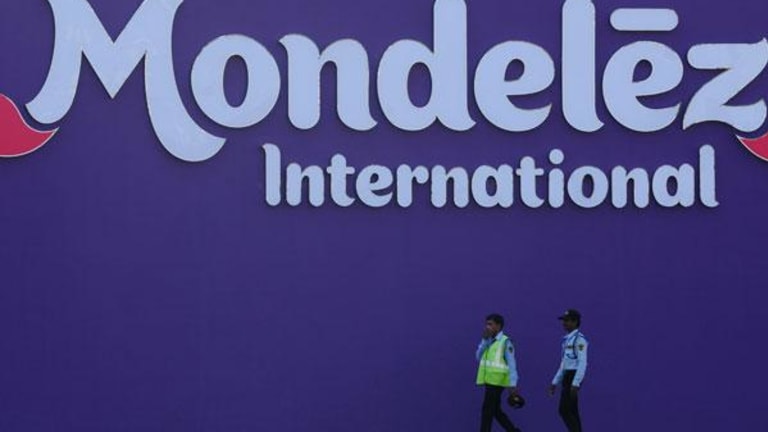 Mondelez License Agreement Boosts Shares for Cadbury Marketer Premier Foods
Premier Foods stock gained Monday after it said it had renewed its license agreement with Mondelez
Premier Foods stock gained Monday after it said it had renewed its license agreement with Mondelez
Premier Foods (PRRFY)  posted their biggest gain in nearly three week Monday after it said it had renewed a key licensing agreement with Cadbury chocolate owner Mondelez (MDLZ) - Get Report .
Britain-based Premier Foods produces and markets Cadbury-branded cake and ambient dessert products -- or treats that can be stored at room temperature -- on behalf of Mondelez, which was spun from Kraft Foods back in 2012. Once finalized the deal will run until 2022, with an option to extend to 2025, subject to meeting certain performance criteria.
"This deals with what has been something of an overhang on the shares, where the Cadbury licence has been operating on a rolling 12-month basis, leading to some uncertainty and lack of revenue visibility," Jefferies Analyst Martin Deboo said in a Monday note. "We estimate the sales under the licence to be c. £60 million or c.8% of PFD Group."
Premier Foods shares were marked 2.33% higher, the biggest single-day gain since April 19, and changing hands at 44 pence a share, extending a more than 11% gain over the past three months and outpacing a 3.45% gain of the FTSE 350 Food & Drug index.
The number of licensed countries will extend to 46, moving beyond the core licensed territories of the U.K., Ireland, Australasia and United Arab Emirates.
New potential markets include South Africa, Canada, Japan, China, India, Asia Pacific, Caribbean and additional countries in the Middle East. Premier Foods is already developing plans to launch Cadbury cake in two new significant markets in 2017/18.
The partnership will provide for the possibility, subject to approval, to use the full range of Cadbury brands such as Flake, Crunchie, Caramel and Marvellous Creations, as well as the Oreo brand, opening the door to further growth opportunities in cake in the U.K. and overseas.
"I'm delighted we're entering into a new long-term global partnership with Mondelēz International which will unlock exciting new growth opportunities for both partners," Premier Foods CEO Gavin Darby said in a statement.
"This will give us a great platform to invest in developing the Cadbury cake brand in the UK and around the world and represents a major boost to our fast growing International business."
Premier Foods, one of the U.K.'s biggest food manufacturers, in January said it was in talks with retailers over a price hike on its food brands due to the fall in the pound since the Brexit vote.
The maker of Mr Kipling and Cadbury cakes said it was in talks with U.K. supermarkets such as Tesco (TSCDY) , Sainsbury's (JSAIY) and Walmart's (WMT) - Get Report Asda over a price hike that would be on average in the "mid-single digits."
The price rise, the company said, is due to the fall in the pound and also due to the increase in price in key commodities such as butter, sugar, wheat and cocoa butter.
Mondelez shares closed at $44.83 on Monday, losing 0.49% on the day.