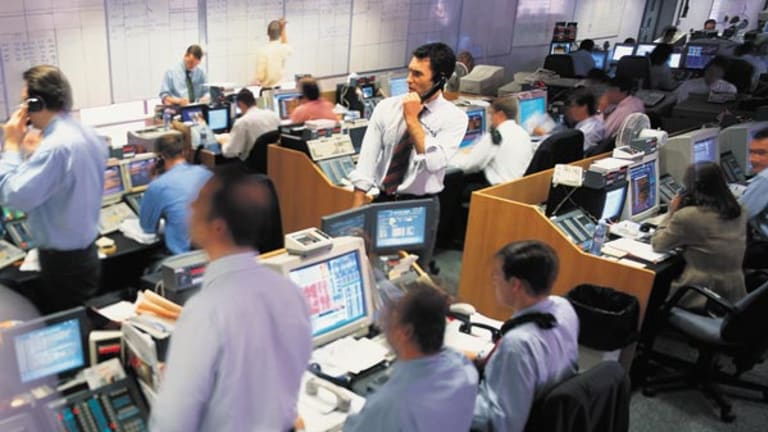 Monday's Winners & Losers: ServiceMaster
Shares jump after the company agrees to a $4.8 billion buyout.
Shares of
ServiceMaster
(SVM) - Get Silvercorp Metals Inc. Report
were among the
NYSE's
winners Monday, jumping 12% after the provider of pest control and lawn care services agreed to be acquired by private equity firm Clayton Dubilier & Rice for $4.8 billion in cash.
The deal values ServiceMaster at $15.625 a share, representing a 16% premium to the company's closing price of $13.47 on Friday. The price is a 31% premium to the company's closing price on Nov. 27, the day before ServiceMaster said that it was exploring its strategic options. Including the assumption of debt, the transaction is valued at $5.5 billion.
"The board of directors, with the aid of management and our financial advisors, conducted a thorough review of strategic alternatives available to the company and concluded that this transaction is in the best interests of our stockholders," ServiceMaster said. Shares were trading up $1.67 to $15.14.
Shares of
InfraSource
(IFS) - Get Intercorp Financial Services Inc. Report
jumped 12% after the provider of construction infrastructure services agreed to be acquired by
Quanta Services
(PWR) - Get Quanta Services, Inc. Report
for $1.26 billion in stock, or $30.13 a share. The deal represents a 17% premium to InfraSource's closing price of $25.66 on Friday. The transaction is expected to close in the third quarter. Shares of InfraSource were up $3.04 to $28.70; Quanta shares were gaining 89 cents, or 3.6%, to $25.53.
Shares of
Hercules Offshore
(HERO)
slid 9% after the oil field-services company agreed to acquire
Todco
( THE) for $2.3 billion in cash and stock. The deal values Todco at $42.01 a share, a 28% premium to the company's Friday closing price of $32.78. The transaction is composed of 56.9 million Hercules shares and $930.7 million in cash. The deal is expected to close during mid-2007. Shares of Hercules were trading down $2.43 to $24.14, while shares of Todco jumped $5.82, or 18%, to $38.60.
Titanium Metals
(TIE)
rose 2% after the company signed a 10-year supply agreement with Rolls Royce. The deal, which is effective Jan. 1, 2007, calls for Titanium to supply Rolls Royce with titanium products for gas turbine engines through 2016. Titanium Metals expects to reap more than $2 billion in revenue from the deal.
"This new agreement extends our longstanding strategic relationship with Rolls-Royce to each company's worldwide affiliates, reflecting the global nature of our companies' operations," Titanium said. Shares were trading up 64 cents to $34.11.
CVS/Caremark
(CVS) - Get CVS Health Corporation Report
rose 1% after Standard & Poor's said it will add the recently merged company to its S&P 100 index at the close of Tuesday's trading. The company will replace
Black & Decker
( BDK), which had a market capitalization of about $5.6 billion on Friday, ranking it 100 in the index. CVS was trading up 35 cents to $33.29.
Meanwhile, S&P said
Developers Diversified Realty
(DDR)
will replace Caremark in the S&P 500. Shares of the real estate company were trading up $1.03, or 1.7%, to $63.54.
NYSE volume leaders included
Ford
(F) - Get Ford Motor Company Report
, up 14 cents to $7.69;
Chevron
(CVX) - Get Chevron Corporation Report
, up $1.02 to $69.10;
Motorola
( MOT), up 16 cents to $18.35;
General Motors
(GM) - Get General Motors Company (GM) Report
, up 5 cents to $29.22;
General Electric
(GE) - Get General Electric Company (GE) Report
, up 17 cents to $34.53;
Altria
(MO) - Get Altria Group Inc Report
, up 44 cents to $85.17; and
Pfizer
(PFE) - Get Pfizer Inc. Report
, up 5 cents to $25.04.
Nasdaq
heavy movers included
Microsoft
(MSFT) - Get Microsoft Corporation (MSFT) Report
, up 15 cents to $27.48;
Intel
(INTC) - Get Intel Corporation (INTC) Report
, up 6 cents to $19.21;
Atherogenics
(AGTX)
, down $4.62 to $3.21;
Accredited Home Lenders
( LEND), up 6 cents to $10.96;
Acadia Pharmaceuticals
(ACAD) - Get ACADIA Pharmaceuticals Inc. Report
, up $5.56 to $12.25;
Applied Materials
(AMAT) - Get Applied Materials, Inc. Report
, up 8 cents to $18.57; and
Cisco Systems
(CSCO) - Get Cisco Systems, Inc. Report
, up 26 cents to $26.25.