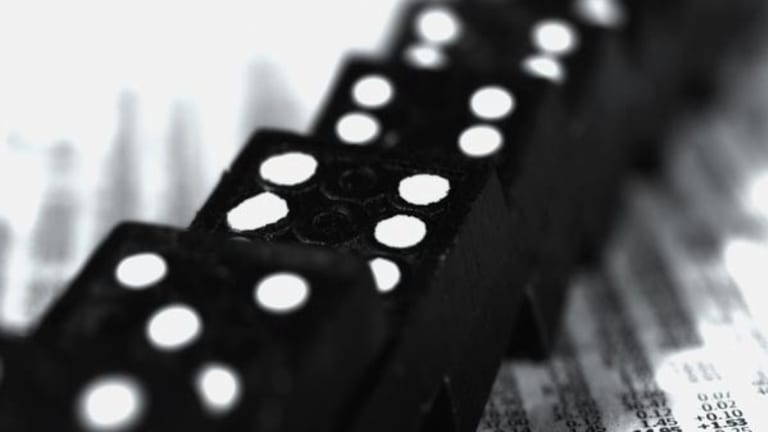 Monday's Winners & Losers: Mattel
Shares of the Barbie maker jump after earnings top estimates.
Shares of
JLG Industries
( JLG) were among the
NYSE's
winners Monday, jumping 33% after the construction-equipment maker agreed to be acquired by
Oshkosh Truck
(OSK) - Get Oshkosh Corp Report
for $3 billion in cash.
Oshkosh will pay $28 a share for JLG, representing a 35% premium over Friday's closing price of $20.75. "The acquisition of JLG is the latest broad-based initiative in the continuing transformation of Oshkosh Truck Corporation," Oshkosh said. "It is aligned with our historic acquisition strategy as we expand into complementary markets and it will be instrumental in building our global focus and scale that are increasingly needed to continue to be successful."
The deal is expected to close within 90 days. Shares of JLG were trading up $6.86 to $27.61, while shares of Oshkosh fell $4.41 to $51.13.
Mattel
(MAT) - Get Mattel, Inc. Report
rose 5% after the toymaker posted better-than-expected third-quarter results. The company earned $239 million, or 62 cents a share, on revenue of $1.79 billion. Analysts polled by Thomson First Call expected earnings of 61 cents a share on revenue of $1.63 billion. During the year-earlier period, Mattel earned $225.3 million, or 55 cents a share, on revenue of $1.67 billion.
Separately, Mattel said that a review of historical stock option grants, going back to 1993, found no backdating of stock option grants, no material inaccuracies in financial statements, and no misconduct or manipulation associated with the stock option grant dates.
The review did turn up some unintentional errors associated with incorrect accounting measurement dates for certain grants made before 2003. The errors resulted in an after-tax charge to earnings of 3 cents a share during the third quarter. Mattel shares recently were up $1.06 to $21.76.
Shares of
Charles Schwab
(SCHW) - Get Charles Schwab Corporation Report
fell 1% after the financial services company posted mixed third-quarter results. The company earned $266 million, or 21 cents a share, on revenue of $1.29 billion. Analysts expected earnings of 20 cents a share on slightly higher revenue of $1.3 billion. During the year-earlier quarter, Schwab earned $207 million, or 16 cents a share, on revenue of $1.14 billion.
"Our reduced reliance on more volatile trading revenue, combined with ongoing expense discipline, is enabling us to deliver more consistent and predictable margins and earnings," the company said. Shares were trading down 15 cents to $17.41.
Shares of
Evergreen Solar
( ESLR) jumped 14% after the maker of solar power products signed a four-year, $100 million contract with Mainstream Energy.
Evergreen Solar, which recorded 2005 revenue of $44 million, said the deal represents its sixth major contract in the past 12 months. The value of these six contracts totals more than $700 million over the next five years. Evergreen shares recently were up $1.16 to $9.37.
Shares of
Atlas Air Worldwide
(AAWW) - Get Atlas Air Worldwide Holdings, Inc. Report
rose 5% after
DHL
signed a letter of intent to buy a 49% stake in the company's Polar Air Cargo unit. DHL will pay $150 million in cash for the equity interest. The deal will also include a 20-year agreement that will provide DHL access to aircraft capacity in its key markets.
"This is a landmark transaction and exciting partnership for our company," Atlas said. "Our strategy has been to maximize the value and potential of our scheduled-service business, and this transaction accomplishes that goal." Shares were trading at $49, up $2.44.
NYSE volume leaders included
UnitedHealth Group
(UNH) - Get UnitedHealth Group Incorporated Report
, up 25 cents to $49;
General Electric
(GE) - Get General Electric Company Report
, down 47 cents to $35.51;
Nortel Networks
( NT), up 3 cents to $2.25;
Lucent Technologies
( LU), up 1 cent to $2.34;
SAIC
(SAI)
, up 41 cents to $18.59;
EMC
(EMC)
, up 27 cents to $12.96; and
Pfizer
(PFE) - Get Pfizer Inc. Report
, down 17 cents to $27.42.
Nasdaq
volume leaders included
Intel
(INTC) - Get Intel Corporation Report
, up 36 cents to $21.96;
Sun Microsystems
(SUNW) - Get Sunworks, Inc. Report
, up 6 cents to $5.24;
JDSU
(JDSU)
, up 1 cent to $2.14;
CMGI
( CMGI), up 6 cents to $1.29;
Microsoft
(MSFT) - Get Microsoft Corporation Report
, up 12 cents to $28.49;
SanDisk
(SNDK)
, up $2.74 to $61.90;
Broadcom
undefined
, up $1.44 to $31.16;
Yahoo!
(YHOO)
, down 2 cents to $24.40;
Cisco Systems
(CSCO) - Get Cisco Systems, Inc. Report
, up 13 cents to $24.66;
Oracle
(ORCL) - Get Oracle Corporation Report
, down 33 cents to $19.04; and
Level 3 Communications
(LVLT)
, up 3 cents to $5.28.