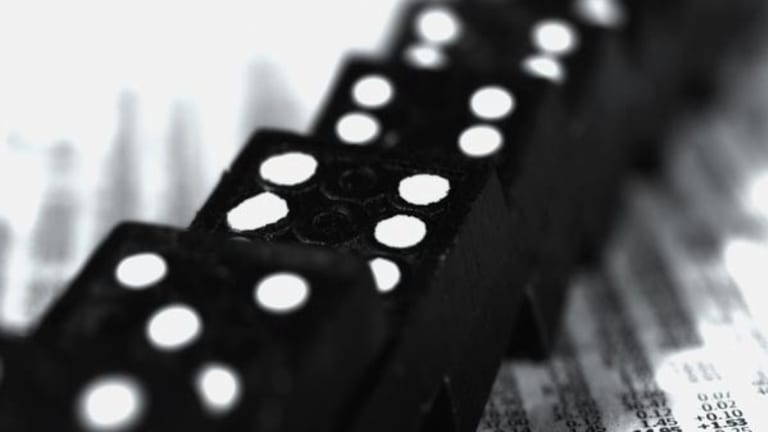 Monday's Winners & Losers: Hansen Natural
Shares sink after the SEC launches an informal probe into the drink maker's options practices.
Shares of
Marvel Entertainment
( MVL) were among the
NYSE's
winners Monday, jumping 6% after the entertainment licensing company posted better-than-expected third-quarter results and raised its guidance.
The company earned $13.2 million, or 16 cents a share, on revenue of $92.2 million. Analysts polled by Thomson First Call expected earnings of 12 cents a share and revenue of $85.6 million. In the year-earlier quarter, Marvel earned $23.4 million, or 23 cents a share, on revenue of $81.1 million.
Marvel now sees full-year earnings of 61 cents to 64 cents a share on revenue of $330 million to $340 million. Previously, the company forecast earnings of 50 cents to 60 cents a share and revenue of $320 million to $350 million. Analysts project earnings of 59 cents a share, with revenue of $337.2 million. For 2007, the company anticipates earnings of $1.35 to $1.55 a share, above Wall Street's target of $1.22. Marvel predicts 2007 revenue of $375 million to $435 million, compared with analysts' target of $459.4 million. Shares were trading up $1.60 to $26.65.
Shares of
Hansen Natural
( HANS) fell 6% after the company said the
Securities and Exchange Commission
has launched an informal probe its historical stock option grants. The energy drink company said the SEC asked it to produce documents and information relating to its stock option practices dating back to Jan. 1, 1996.
In response, Hansen appointed a special committee to investigate its stock option grant practices. The company, which is scheduled to release its third-quarter results on Nov. 9, said it is unsure if it will be able to release its results or file its quarterly report with the SEC on time. Shares were trading down $1.93 to $28.35.
Overstock.com
(OSTK) - Get Overstock.com, Inc. Report
tumbled 17% after the online retailer posted disappointing third-quarter results. The company reported a loss of $24.5 million, or $1.19 a share, widened from $12.4 million, or 66 cents a share, a year earlier. Revenue fell to $158.7 million from $169.3 million. Analysts expected a smaller loss of 82 cents a share on higher revenue of $185 million.
"The Q3 financial results were poor," the company said in a statement. "For the first time in our history, quarterly revenue decreased compared to the prior year." Overstock also said its early fourth-quarter revenue is lagging behind last year's revenue. Shares were trading down $2.97 to $14.81.
Corrections Corp. of America
(CXW) - Get CoreCivic, Inc. Report
rose 5% after the prison operator's third-quarter results topped Wall Street's projections. The company earned $26.1 million, or 42 cents a share, on revenue of $339.3 million. Analysts predicted earnings of 40 cents a share and revenue of $333.8 million. During the year-earlier period, the company earned $20.8 million, or 34 cents a share, on revenue of $304.4 million.
Looking ahead, Corrections Corp. forecast fourth-quarter earnings of 42 cents to 45 cents a share. Analysts project earnings of 42 cents a share. Shares were up $2.09 to $47.76.
Shares of
OSI Restaurant Partners
( OSI), which operates Outback Steakhouse, vaulted 24% after the company agreed to be acquired by a group of investors for $3.2 billion. The all-cash bid is valued at $40 a share, representing a 23% premium over Friday's closing price of $32.43. The deal is expected to close before the end of April. Shares were up $7.83 to $40.26.
Swift Transportation
(SWFT)
and
Four Seasons
( FS) also were soaring after receiving buyout offers. Swift received an offer from former Chairman and CEO Jerry Moyes to take the trucking company private for $29 a share. Four Seasons, meanwhile, received a bid from an investor group offering to pay $82 a share. The companies are each evaluating the proposals.
NYSE volume leaders Monday included
Nortel Networks
( NT), up 12 cents to $2.38;
Lucent Technologies
( LU), up 8 cents to $2.46;
CVS
(CVS) - Get CVS Health Corporation Report
, up 85 cents to $29.64;
Pfizer
(PFE) - Get Pfizer Inc. Report
, up 44 cents to $26.99;
Boston Scientific
(BSX) - Get Boston Scientific Corporation Report
, up 29 cents to $16.69;
General Electric
(VZ) - Get Verizon Communications Inc. Report
, up 47 cents to $35.24;
Time Warner
(TWX)
, down 1 cent to $19.83;
AT&T
, up 68 cents to $34.40; and
Advanced Micro Devices
(AMD) - Get Advanced Micro Devices, Inc. Report
, up 43 cents to $21.31.
Nasdaq
volume leaders included
Sirius Satellite Radio
(SIRI) - Get Sirius XM Holdings, Inc. Report
, up 27 cents to $4.03;
Cisco Systems
(CSCO) - Get Cisco Systems, Inc. Report
, up 89 cents to $24.66;
Microsoft
(MSFT) - Get Microsoft Corporation (MSFT) Report
, up 20 cents to $28.93;
Intel
(INTC) - Get Intel Corporation (INTC) Report
, up 18 cents to $20.69;
XM Satellite Radio
( XMSR), up $1.77 to $13.16;
Oracle
(ORCL) - Get Oracle Corporation Report
, up 8 cents to $17.86; and
Adolor
( ADLR), down $6.18 to $7.56.