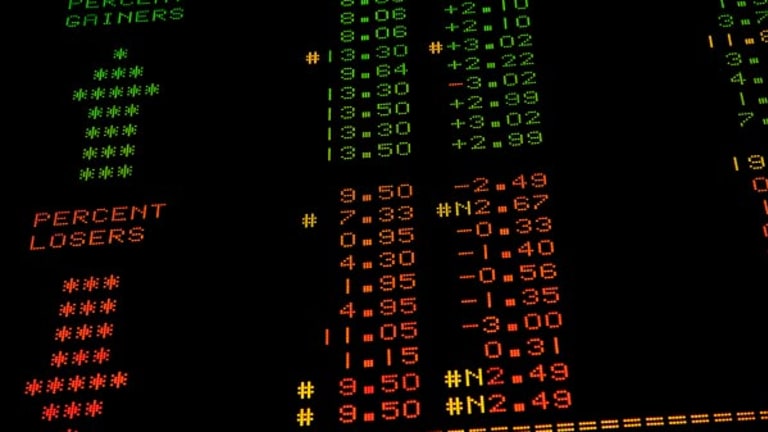 Monday's Winners & Losers: First Data
The electronic-payment company soars after news of a sale to Kohlberg Kravis Roberts.
Updated from 11:15 a.m. EDT
Shares of
First Data
(FDC) - Get Free Report
were among the
NYSE's
winners Monday, jumping 20.6% after the provider of electronic commerce and payment services agreed to be acquired by private-equity firm Kohlberg Kravis Roberts for about $29 billion, or $34 a share.
The all-cash deal represents a 26% premium to First Data's closing price of $26.90 a share on Friday. "We are pleased to reach this agreement with one of the world's largest and most successful private equity firms," First Data said. "We believe that current market conditions present an exceptional opportunity to fulfill our commitment to maximize the value of First Data by delivering an immediate cash premium to our shareholders."
Under the terms of the deal, First Data may solicit proposals from third parties, which First Data actively plans to do. Assuming that First Data does not accept another bid to be acquired, its deal with KKR is expected to close by the end of the third quarter. Shares closed up $5.55 to $32.45.
Tribune
( TRB) rose 2.2% after the media company agreed to go private at a price of $34 a share. The company will be sold in a two-step process. Initially, the company will sell 126 million shares for almost $4.3 billion, a sale expected to close during the second quarter; the company will then sell the rest of its stock, a sale expected to be completed by the end of the fourth quarter. In all, the deal is worth about $8.2 billion. Sam Zell, meanwhile, is investing $314 million. After the deal is completed, Zell will hold a subordinated note and a warrant entitling him to buy 40% of Tribune's stock.
Separately, Tribune also will sell the Chicago Cubs following the 2007 season, and its 25% interest in Comcast SportsNet Chicago property. The Cubs sale is expected to close during the fourth quarter. Proceeds will be used to pay down debt. Shares of Tribune closed up 70 cents to $32.81.
Shares of
Cal-Maine Foods
(CALM) - Get Free Report
slipped 7.8% following initial gains after the egg producer posted a big jump in third-quarter earnings. For the quarter ended March 3, the company earned $17.4 million, or 74 cents a share, on revenue of $175.2 million. During the year-earlier quarter, the company earned $8 million, or 34 cents a share, on revenue of $130.1 million. Shares closed down 1.05 cents to $12.40.
M&T Bank
(MTB) - Get Free Report
slid 8.5% after the banking company said that first-quarter results are being hurt by adverse market conditions in the residential mortgage lending market. Specifically, the company's alternative residential mortgage loan business is being hurt by the market turmoil.
"Unfavorable market conditions and lack of market liquidity impacted M&T's willingness to sell Alt-A loans in the first quarter," the company said. "At a recent auction of such loans, fewer bids than normal were received and the pricing of those bids was lower than expected."
As a result, the carrying value of the company's Alt-A portfolio will be reduced by 7 cents a share during the first quarter. The company now expects first-quarter earnings of $1.50 to $1.60 a share. Analysts polled by Thomson First Call project earnings of $1.86 a share. Shares were trading down $9.88 to $105.95.
Shares of
Starwood Hotels
(HOT)
rose 4.6% after the company announced the ouster of its chief executive. The company said that Steven Heyer resigned after the board lost confidence in his leadership.
Bruce Duncan, the company's chairman, will serve as interim CEO until a full-time replacement is found. "While the board appreciates the good work Steve Heyer has done to position Starwood for the future, issues with regard to his management style have led us to lose confidence in his leadership," Starwood said. Shares were trading up $2.97 to $67.82.
NYSE volume leaders included
Kraft Foods
( KFT), down 81 cents to $30.85;
Ford
(F) - Get Free Report
, up 20 cents to $8.09;
Motorola
( MOT), down 11 cents to $17.56;
EMC
(EMC)
, up 24 cents to $14.09;
Bank of America
(BAC) - Get Free Report
, down 59 cents to $50.43;
Micron Technology
(MU) - Get Free Report
, up 5 cents to $12.13; and
Pfizer
(PFE) - Get Free Report
, up 8 cents to $25.34.
Nasdaq
volume leaders included
Sun Microsystems
(SUNW) - Get Free Report
, down 21 cents to $5.80;
Intel
(INTC) - Get Free Report
, unchanged at $19.13;
Dendreon
(DNDN)
, up $1.37 to $14.30;
CMGI
( CMGI), up 4 cents to $2.16;
Cisco Systems
(CSCO) - Get Free Report
, down 13 cents to $25.40;
Applied Materials
(AMAT) - Get Free Report
, up 4 cents to $18.36; and
Microsoft
(MSFT) - Get Free Report
, down 13 cents to $27.74.