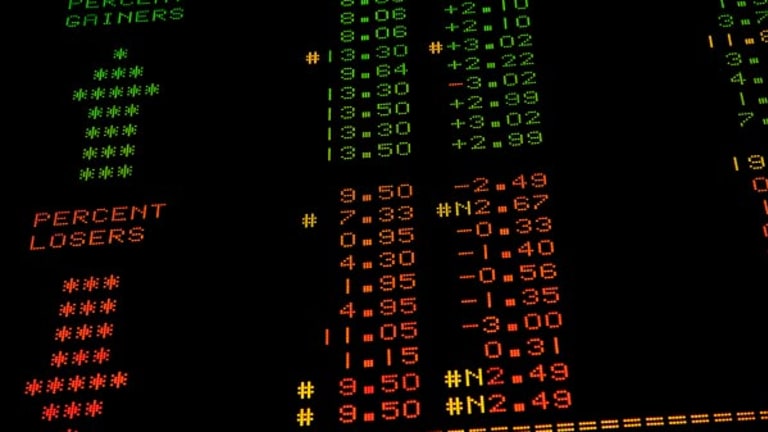 Publish date:
Monday's Winners & Losers
Ryder is dropping.
Ryder's
(R) - Get Report
shares fell 7.8% to $45.42 after the truck renter lowered its earnings forecast for the third quarter, primarily because of soft results in its U.S. Fleet Management Solutions segment.
The company now expects adjusted profits of $1.12 to $1.14 a share for the quarter, down from the previous range of $1.20 to $1.23. Ryder believes economic conditions will remain sluggish through the fourth quarter, and it cut its full-year earnings outlook to a range of $4.10 to $4.15 from the prior $4.30 to $4.35 estimate.
Real estate development company
St. Joe
(JOE) - Get Report
dropped after saying it would make moves to lower its costs, including job cuts, the elimination of its dividend and a reduction in capital spending. Additionally, St. Joe plans to shed some of its assets, including the Sunshine State Cypress Mill, certain land parcels with commercial entitlements and about 100,000 acres of rural land.
About 260 workers, particularly in project development and related support staff, will be either eliminated or transferred between now and the end of 2008. St. Joe expects to take a charge of roughly $7 million for severance benefits.
St. Joe also plans to record charges of $25 million to $30 million in the third quarter for contract-termination costs, the writeoff of capitalized costs at certain projects, the impairment of completed spec homes in several communities and the writeoff of goodwill related to Sunshine State Cypress Mill. St. Joe was down 0.6% to $33.95.
AK Steel
(AKS) - Get Report
reached an agreement with a group of retirees from its Middletown Works in Ohio to settle a lawsuit stemming from the company's initiatives in 2006 to reduce its retiree health care costs. The agreement covers about 4,600 current Middletown Works retirees.
Under terms of the agreement, AK Steel will transfer all of its health care obligations for the covered retirees to a Voluntary Employees Beneficiary Association trust. AK Steel will initially fund the trust with a contribution of $468 million, with three subsequent annual contributions of $65 million each, for a total of $663 million. Shares of AK Steel were up 10.8% to $47.60.
Flash-memory seller
Spansion
( SPSN) agreed to buy intellectual property firm
Saifun Semiconductor
(SFUN) - Get Report
for $11.26 a share, or $368 million overall.
Shares of Saifun were up 3.5% at $10.74, while Spansion was losing 3.8% to $8.04.
Noven Pharmaceuticals
(NOVN) - Get Report
sank 20% to $13.36 after the company said a late-stage clinical study of its developmental once-daily lithium carbonate product, Lithium QD, didn't meet its primary target.
The four-week study was to determine the efficacy and safety of Lithium QD compared with a placebo in treating acute symptoms of mania in subjects with bipolar I disorder.
UCBH Holdings
( UCBH), the holding company for San Francisco's United Commercial Bank, rose on word that China Minsheng Banking Corp. will buy a stake in the company.
Minsheng will acquire 9.9% of UCBH, and it has an option to increase the ownership interest to 20%. Shares of UCBH were adding 6.9% to $19.63.