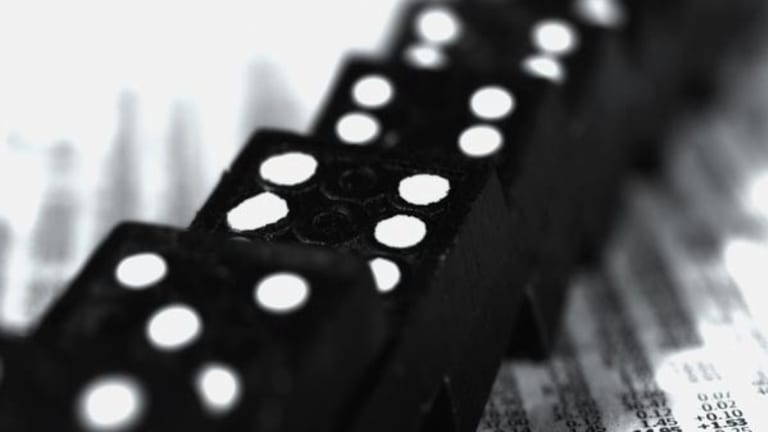 Monday's Winners and Losers: EchoStar Communications
The stock launches more than 19% on news that it is in the final stages of negotiating a deal with AT&T.
EchoStar Communications
(DISH) - Get DISH Network Corporation Report
rose more than 19% on news that it is in the final stages of negotiating a $29.5 billion buyout deal with telecom giant
AT&T
.
EchoStar's Dish Network could help AT&T expand outside its largely Southwestern markets and give it the video expertise and programming agreements to operate on a national level, say analysts. The final price for the satellite-TV operator, still under negotiation, is likely to range from $64 to $68 a share, according to
a story on
TheStreet.com
. EchoStar was up $7.66, or 19.2%, to $47.49. Meanwhile AT&T was down $1.80, or 4.6%, to $37.75.
Micrel
(MCRL)
soared nearly 12% after the company signed a multimillion-dollar, long-term contract with a solar company to supply commercial solar cells. Micrel did not disclose details of the contract, including the identity of the partner, but it did say it will fabricate the concentrated solar cells at its San Jose, Calif., site. Micrel was up 98 cents to $9.20.
Celgene
(CELG) - Get Celgene Corporation Report
said it would buy fellow blood-cancer drug company
Pharmion
( PHRM) in a $2.9 billion
cash-and-stock deal. Celgene will pay $72 a share for Pharmion -- $25 in cash and $47 in Celgene stock. The price is a 46% premium to Pharmion's Friday closing price.
Pharmion shares rose $15.84, or 32.1%, to $65.12, and Celgene fell 90 cents, or 1.4%, to $64.00. Both stocks are components of the Nasdaq biotechnology index, which was down 12.55, or 1.5%, to 835.66.
Amarin
(AMRN) - Get Amarin Corporation plc Report
gave an update Monday, saying it met with the FDA following the completion of a comprehensive data review from its phase III studies of Miraxion for Huntington's disease, and the agency indicated another phase III trial with robust results may be sufficient to support a new-drug application.
The company said it's in discussions with the Huntington Study Group to determine the design of the phase III trial, and is considering whether it will conduct this study itself or seek a partner to advance Miraxion in Huntington's disease. Shares garnered 13 cents, or 45.2%, to 43 cents.
Meanwhile,
The Wall Street Journal
highlighted that mortgage investors
Freddie Mac
( FRE) and
Fannie Mae
( FNM) are beginning to show symptoms of the credit-crunch plague as the housing market continues to sink, and pointed out that they have some exposure to subprime mortgages.
That makes investors nervous, said the
Journal
, especially ahead of Freddie's scheduled earnings report tomorrow. Fannie, for its part, today was hit with a Friedman Billings downgrade to market perform from outperform, which comes on the heels of last week's share-hammering
Fortune
report that it could be using
accounting tricks in order to brightly skew its credit-loss ratio. Freddie and Fannie shares were off 7.9% and 7.2%, respectively, in heavier-than-usual trading.
Goldman also chopped $9 off
E*Trade's
(ETFC) - Get E*TRADE Financial Corporation Report
price target to $6 after last week's
downgrade-catalyzed beatdown, which followed word of
significant fourth-quarter writedowns at the online broker. Last week, shares partially rebounded from the initial Monday plummet; today they pulled back 11.6% at $4.81.
Indianapolis footwear retailer
Finish Line
(FINL)
jumped 4% to $3.51 after
UBS
(UBS) - Get UBS Group AG Registered Report
petitioned a Tennessee court Friday to relieve it from its obligation to finance Finish Line's $1.5 billion merger buyout of fellow shoe seller
Genesco
(GCO) - Get Genesco Inc. Report
.
On the losing side of the UBS move, Genesco plummeted 21% to $31.08.
Golar LNG
(GLNG) - Get Golar LNG Limited Report
, a Hamilton, Bermuda-based natural gas shipping company, lost 11% to $21.51 after the company announced it issued 3.2 million new shares to finance expansion of its carrier fleet.