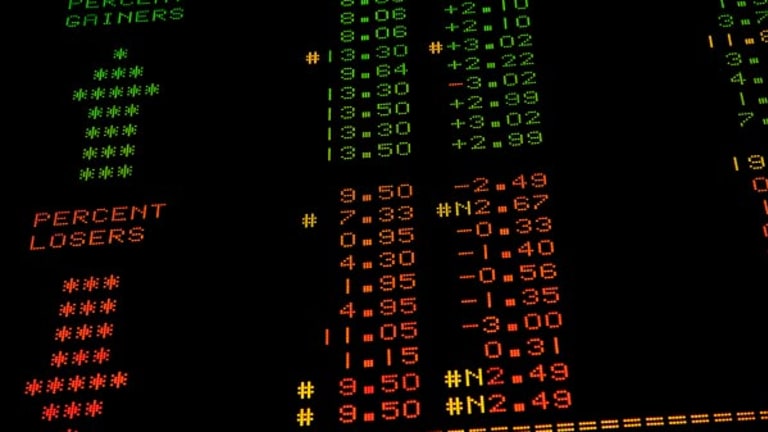 Monday's Late Winners & Losers
Texas Instruments was on the rise in after-hours trading Monday.
Texas Instruments
(TXN)
was among the winners amid a generally mixed after-hours session Monday.
Shares climbed 4.1% after the Dallas-based chipmaker
lifted the low end of its fourth-quarter earnings estimate by 2 cents, meaning a new outlook of 50 cents to 54 cents a share. That leans to the high end of analysts' consensus, per Thomson Financial, which averages out at 51 cents a share. TI also tightened its revenue outlook to between $3.5 billion and $3.66 billion from the prior $3.4 billion to $3.68 billion. The Street is seeking $3.56 billion. TI shares were up $1.34 to $34.01 in recent after-hours trading.
SAIC
(SAI)
shares were also doing well after the San Diego company
came in ahead of analyst estimates for the fiscal third quarter. The defense contractor and engineering services firm said it earned $109 million from continuing operations, or a flat 26 cents a share year over year on $2.37 billion in revenue. Analysts had sought 23 cents a share on revenue of $2.29 billion. Shares were adding 4.8% to $20.79.
Elsewhere, Michigan's
Perrigo
(PRGO)
said the Food & Drug Administration had approved Israel-based Dexcel Pharma's generic formulation of Prilosec OTC, for which Perrigo is the exclusive marketer and distributor in the store-brand, over-the-counter market. The drug, generically called Omeprazole, is indicated for treating acid reflux disease. Prilosec is made by Britain-based
AstraZeneca
(AZN)
.
Perrigo pegs Omeprazole full-year sales at between $150 million and $200 million, which bumps up its fiscal 2008 profit view to between $1.32 and $1.47 a share. The prior range was $1.12 to $1.22 a share. Shares were up 85 cents, or 2.8%, to $31.80.
And
Smith Micro Software
(SMSI)
, of Aliso Viejo, Calif., rose on word it agreed to buy
PCTel's
(PCTI)
Mobility Solutions Group for $59.7 million in cash. The unit's products support 3G (third-generation networks), VoIP (voice-over Internet protocol) and other technologies. Smith Micro shares lately jumped 13.5% to $8.75. PC-Tel stock was flat at $7.61.
On the flip side,
Washington Mutual
(WM)
tumbled 9.1% after the Seattle-based bank
slashed its dividend by 73% to 15 cents a share and announced it will offer some $2.5 billion in preferred stock to buttress its shriveling cash levels.
WaMu also said it will take a $1.6 billion after-tax hit this quarter from its home-lending business due to mortgage-market woes, as well as its forthcoming efforts to size it down. Among other things, the bank will halt subprime lending and lay off about 22% of its work force from the home-lending unit, as well as 550 other employees. It also will close its institutional broker-dealer business, WaMu Capital, and its mortgage-banker finance warehouse lending operation. Shares were falling $1.81 to $18.07.
Also losing ground was biopharma company
Medarex
( MEDX), which plummeted 19.1% on poor top-line trial results for an investigational cancer drug. The Princeton, N.J., company, together with partner
Brystol Myers Squibb
(BMY)
, said that ipilimumab failed the primary endpoint in one of three registrational trials for patients with advanced metastatic melanoma, or skin cancer. Shares of Medarex were down $2.55 to $10.80. Brystol-Myers was flat at $29.30.