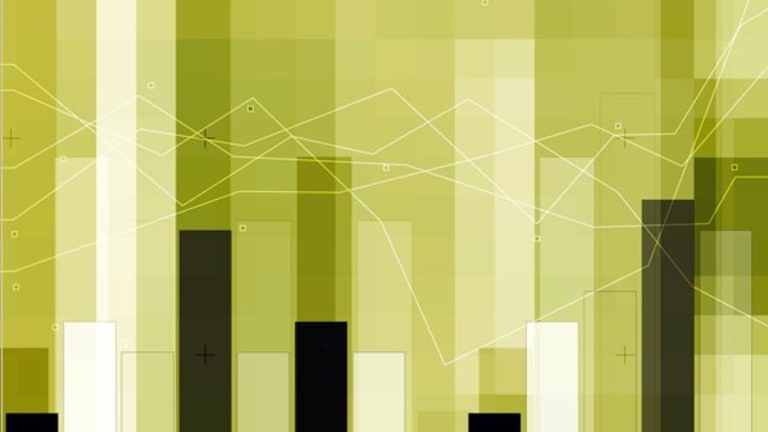 Monday's Financial Winners & Losers
Citi drops further on more writedowns.
Financial stocks spiraled downward Monday as
Citigroup's
(C) - Get Citigroup Inc. Report
furiously traded losses trampled the sector.
Citi's much-maligned CEO, Chuck Prince,
finally resigned over the weekend, but the banking giant also estimated current-quarter writedowns of between $8 billion and $11 billion from the shrinking value of its subprime-related investments. And, as disclosed in its quarterly filing, Citi also shaved 3 cents a share, or $166 million, off its previously reported
third-quarter profit tumble to a restated 44 cents a share.
Fitch lowered Citi's debt rating and Standard & Poor's put it on negative credit watch, though Prince's departure prompted Punk Ziegel to upgrade the stock to market perform from sell. Citi Europe Chairman Win Bischoff will serve as acting CEO while a permanent replacement is sought, and Executive Committee Chairman Robert Rubin will assume Prince's former Chairman position. Citi shares fell 5.5% to $35.67 in very heavy trading.
Prince is but the latest executive casualty resulting from the ongoing credit-crunch travesties, joining
Merrill Lynch's
( MER)
just-ousted CEO Stanley O'Neal and
Bear Stearns
( BSC) COO Warren Spector, who was
given the boot earlier this year. Shares of the firms gave up 3.8% and 3.1%, respectively, after Lehman Brothers cut both to equal-weight from overweight amid a larger sector downgrade of brokers and asset managers.
Citi, Merrill and Bear are among the most egregious examples of big financial-services firms getting
crushed by
credit woes, but even perceived stalwarts like
Goldman Sachs
(GS) - Get Goldman Sachs Group Inc. (The) Report
and
JPMorgan Chase
(JPM) - Get JP Morgan Chase & Co. Report
were losing ground Monday. The brokers each recently reported
growing and
better-than-expected third-quarter earnings, although Goldman stock has since Friday been battered by
rumors of big upcoming writedowns.
Goldman shares were sinking $15.93, or 6.9%, to $213.67, and JPMorgan lately shed 2.1% to $42.23.
The
NYSE
Financial Sector Index, which tracks all of the above stocks, surrendered 2.3% to 8,729.67. The KBW Bank index lately slid 2.1% partly thanks to Citi and JPMorgan.
In more management changes,
MasterCard
(MA) - Get Mastercard Incorporated Report
announced the retirement of COO Alan Heuer at year-end 2008 as well as a raft of immediate executive shuffling, including CFO Chris McWilton shifting to President, Global Accounts.
Tyco International's
(TYC)
Martina Hund-Mejean will succeed him as CFO. Shares of the Purchase, N.Y., credit card issuer dropped 3.3% to $183.84.
H&R Block
(HRB) - Get H&R Block Inc. Report
said
CFO William Trubeck has resigned, sending shares of the Kansas City, Mo., tax preparer down 5.1% to $19.55. Becky Shulman was appointed acting CFO.
Elsewhere,
Credit Suisse
(CS) - Get Credit Suisse Group American Depositary Shares Report
lost 2.1% on a Bear Stearns downgrade to peer perform from outperform following last week's report of dwindling third-quarter earnings.
A Credit Suisse analyst meanwhile lowered
Nelnet
(NNI) - Get Nelnet Inc. Report
to neutral from outperform a trading day after the student lender reported swinging to a third-quarter loss. The analyst, along with a couple of others, primarily cited a new federal law cutting education-lending subsidies -- the same one that was crucial last month in
unraveling
Sallie Mae's
(SLM) - Get SLM Corporation Report
proposed takeout by a J.C. Flowers-led buyer group.
Nelnet lost 88 cents, or 5.2%, to $16.07.
Among few financial winners Monday,
Alfa
(ALFA) - Get ESS AlphaClone Alternative Alpha ETF Report
surged 22.8% after majority owner Alfa Mutual Group agreed to take the insurer private for $22 a share. The deal, which should close in the first half of next year, values the company's remaining shares at about $840 million. Shares of the Montgomery, Ala., firm were up $3.98 to $21.50.
Elsewhere, health insurer and managed-care provider
WellCare Health Plans
(WCG) - Get WellCare Health Plans, Inc. Report
rocketed 32.5% on
impressive preliminary third-quarter results, recouping a noteworthy chunk of the huge
federal raid-spurred losses its shares had incurred within the prior couple of weeks. Shares were trading at $32.26.