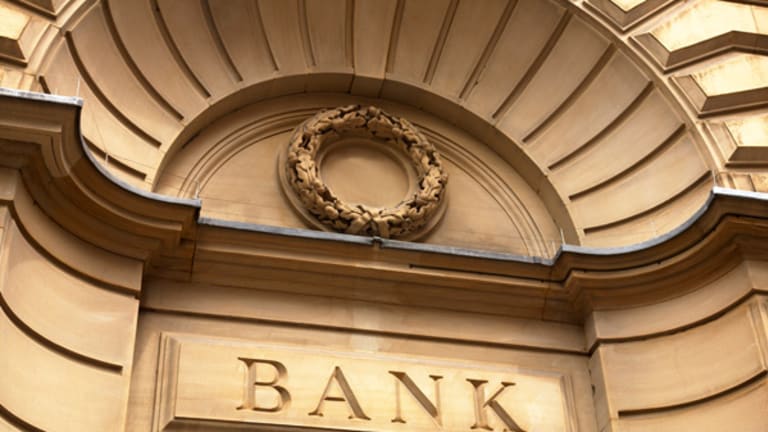 Publish date:
Monday's Financial Winners & Losers
Wintrust Financial slips on a drop in earnings.
Wintrust Financial slips on a drop in earnings.
Financial stocks saw choppy trading around the flat line Monday as investors took a breather following a barrage of miserable earnings last week that finished with a huge Friday pullback.
Recently, the
NYSE
Financial Sector Index fell 0.2% to 9,006.83 and the KBW Bank Index dipped 0.1% to 100.35.
Among the decliners was
Wintrust Financial
(WTFC) - Get Report
, whose earnings dropped by about one-third year over year to $9.9 million, or 40 cents a share, under significant pressure from what the Illinois bank called "an extreme mortgage banking environment."
Revenue was off 7.4% to $77.7 million. Analysts polled by Thomson Financial were looking for income of 64 cents a share, less special items, on revenue of $88 million. Shares surrendered $1.67, or 4.4%, to $36.67 in recent trading.
Struggling mortgage investor
Luminent Mortgage Capital
( LUM) announced that CFO Christopher Zyda has resigned effective year-end, having declined to relocate to Philadelphia from Luminent's San Francisco headquarters, which is currently being shut down. Controller Karen Chang will succeed him. Shares were losing 5.4% to $2.11.
Friedman Billings cut both
Cathay General Bancorp
(CATY) - Get Report
and student lender
Nelnet
(NNI) - Get Report
to underperform, assigning price targets of $25 and $18, respectively. Shares were sliding 4.8% to $27.95 and 3.6% to $17.82.
American Express
(AXP) - Get Report
and
Discover Financial Services
(DFS) - Get Report
, meanwhile, were the hardest hit of a group of credit card issuers and mortgage lenders downgraded by Lehman Brothers.
The analyst also cut the entire mortgage-finance sector to negative, saying that broad-market tremors will continue to spur mushrooming credit losses over the next few years. The specialty-finance sector was lowered to neutral from positive. AmEx gave up 1.9% ahead of a scheduled postbell earnings release today, and Discover was down 1.5%.
Countrywide
( CFC) was also among the downgraded stocks, but the struggling mortgage lender nonetheless
rebounded 2.3% to $15.58 following last week's tumble.
Elsewhere in positive territory, troubled New York broker
Bear Stearns
( BSC) inched higher after striking a new deal in which it and China's Citic Securities will
buy $1 billion worth of each other's shares.
The firms also intend to meld their existing businesses in the rest of Asia for establishment of a new 50-50 joint venture based in Hong Kong, and they plan on mutually developing new financial products and services in China itself. Bear shares ticked up 96 cents to $117.37.
Frontier Financial's
( FTBK) third-quarter earnings climbed 15% from last year to 46 cents a share, or $20.2 million, for a 2-cent earnings beat. Shares of the Everett, Wash., bank rose $1.26, or 6.1%, to $21.84.
And, after an initial slip out of the gate, shares of Chicago's
Privatebancorp
(PVTB)
added 1.5% to $28.65 despite a penny-shy third-quarter profit of 42 cents a share.