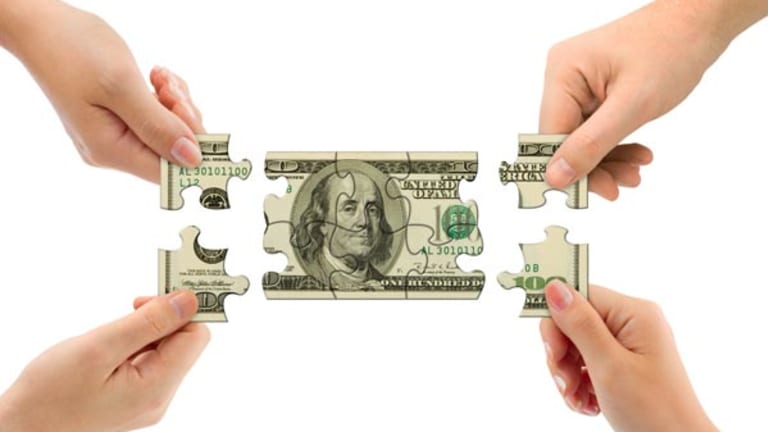 Publish date:
Monday's Financial Winners & Losers
United Commercial Bank climbs on word China Minsheng Banking will invest.
United Commercial Bank climbs on word China Minsheng Banking will invest.
United Commercial Bank
( UCBH) was among few financial winners in a depressed Monday session as the sector stumbled on continued credit-crisis tremors.
Shares of the San Francisco bank leapt 8.3% on word that
China Minsheng Banking
agreed to take a 9.9% stake in United in a two-part deal that should close within 2008. The firms might further agree to boost Misheng's stake to 20% by mid-2009 through secondary-share purchases and primary share issuance, with the latter to represent a premium of up to 15% over the prior 90-day closing price. United shares added $1.53 to $19.90.
The
NYSE
Financial Sector Index, however, slid about 80 points, or 0.8%, to 9,630.64, as a number of its components were battered with analyst downgrades.
Among these was
Merrill Lynch
( MER), which lost 3.1% to $74.31 after both J.P. Morgan and Credit Suisse stripped their positive ratings off the New York brokerage firm. The moves follow Merrill's Friday announcement that the credit crunch had taken a
huge bite out of its third-quarter bottom line, with a loss of 50 cents a share predicted to reverse a $2 year-ago profit.
Sovereign Bancorp
( SOV), which on Friday forecast its own
third-quarter credit sufferings, was cut to underperform at Friedman Billings. The Philadelphia-based bank estimated that its pretax credit loss provision would more than triple sequentially to between $155 million and $165 million.
Sovereign also said it will take a $20 million pretax charge from mortgage company financings that have soured due to bankruptcy and defaults, and predicted a $15 million pretax hit from the sinking value of certain loan portfolios. Shares surrendered 2.3% to $17.33.
In more negative brokerage notes, Stifel Nicolaus said that the credit-crunch fallout is far from over, arguing that we have only seen a "fraction" of what should be a significant rise in defaults and foreclosures ultimately stemming from falling housing prices. Analyst Chris Brendler estimates that these should drop at least another 10%.
Brendler called the specialty-finance sector particularly vulnerable to these developments, specifically cutting
Capital One
(COF) - Get Report
,
AmeriCredit
( ACF) and
CIT
(CIT) - Get Report
to hold from buy following their respective rallies from August lows. "In our view," said Brendler, "these stocks underperform when credit worsens beyond expectations."
Capital One slumped 1.9% to $71.57. That helped pressure the KBW Bank Index, which was down 0.5% to 109.94. AmeriCredit and CIT gave up 2.9% and 2.4%, respectively.
Elsewhere, Chicago's
PrivateBancorp
(PVTB)
lost 5.6% to $31.18 after J.P. Morgan lowered the stock to neutral from overweight, citing valuation and adverse effects from housing-market deterioration.
Progressive
(PGR) - Get Report
, an Ohio insurer, slumped 1.9% on a Wachovia cut to underperform.
Finally,
Investment Technology Group
(ITG)
lost ground after reporting a sharp sequential slowdown in average daily volume for September, which the online broker said followed "record levels" in August. Year over year, the numbers were slightly higher. Shares of the New York-based company fell 2.9% to $43.04.