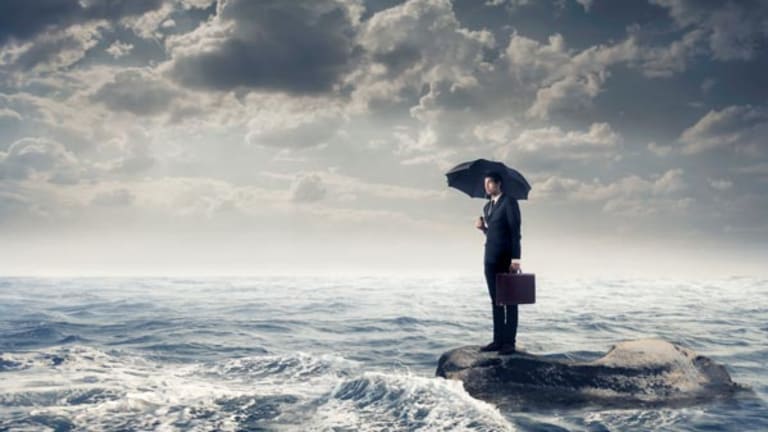 Monday's Financial Winners & Losers
Bear Stearns slumps on news of an executive shake-up.
Updated from 2:59 p.m. EDT
Financial stocks struggled to find footing early Monday as the subprime crisis continued to cast a long shadow, though the sector gained some upward momentum along with the major indices come afternoon.
Broker
Bear Stearns
( BSC) was
heavily traded, slumping earlier in the day and then rising, after President and co-Chief Operating Officer Warren Spector was
pushed out over the weekend in light of the company's recent subprime-mortgage-related
hedge fund troubles. Shares closed up $5.46, or 5%, to $113.81.
The lately ravaged shares of
American Home Mortgage Investment
( AHM) took another slide -- down 36.7% to 44 cents -- after the mortgage lender officially announced it has declared bankruptcy.
J.P. Morgan cut
Luminent Mortgage Capital
( LUM) to underweight, saying it has too much exposure to the residential-mortgage market, after which shares fell 30.8% to $4.38 before trading on the stock was halted.
Impac Mortgage
(IMH) - Get Impac Mortgage Holdings, Inc. Report
lost 15.1% earlier in the day on a Deutsche Securities downgrade to hold from buy but closed up 2.4% to $1.70.
NovaStar Financial
( NFI) took a nosedive below the $5 mark earlier today after a Friedman Billings analyst predicted that the subprime lender will eventually shut down, citing its Friday announcement that it will
halt funding of some mortgage loans. But NovaStar later said it will
resume funding those loans Tuesday. After that announcement, shares rocketed back upward and broke into the green. They closed up 38 cents, or 5.9%, at $6.78.
In more reversals, mortgage lender
IndyMac Bancorp
( IMB) and
Countrywide Financial
( CFC), which has a big mortgage-lending unit, were both down sharply earlier in the day before reversing as they clung on to the market's late surge. IndyMac closed up 1.9%, and Countrywide closed up 7%.
Specialized-finance company
CapitalSource
(CSE)
also fell earlier in the day, after JMP Securities lowered it to market outperform from strong buy. The analyst cited the general plight of the credit markets. CapitalSource closed up 1.5% to $19.19.
Elsewhere,
Franklin Bank
( FBTX) and
Kohlberg Capital
(KCAP) - Get Portman Ridge Finance Corporation Report
were downgraded by RBC Capital Markets and BMO Capital Markets, respectively, dragging shares down 5.6% and 8.1%.
And
RAM Holdings
( RAMR) ranked prominently among today's losers after second-quarter earnings plummeted by 25% year over year to $9.1 million, or 33 cents a share. That squares with Thomson Financial's estimates, but shares still tumbled 44.5% to $6.42.
Among the solid winners were insurers such as
Safety Insurance
(SAFT) - Get Safety Insurance Group, Inc. Report
. The Boston-based firm leapt 12% after saying it earned $1.42 a share in the second quarter -- a sizable drop from last year, but 9 cents above estimates. Shares closed at $35.28. Insurer
Mercury General
(MCY) - Get Mercury General Corporation Report
, based in Los Angeles, closed up 6.1% on a second-quarter earnings beat.
Health insurer
UnitedHealth
(UNH) - Get UnitedHealth Group Incorporated Report
added 2.1% to $48.50 after "final favorable adjustments related to its 2006 Medicare business," relayed by the Centers for Medicare and Medicaid Services, boosted its second-quarter earnings by 2 cents a share to 89 cents. Analysts were looking for 81 cents.
Wells Fargo
(WFC) - Get Wells Fargo & Company Report
, a San Francisco-based bank, also bounced after adding another 50 million shares to its buyback program. Shares closed up 5.9% to $34.76 in support of the KBW Bank Index, which jumped by 5.46 points, or 5.4%, to 107.3 after a hugging the flat-line for most of the morning. The
NYSE
Financial Sector Index moved in similar fashion earlier in the day before ratcheting up 3.5% to about 9069.