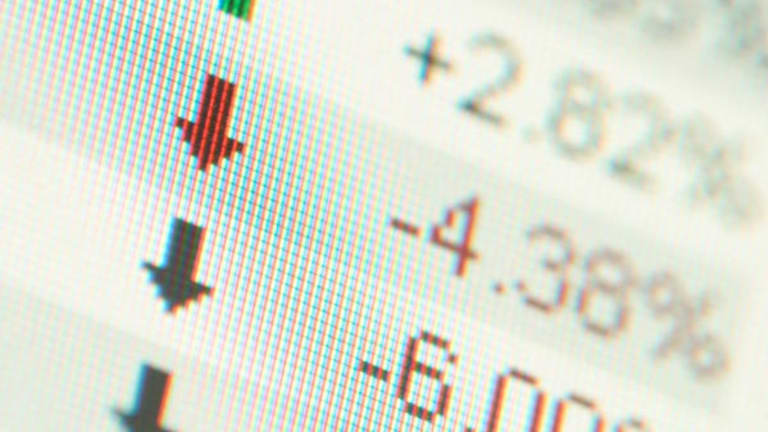 Monday's Financial Winners & Losers
First Indiana is soaring.
First Indiana is soaring.
Updated from 12:06 p.m. EDT
Merger news and corporate executive changes were making headlines in the financial space Monday, but on the whole, the sector was creeping to the downside.
First Indiana
(FINB)
jumped 41.8% to $31.27 following news that
Marshall & Ilsley
( MI) will acquire the company. The deal values First Indiana at $32 a share, or around $529 million in total.
LaBranche
( LAB) rose 4.8% to $7.87 on word the specialist firm is reviewing strategic alternatives aimed at enhancing stockholder value. The company also agreed to sell its American Stock Exchange equity specialist operation to Cohen Specialists and will likely take a substantial charge related to the sale.
Additionally, the company expects to report positive net income before taking into account any potential impairment charges and unrealized losses related to its investment in
NYSE Euronext
(NYX)
during the second quarter. Including charges, the quarter will probably show a loss.
FirstCity Financial
(FCFC)
rose after the company concluded a review to determine whether the company and its subsidiaries received inadequate compensation, or other improprieties occurred, with respect to the sale of a loan portfolio to a third party.
The independent investigation found no evidence indicating that FirstCity or any officer, manager or full-time employee personally benefited from the transactions relating to the portfolio sale. FirstCity doesn't expect to have to adjust its financial statements. The stock added 6.6% to $10.70.
BancFirst
(BANF) - Get Report
traded actively following the announcement that its Council Oak Investment unit will sell one of its investments, resulting in a gain of about $7.5 million. Shares of BancFirst closed up 0.7% at $44.01.
Lincoln Financial
(LNC) - Get Report
fell after saying its board has named J. Patrick Barrett chairman and picked current President and Chief Operating Officer Dennis R. Glass as chief executive. Both appointments were made after Jon A. Boscia informed the board of his decision to step down from the positions and to retire from the company. Shares of Lincoln Financial were off 1% at $70.35.
Amerigroup
( AGP) said its founder, Jeffrey L. McWaters, is retiring as chief executive, effective Aug. 31, but will continue to serve as chairman. The board named James G. Carlson, current president and COO, as the new chief. The company also affirmed its guidance. The stock closed up 1.3% to $24.80.
Elsewhere,
Commerce Bancorp
(CBH) - Get Report
lost 2.4% to $37.25 following a downgrade to neutral from buy at Suntrust, which cited the stock's valuation.
The KBW Bank Index was down 0.7% at 113.62. The NYSE Financial Sector Index was down about 0.1% to 940.5.