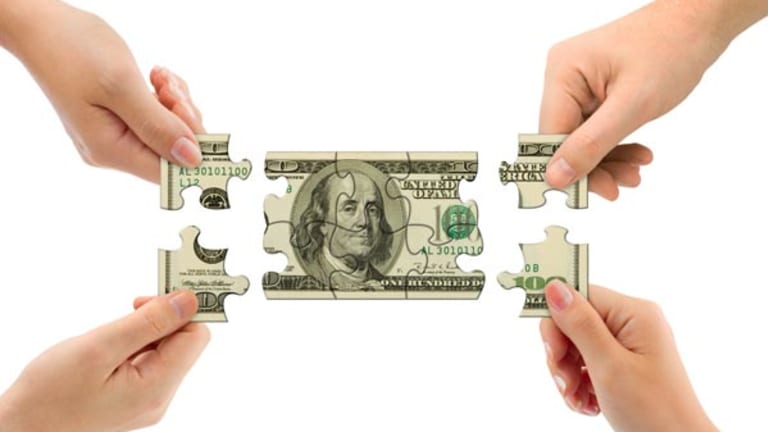 Monday's Financial Winners & Losers
Wachovia is rising.
Updated from 12:48 p.m. EDT
Financial stocks saw choppy trading Monday along with the major indices, despite garnering a load of positive analyst research.
Wachovia
(WB) - Get Report
was upgraded to outperform by Friedman Billings, lifting shares by 1.2% to $53.60. Credit Suisse likewise began coverage of
IntercontinentalExchange
(ICE) - Get Report
with an outperform rating. Shares added 2.4%, or $3.56, to $149.19.
Jefferies upped health insurer and managed-care provider
Amerigroup
( AGP) to hold from underperform, and its stock jumped 5.5% to $25.52. The analyst cited a more attractive risk/reward profile, among other things.
Elsewhere,
H&R Block
(HRB) - Get Report
climbed 4.7% to $23.58 after a UBS analyst predicted that the tax preparer will be more likely to sell itself -- and possibly for $27 to $33 a share -- after it closes the sale of its subprime-lending unit, Option One Mortgage. The analyst stamped a buy rating on the stock.
Britain-based banking giant
Barclays
(BCS) - Get Report
was also on the rise after
The Wall Street Journal
reported that 1% holder Atticus Capital is
encouraging the bank
to drop its planned takeout of
ABN Amro
( ABN). Barclays rose 1.1% to $57.96. ABN shares lost 1% to $46.97.
Alabama's
Colonial Bancgroup
( CNB) said it will buy back up to $150 million of its shares, boosting the stock by 1.1% to $24.86, and New York-based
AllianceBernstein
(AB) - Get Report
reported that May assets under management gained 3.1% sequentially to $794 billion. Its shares tacked on 2.8% to $90.09.
The
NYSE
Financial Sector Index recently added 0.2% to 9776.26. The KBW Bank Index was up 0.4% to 115.68.
Among those on the downswing, however, was
MarketAxess Holdings
(MKTX) - Get Report
. Shares slid 3.8% to $17.32 after an analyst with Credit Suisse cut the bond exchange to underperform, saying its expensive stock price is unwarranted.
Capital Trust
( CT) lost 4.5% to $42.03 on a Stifel Nicolaus downgrade to hold from buy.
James River Group
(JRVR) - Get Report
, a North Carolina-based insurer, dropped after agreeing to sell itself to investment-management firm D.E. Shaw for $34.50 a share -- a slight discount to Friday's closing price.
The deal, valued at some $575 million, will probably close in the second half of 2007. Shares gave up 3.1%, or $1.09, to $34.09.