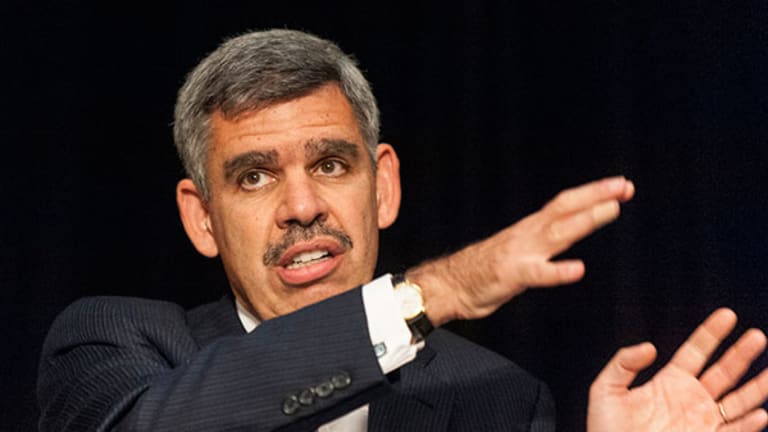 Mohamed El-Erian Abruptly Resigns as Pimco CEO
Pimco's Mohamed El-Erian will resign in March after a five-year stint as CEO of the bond fund manager.
NEW YORK (TheStreet) -- Mohamed El-Erian, CEO of Pacific Investment Management Company (PIMCO), will resign in March, in an abrupt change of leadership at the world's biggest bond fund manager. The resignation, made at a management meeting on Tuesday, was disclosed in press statement from Allianz, the parent of PIMCO.
Allianz said that at the Tuesday meeting, current PIMCO COO Douglas Hodge was appointed to take over as CEO of the asset manager upon El-Erian's resignation in March. The firm's Chief Investment Officer and founder William H. Gross will continue with his current duties, Allianz said.
El-Erian's resignation will shake up the management ranks of PIMCO at a time when investors have begun to withdraw money from some of the firm's stalwart bond funds amid a rise in interest rates as the Federal Reserve's works to rein in some of its easing measures. PIMCO will also lose one of the most recognizable and prolific executives in the asset management industry.
PIMCO currently manages roughly $2 trillion in assets, mostly in bond mutual funds. Gross, known as "The Bond King" continues to manage the firm's over $200 billion PIMCO Total Return Bond Fund, one of the best performing fixed income mutual funds in recent decades. During 2013, PIMCO's Total Return Bond Fund lost 1.9%, its worst return since 1994, according to Bloomberg.
Gross struck an optimistic tone on Twitter, saying he was ready for another 40 years at the bond manager.
Allianz characterized Tuesday's management change as a sign of stability at PIMCO and as evidence of talent inside the firm.
"Over the past years, PIMCO has achieved an outstanding performance in Asset Management. It speaks for the strength and diversity of PIMCO that all positions can be filled by internal candidates. With this continuity we are well prepared for the future," Jay Ralph, an Allianz board member, said in a statement.
El-Erian will stay on the International Executive Committee of Allianz and will advise the insurer's board on global economic and policy issues, the company said. He will report to Michael Diekmann, CEO of Allianz.
"We are pleased that we will continue to profit from the expertise of Mohamed El-Erian, from his large global network and excellent knowledge of the macroeconomic conditions," Diekmann said.
Jay Jacobs, current head of talent management at PIMCO will become the company's president, while Craig Dawson, head of PIMCO Germany, Austria, Switzerland and Italy will become head of Strategic Business Management, Allianz said.
El-Erian was not quoted in Allianz's press release announcing his resignation.
Aside from the firm's founder Gross, El-Erian has been one of PIMCO's most visible faces since returning to the bond manager as co-CEO in 2008. Between 2005 and 2007, El-Erian headed Harvard Management Company (HMC), the world's largest university endowment.
Prior to his brief stint at Harvard, which was marred by an onset global financial crisis, El-Erian spent seven years at PIMCO as a senior member of the firm's portfolio management team.
Widely considered an expert on global macroeconomic trends, El-Erian's built his expertise in a fifteen year stint the International Monetary Fund.
-- Written by Antoine Gara in New York