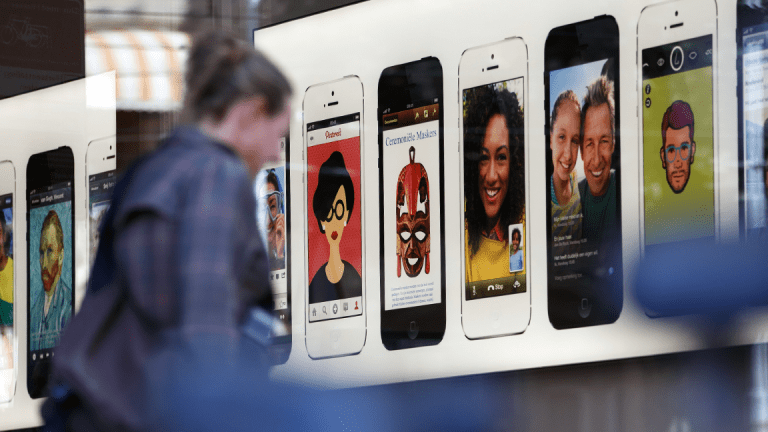 8 Takeaways for Apple, Google and Others from Recent Mobile App Stats
Among other things, a new report indicates spending on in-app subscriptions is taking off, and that WhatsApp is now Facebook's most widely-used mobile app.
Consumers are now spending over $100 billion annually via app stores run by Apple (AAPL) - Get Apple Inc. Report , Alphabet/Google (GOOGL) - Get Alphabet Inc. Class A Report and others, but the rate of growth has slowed a bit.
App data and analytics firm App Annie just released an eye-opening report about how consumers are using and spending money on apps around the world. Here are some notable findings from the report, together with some from prior reports published by App Annie and peer SensorTower.
1. Spending on App Stores Is Now Growing at a High-Teens Percentage
App Annie estimates that total spending on transactions handled by the iOS App Store, Google Play and Chinese Android app stores run by the likes of Tencent (TCEHY) and Baidu (BIDU) - Get Baidu Inc. Report rose about 17% in 2018 to $101 billion. That's down from nearly 50% growth in 2017. In addition to a maturing smartphone market, a strong dollar and the Chinese government's recent halting of license approvals needed to monetize games appear to have contributed to the slowdown.
App Annie does see growth improving a bit this year, forecasting that spending will rise 19% in 2019 to $120 billion. The fact that Chinese authorities recently resumed granting game monetization licenses certainly can't hurt.
2. App Store Spending Is Still Well Above Google Play Spending
SensorTower estimates that spending on iOS App Store transactions rose 23.3% annually in Q3 to $12 billion, while spending on Google Play transactions rose 21.5% to $6.2 billion. Likewise, App Annie believes App Store spending was 80% above Google Play spending in Q3, even though Google Play (thanks to Android's massive smartphone unit share) saw 145% more downloads.
Excluding a portion of the subscription billings that they handle, Apple and Google typically take a 30% cut on transactions that go through their app stores. Higher average incomes are partly responsible for the App Store's continued revenue lead, as is the fact that (unlike Google Play) the App Store is present in China.
3. Games Still Account for the Lion's Share of Spending on App Stores
App Annie believes spending on games within app stores rose 13% last year and accounted for 74% of total spending, in spite of accounting for just 35% of downloads. The growth rate would have been a little higher if not for a late-2018 swoon in Chinese game spending, which saw only 4% full-year growth thanks to the license approval halt.
The firm believes spending on mobile gaming surpassed non-mobile gaming spending in 2016, and expects mobile games to claim a 60% share of game spend in 2019.
4. Chinese App Store Spending Is Now Massive
Between the App Store and local Android app stores, App Annie thinks China accounted for nearly 40% of consumer app store spend in 2018. The firm previously estimated that Chinese App Store spending had surpassed U.S. App Store spending in 2016, that $27.7 billion had been cumulatively spent via China's App Store through 2017 and that the average Chinese iPhone user used 41 iOS apps per month in 2017 (and had installed 103).
All of this is worth keeping in mind as concerns are aired that Apple's recent Chinese sales pressures are partly due to the popularity of Tencent's WeChat platform, which (since it runs on both iOS and Android) reduces Apple's ecosystem stickiness in China. While there's no denying WeChat's importance to Chinese consumers, there's a lot of evidence suggesting many of the country's iPhone users are hooked on Apple's ecosystem as well.
5. Spending on Subscriptions Is Taking Off
App Annie believes non-gaming apps accounted for 26% of app store spending last year, up from 18% in 2016. Subscription purchases made within apps -- particularly for video and dating services -- are believed to be driving much of this growth.
App store-related spending on video apps is believed to have risen 285% from 2016 to 2018, and spending on dating apps is believed to have risen 190%. InterActiveCorp's (IACI)  Match Group (MTCH) - Get Match Group, Inc. Report  claimed the No. 1 and No. 4 spots on App Annie's list of the top-grossing dating apps, via Tinder and Match.com.
Netflix (NFLX) - Get Netflix, Inc. Report , which recently announced that it would stop supporting in-app subscription sign-ups within its iOS app (in order to avoid giving Apple a cut), had the top-grossing video app in most large markets. Two exceptions were China, where Netflix's service isn't available, and Japan, where it's No. 2 behind live-streaming app Showroom.
Interestingly, YouTube was one of the five top-grossing video apps in several large markets, including the U.S. It's worth noting here that most of this revenue is related to subscriptions for services such as YouTube Premium and YouTube TV; YouTube's considerable mobile ad revenue doesn't go through app stores.
6. Time Spent on Apps Continues to Grow -- Especially in Emerging Markets
Excluding Chinese consumers and iOS users (two demographics for which this kind of data-collection is tougher), App Annie believes time spent on mobile apps rose 50% from 2016 to 2018. The firm also observes that average daily time spent is often higher in emerging markets where a smartphone is often a consumer's only computing device.
Android users in Indonesia are estimated to spend over four hours per day using apps. More than three hours are spent each day by users in China, Thailand and Brazil, while Indian users spend slightly less than three hours.
Looking at more developed markets, time spent is above three hours in Japan and South Korea, but below that level in the U.S and the five other developed economies App Annie shared data for. In the cases of France and Germany, time spent is around two hours.
7. Time Spent on Social Media and Messaging Apps Is Also Still Growing
Time spent on social media and "communications" apps is believed to have risen 35% from 2016 to 2018, and is estimated to have accounted for 50% of total time spent on apps last year. And outside of China, Facebook's (FB) - Get Meta Platforms Inc. Class A Report various apps, reported by the company to collectively have over 2.6 billion monthly active users (MAUs), continue accounting for a giant portion of this activity.
Among social and communications apps, Facebook Messenger, core Facebook, WhatsApp and Instagram ranked No. 1, 2, 4 and 5 in terms of downloads last year, respectively. Notably, WhatsApp, which Facebook is just beginning to monetize, surpassed the core Facebook app in terms of MAUs towards the end of 2018.

WhatsApp is now Facebook's most popular app, according to App Annie.
WhatsApp was also reported to be the most popular social and communications app among Android users in several major foreign markets. However, it didn't crack the top-five in the U.S., where Facebook Messenger and Snapchat are both widely used on Android (on iOS, Apple's iMessage is of course also quite popular).
8. Expect Another Strong Year for Mobile Ad Spending
An encouraging forecast for both Facebook and Google: App Annie expects mobile ad spending to rise 30% globally this year, and 29% in the U.S. The firm adds it expects mobile to account for 62% of a $155 billion global digital ad market in 2019, up from 50% in 2017.
Apple, Alphabet and Facebook are holdings in Jim Cramer's Action Alerts PLUS member club. Want to be alerted before Jim Cramer buys or sells AAPL, GOOGL or FB? Learn more now.
Live Thursday: Jim Cramer Unveils His Top 10 Tips for a Bear Market
Join Jim Cramer on Thursday at 11:30 a.m. ET when he unveils his "10 Lessons for a Bear Market." Jim will release his tips during a live monthly videoconference call with his Actions Alerts PLUS club for investors. The call is normally for members only, but Jim is opening it to the public this month for the first time ever. Register now and join in!