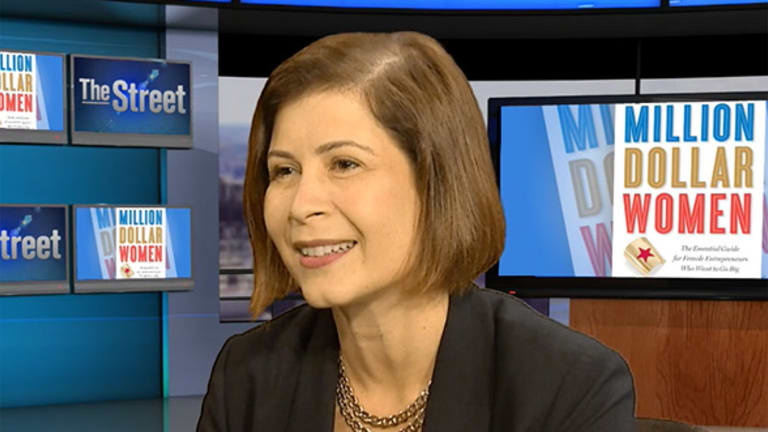 NEW YORK ( TheStreet) -- "It's a matter of capital, not competence, that keeps women from running million dollar plus businesses," said Julia Pimsleur, author of Million Dollar Women.
"Women start their businesses with six times less capital than men do and that is one of the biggest issues women are facing today," said Pimsleur. "If they don't raise that money then they don't have the runway to get their businesses off the ground, to scale up and to go big."
Pimsleur is the CEO and Founder of Little Pim, a system that introduces young children to a second language. Little Pim has won twenty-five awards for its proprietary Entertainment Immersion Method and its products are sold around the world. After raising millions in angel and venture capital for her company, she created her popular "Double Digit Academy" and online course "Further. Faster. Funded." to help other women raise capital and get further, faster.
Over the past twenty years, women have been starting companies at nearly twice the rate men have, but only 3% of women-run businesses in the U.S. generate over $1 million in revenues, according to Pimsleur. She said most female entrepreneurs are running kitchen-table businesses with zero employees and under $250,000 in revenues. By her count these businesses are twice as likely to shut down because they run out of cash, compared to their male counterparts.
Furthermore, Pimsleur said 30% of privately-held businesses in the U.S. are women-owned, yet only 7% of venture capital invested in the U.S. goes to women-owned companies. And she said even though women make up half the U.S. population and represent 46% of the workforce, they make up only a small percentage of the investment community. According to Pimsleur, venture capital firms have an average of fewer than 11% women and only 25% of angel investors are women.
"It's less about men discriminating against women and more about the fact that women have not learned the fundraising dance," said Pimsleur, adding that more women are  learning how to raise money. She said that her mission is to accelerate the process with advice and networking tips.