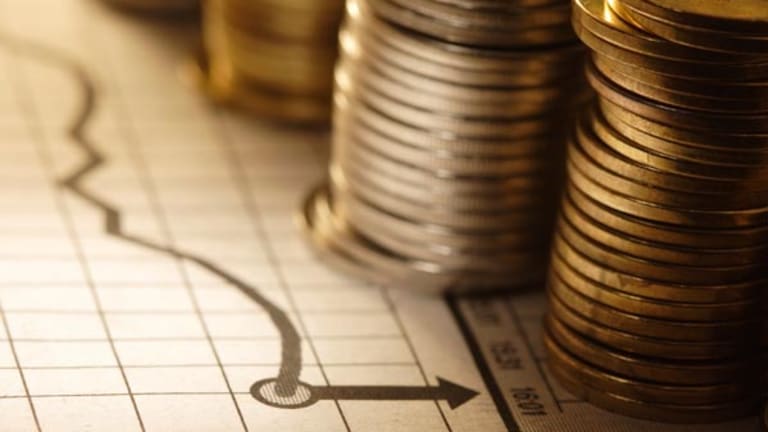 Mild Weather Forecast Cools Energy ETFs
Funds with a lot of exposure to natural gas had a rough week.
Sometimes you can blame the weather. That's what happened this week to funds holding stocks that are punished when the price of natural gas falls.
The weather forecast for mild Northeastern temperatures diminished expected demand for home cooling.
Meanwhile, U.S. natural gas inventories following an annual cycle from a peak in November to a trough in March are building back up again.
On June 28, the U.S. Department of Energy's Energy Information Administration reported working gas inventories added another 99 billion cubic feet of natural gas for the week ending June 22, reaching a total of 2.443 trillion cubic feet.
The spot price of natural gas as measured at the Henry Hub in Louisiana fell 6.08% for the week ending June 28 to $6.80 per million British thermal units.
Over this period, the average energy fund, excluding inverse funds that sell short energy companies, sank 2.33%.
Nine of the 10 funds on this week's worst-performing list have large holdings of stocks closely tied to oil and gas prices. Taking a more direct approach, the
United States Natural Gas Fund
(UNG) - Get Report
holds futures contracts on Henry Hub natural gas. This magnified the spot price decline, blowing 10.62% off the value of the fund.
The
SPDR S&P Oil & Gas Exploration & Production ETF
(XOP) - Get Report
and the
iShares Dow Jones US Oil & Gas Exploration & Production Index Fund
(IEO) - Get Report
followed their respective indices to declines of 5.65% and 5.12% respectively.
The two stocks held by both index funds that took the worst beatings were
Whiting Petroleum
(WLL) - Get Report
and
Cabot Oil & Gas
(COG) - Get Report
. Whiting shares sank 12.55% on dilution from the issuance of 5 million new shares at $40.50. Cabot, meanwhile, lost 11.24% on heavy insider selling.
The top two spots on our best-performing energy fund list this week are held by funds that correctly bet against the Dow Jones U.S. Oil & Gas Index. The
UltraShort Oil & Gas ProShares
(DUG) - Get Report
used 200% negative leverage to rise 3.99%. And the
ProFunds Short Oil & Gas ProFund
(SNPIX) - Get Report
rode its inverse status to a gain of 2.42%.
Instead of natural gas, the
United States Oil Fund LP
(USO) - Get Report
advanced 1.69% by using futures contracts to track the price of West Texas Intermediate Light crude oil.
Natural Gas Breaks Below $7
Source: Bloomberg
Three of the remaining seven funds on the list specialize in alternative energy. The
Market Vectors Global Alternative Energy ETF
(GEX)
sailed through the green light, returning 1.42% over the five trading days ending June 28.
The fund is allocated to 41.9% alternative energy sources, 30.3% electrical components and equipment, 8.4% semiconductors, 7.8% electronics, 6.7% electric, and 5.0% environmental control. Solar power was the bright spot in the portfolio with
Trina Solar
(TSL)
up 15.84%, First Solar up 12.37%, and Suntech Power Holdings up 11.51%.
On June 25, it was reported that the prior week's insider sales of energy stocks, as compiled by the Washington Service, amounted to $166.8 million, vs. just $22.6 million in insider buying. It must be nice to be able to dodge a selloff with inside information.
The rest of us will read the energy tea leaves in company press releases about the future prospects of
BioSolar
's
(BSRC)
bio-based thin film, flexible solar cells and Nanosolar's & Scatec AS's nanotechnology solar cells.
On a much larger scale, Pacific Gas and Electric is building a 7-megawatt solar array for California to go into service by the end of 2009. If the rest of the country follows California's lead and matches its goal of 20% renewable energy by 2010, solar cell demand should continue to exceed supply.
The combined forces of conservation and alternative energy sources may further ease pricing pressure on oil and natural gas down the road.
Kevin Baker became the senior financial analyst for TSC Ratings upon the August 2006 acquisition of Weiss Ratings by TheStreet.com, covering mutual funds. He joined the Weiss Group in 1997 as a banking and brokerage analyst. In 1999, he created the Weiss Group's first ratings to gauge the level of risk in U.S. equities. Baker received a B.S. degree in management from Rensselaer Polytechnic Institute and an M.B.A. with a finance specialization from Nova Southeastern University.