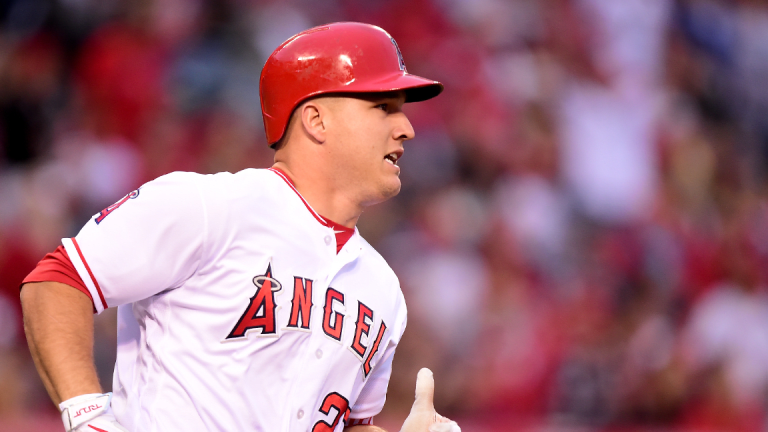 Mike Trout Is Baseball's Top Money Man, Reportedly Nears $430 Million Deal
The 27-year old's contract is set to eclipse the record 13-year, $330 million deal Bryce Harper signed with the Philadelphia Phillies.
Two-time American League MVP Mike Trout isn't going anywhere and is gearing up to sign a 12-year, $430 million extension to stay with the Los Angeles Angels in a deal that makes Trout the highest paid athlete of all time, according to multiple media reports. 
The New Jersey native's new contract eclipses the record 13-year, $330 million free agent contract fellow outfielder Bryce Harper signed just 18 days ago, if the reported numbers are correct. 
Trout's massive contract will pay him $221,193 per game and $35.8 million annually. 
Trout's contract is the richest in sports history by a wide margin, topping the five-year, $365 million deal boxer Canelo Alvarez signed with DAZN for the exclusive rights to his fights. 
The record-setting contract comes at a precarious time for Major League Baseball. 
The world's top baseball league faces a labor dispute in 2021 as the current collective bargaining agreement the league has with the player's union, often considered to be the strongest union in sports, is set to expire. 
That possibility has caused numerous ball clubs to cry poor ahead of negotiations as baseball's owners refuse to open up their books to scrutiny.
"We have been at a very stable  -  approximately 50% of revenue going to player salaries  - for five, six, seven years," MLB Commissioner Rob Manfred said earlier this year. "The math of that means that salaries are growing in line with revenues."
The veracity of that claim is impossible to determine, however, as few people outside of the owners and league officials have access to the numbers. 
Will You Have Enough Money Retire? (if you're Mike Trout you will)
Want to learn about retirement planning from some of the nation's top experts? Join TheStreet's Robert "Mr. Retirement" Powell live in New York on April 6 for our Retirement Strategies Symposium. For a limited time, tickets are available for $99 for this full-day event. Check out the agenda, learn about the speakers and sign up here.