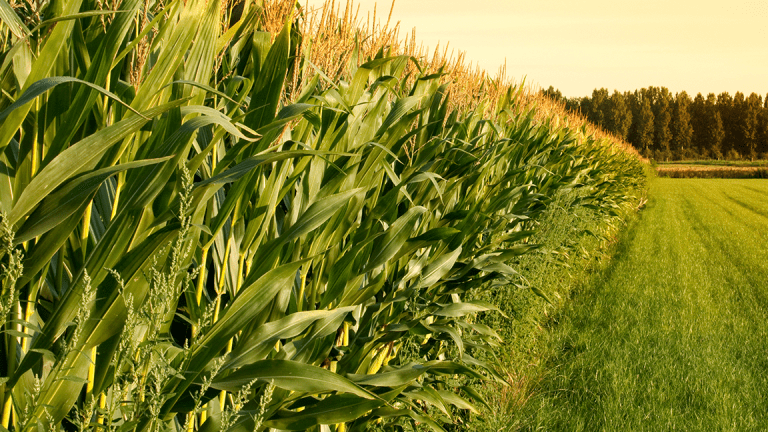 How the Rain-Soaked Midwest Will Crush the Corn Crop and Send Prices Jumping
Epic rainfall and flooding will mean a terrible crop come fall, and that should propel prices for corn higher.
Biblical-style flooding in the Midwest is hampering the corn planting season and sending prices for the grain to their highest level in three years. 
And the rally could go further in the autumn by as much as 20% over current levels, analysts say.
Risk-tolerant investors should consider buying December-dated futures contracts on the CME exchange. Alternatively, try the Teucrium Corn (CORN) - Get Teucrium Corn Fund Report exchange-traded fund which holds corn futures.
Corn recently traded around $4.12 per bushel, far surpassing last year's peak around $4.06, according to Bloomberg data. You'd have to go back to June 2016 for the last time prices were this high.
But, as mentioned, they could get a whole lot higher, to as much as $5, says Shawn Hackett, president of Boca Raton-based Hackett Financial Advisors.
Too Much Rain
Already the Midwest is flooded like never before and rain is still set to come, which means farmers are delaying planting their crop.
The moisture level is at the 99th percentile in 85% of the growing areas of the Midwest, says Hackett.
"This is the most saturated soil ever," he says. "If you do plant corn in saturated soil, the chances of having a good crop go way down."
Hackett explains that waiting until the weather dries out isn't really a workable option. That's because corn crop yields fall back dramatically when the planting takes place after May.
In other words, if farmers plant they likely won't see good yields. But on the other hand, if they don't plant soon, they won't have any crop.
The result is that planting levels across the traditional corn-growing areas are down considerably.
"In only one state, Iowa, is the corn more than 50% planted," says Joe D'Aleo, chief meteorologist for agriculture at forecasting service Weatherbell Analytics in New York.
He highlights Ohio, which had recently seen corn planting levels at a mere 9% versus 69% this time last year.
El Nino Bake on the Way?
The corn that is planted doesn't stand much chance of doing well, either, since late planting retards growth.
But even early planted crops may have problems this year due to the presence of an El Nino weather system. It forms off the western coast of equatorial South America and can alter normal patterns of precipitation all over the world.
This year the El Nino has a 50-50 chance of causing a baking hot summer, says James Roemer, president of Best Weather Inc. That would be bad for corn crops.
"There's a possibility that the summer could be hot and dry," Roemer says. "That would hurt the crop because of shallow roots." 
Plants don't need to grow deep roots when the fields are flooded. But a dry spell could leave the plants parched. Roots that don't go far deep enough into the soil during a dry period won't get enough moisture to grow properly.
In other words, a baking hot summer could turn a poor harvest even worse.
The result of weather will likely be a crop that is significantly below what would normally be expected.
"We'll probably lose between four and five million acres," says Hackett, which he conservatively estimates will mean 10% reduction in production.
Patience Might Pay Off More for Traders
If you want to be extra savvy about the trade, then wait a few weeks. 
Hackett explains that the moves in the price of corn will likely come in two stages. We're currently in stage one which is being propelled by the epic rains and flooding.
He says that in the next few weeks when drier weather kicks in, expect corn prices to pull back, at least temporarily.
"The market will be in a self-discovery mode throughout the summer," he says. Or put simply, many traders will be taking a wait-and-see attitude, which will lead to a price drop.
That pullback should give traders a far better price from which to ride the next part of the rally which should start in August when the early crop yields start to get reported. Those yields will likely be disappointing.
"From August onwards into September,s we'll see the price rally," says Hackett.
Constable own none of the securities listed in this story.